Our Cars: Skoda Rapid 1.6 TDI SE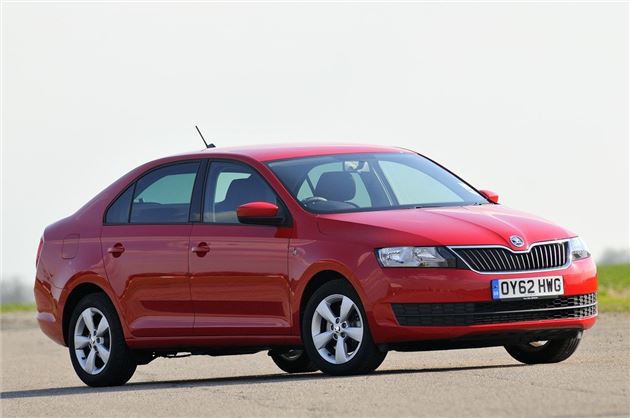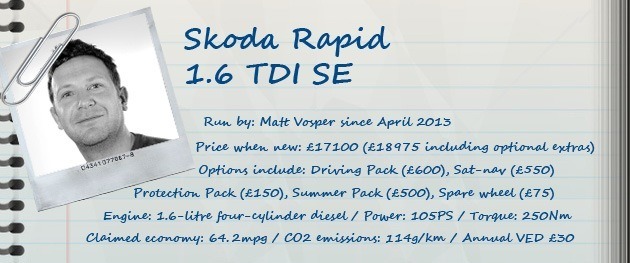 10 May 2013: Rapid by name, Skoda by nature
The Details
| | |
| --- | --- |
| Current mileage | 1347 |
| Claimed economy | 64.2mpg |
| Actual economy | 67.9mpg |
The Skoda Rapid is an interesting new model. While it may seem quite small, it's a proper family car although it has clear differences to rivals such as the Volkswagen Golf and Ford Focus. Skoda launched the Rapid last year and it sits between the Fabia and Octavia in the model range. So although it's based on a Fabia platform it takes several design cues from the new Octavia and mixes them to produce a car which looks neat if not particularly exciting.

I've chosen to run the 1.6 TDI diesel engine which has a modest power output of 105PS. Due to the higher than average mileage I tend to cover it makes sense - especially as it's the only diesel in the range. The other engines include the 1.2 TSI with either 105PS or 86PS which may be better for lower mileage users and are certainly significant cheaper - around £1800.
However the one and only diesel is easily the most economical engine in the Rapid. The official figures say it will return an average of 64.2mpg while emissions of 114g/km mean annual VED of just £30
Trim level wise I've gone slap bang in the middle of the three versions available and plumped for an SE instead of the base model S or the range topping Elegance. With the 1.6 TDI engine it costs £17,100 and with the few options added to our car such as sat nav, the Summer Pack, a spare wheel and a Driving Pack.
That seems pretty pricey when the starting price for the Rapid range is £12,900 for a 1.2 S model. But our car does at least come well equipped with 15-inch alloys, the MDI mobile device interface, electric and heated mirrors plus Bluetooth - useful for long journeys.

It's quite an exciting car in a Steve Davis kind of way. It does have neat angles however when viewed in profile it looks like a small saloon - never a particularly sporty shape. However the Rapid has a trick up its sleeve as it is actually a hatchback. The tailgate open up to reveal an enormous boot - 550 litres in total - which is only a few litres short of a BMW 5 Series Touring.

This is where Rapid's value comes into its own. Why buy this over a Golf or Focus? Well, its secret lies in its long wheelbase which gives you lots of rear legroom as well as all that bootspace. It also helps the ride and the Rapid feels composed and controlled on the road.
The Rapid is a car that I suspect will be slightly leftfield from its competitors and so for six months I'll be able to find out what exactly it has to offer. Being a photographer I travel further than average. I carry lots of equipment and also have children to put in the back, so the Rapid has a lot to cope with.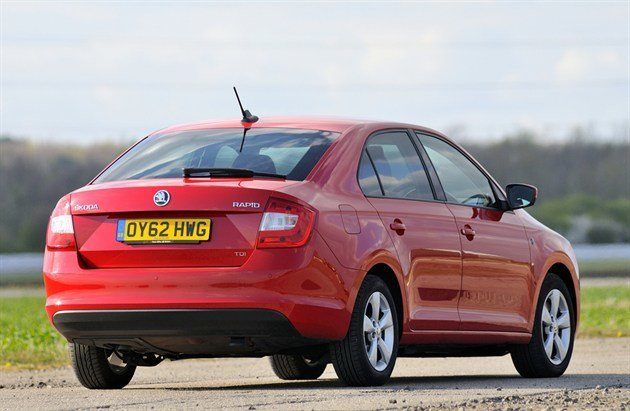 Later: The Tardis-like Rapid »
Updates

Our Rapid is leaving us after six months and while the leaky door problem remains unresolved, we still think the Rapid is an impressively practical small family car.

We've been keeping an eye on the Rapid's fuel economy over the past few weeks which has been a distraction from the leaky doors problem.

Our Rapid is back after its fix but it seems the water leak problem has returned, leaving us with a bit of a headache as to what to do next.

Our Rapid has gone off to Skoda HQ in the hope that the leaky doors problem can be solved. In the meantime, we've been looking back at how it's performed so far.

The recent thunderstorms and heavy rain have highlighted a worrying issue with our Rapid which sees the rear doors get filled with water when it's been left parked.

Goodwood may be all about performance and glamour but that didn't stop our Rapid getting a run down the hill. Even if it was under a 10mph restriction...

The sat nav in our Rapid is a good value system that also adds Bluetooth but it can be a little too keen to divert you around imaginary traffic problems.

Our Rapid is proving a bit like Fort Knox when it comes to actually unlocking all the doors and getting in.

We've been impressed with the space and practicality of our Rapid but after several thousand miles already, what's the verdict on the handling?

The Rapid may look like a saloon but it's actually a hatchback - and a very practical one and that - with a huge boot and loads of rear space.

10 May 2013: Rapid by name, Skoda by nature
The new Skoda Rapid is the latest addition to Our Cars and with its practical space and economical TDI engine it should prove the perfect car for our resident photographer.