Our Cars: Skoda Rapid 1.6 TDI SE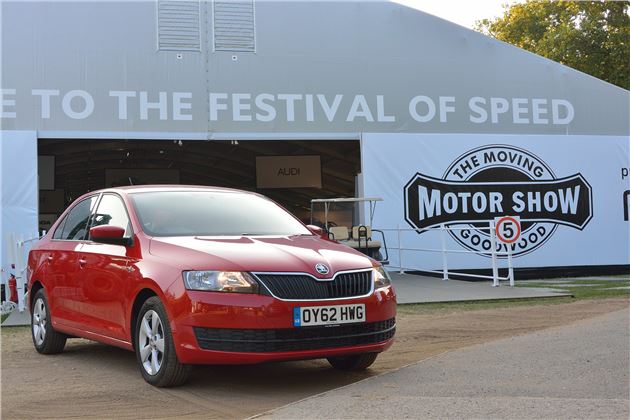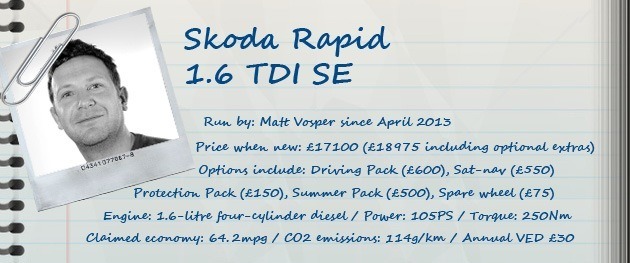 22 July 2013: Racing Rapid
The Details
| | |
| --- | --- |
| Current mileage | 11450 |
| Claimed economy | 64.2mpg |
| Actual economy | 60.1mpg |
Summer is finally here and over the last two weeks I've added just over 1200 miles to the Rapid. First off was a succession of trips to the Goodwood Festival of Speed, working for various car manufacturers, allowing me and the Rapid access to all areas before the public arrived on the first day.
I even managed to drive the hill route however it was probably one of the slowest times recorded as there was a speed restriction of 10mph for all vehicles! However the Rapid was more than up to the task of carrying all my equipment and because of its huge 550-litre boot, it puts some estate cars to shame.
Access to the Goodwood site was restricted to commercial vehicles only, but no one seemed to mind that I was in the Rapid and considering the amount of equipment I was carrying, you could argue I was a commercial vehicle. Even with the extra load the 1.6 TDI didn't feel sluggish in any way, returning an average economy of just under 60mpg over the three days.
Next up was a series of location shoots which involved mostly motorway miles, helping improve the already impressive economy up to 63mpg. To finish the week was a short trip to collect a mountain bike I bought on ebay. My neighbour offered the services of his Nissan X-Trail but I declined, much to his confusion . It strangely never crossed my mind whether the Rapid would be big enough and it fitted in the back with ease.
That's the real secret to this car. Most will see it as a family saloon, at best a well priced value for money small family car - but it's so much more. It's a hatchback with a whopping amount of room. And with more room comes added practicality which it's competitors simply cannot achieve.
Sadly though with every plus there is a minus and after being extremely pleased with the sat nav and MMI interface, the unit is again freezing with the screen going into what looks like MS DOS mode before shutting down. But then who needs sat nav when you're racing up Goodwood Hill at lightning speeds!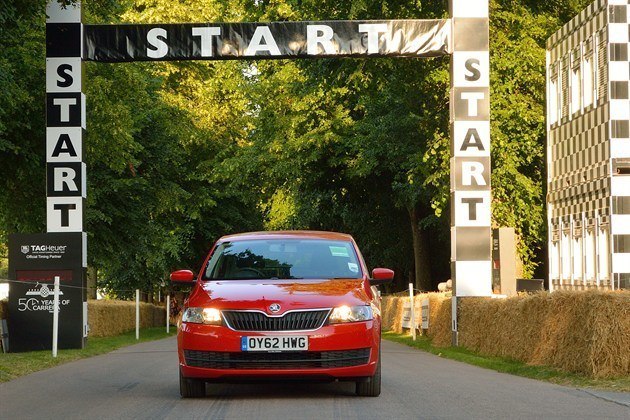 « Earlier: Over sensitive sat nav Later: Driving in the bath »
Updates

Our Rapid is leaving us after six months and while the leaky door problem remains unresolved, we still think the Rapid is an impressively practical small family car.

We've been keeping an eye on the Rapid's fuel economy over the past few weeks which has been a distraction from the leaky doors problem.

Our Rapid is back after its fix but it seems the water leak problem has returned, leaving us with a bit of a headache as to what to do next.

Our Rapid has gone off to Skoda HQ in the hope that the leaky doors problem can be solved. In the meantime, we've been looking back at how it's performed so far.

The recent thunderstorms and heavy rain have highlighted a worrying issue with our Rapid which sees the rear doors get filled with water when it's been left parked.

22 July 2013: Racing Rapid
Goodwood may be all about performance and glamour but that didn't stop our Rapid getting a run down the hill. Even if it was under a 10mph restriction...

The sat nav in our Rapid is a good value system that also adds Bluetooth but it can be a little too keen to divert you around imaginary traffic problems.

Our Rapid is proving a bit like Fort Knox when it comes to actually unlocking all the doors and getting in.

We've been impressed with the space and practicality of our Rapid but after several thousand miles already, what's the verdict on the handling?

The Rapid may look like a saloon but it's actually a hatchback - and a very practical one and that - with a huge boot and loads of rear space.

The new Skoda Rapid is the latest addition to Our Cars and with its practical space and economical TDI engine it should prove the perfect car for our resident photographer.