Our Cars: SEAT Leon SC FR 1.4 TSI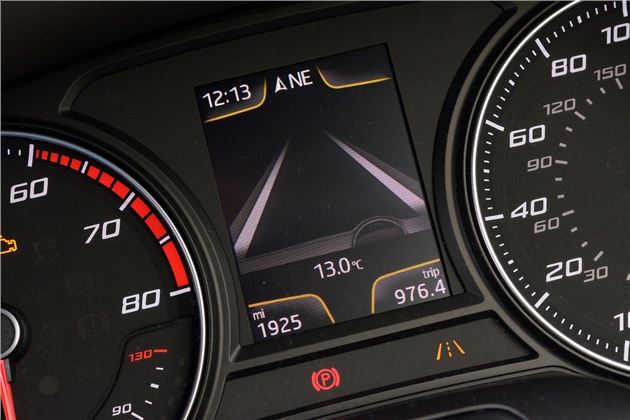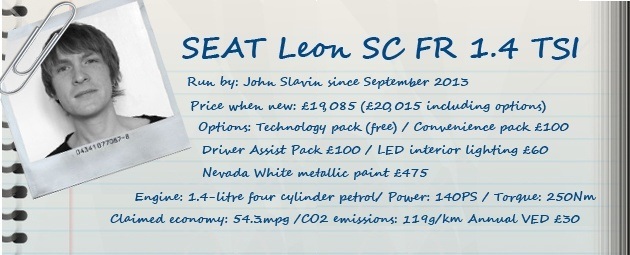 21 November 2013: We have a problem…
The Details
| | |
| --- | --- |
| Current mileage | 1393 |
| Claimed economy | 54.3mpg |
| Actual economy | 43.4mpg |
Car manufacturers are putting more and more technology into modern cars. With full-LED lights, high beam assist and lane keep assist my SEAT Leon is no exception. I had experienced the lane keep assistance system on a couple of cars before so I knew what to expect, but found it to be slightly troublesome.
In normal operation the lane assist detects the white lines marking each lane and will 'nudge' the steering to keep the car in the centre of its lane. It assists you, rather than taking over and in practice it's a useful system because it keeps you from straying into another lane when checking the nav screen or setting the climate control.
The instrument binnacle has a little screen in it which can be set to show the status of the lane assist – it shows which lines the system can see and shows whether the system is active or not. When the car arrived the readout would often detect one line, or would work for a few seconds and then stop.
Initially I thought it might be down to the weather conditions or the lighting so I ignored it, until one wet, grey day it started to work perfectly. But it didn't last long – and the system eventually gave up completely, informing me that there was a 'fault.' I tried cleaning the screen in front of the sensor, but to no avail. So back to SEAT.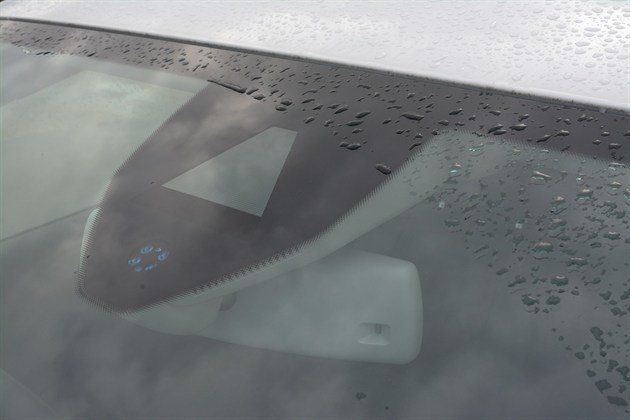 The sensor, hidden above the mirror, was misaligned. It was a quick fix. 
Thankfully the problem was nothing more than the sensor having managed to work its way loose. A final jolt - perhaps a speed bump or pothole – caused it to misalign entirely. It was tightened up and it fixed the problem completely. It's still a bit disappointing that it wasn't perfect in the first place of course.
Incidentally the high beam assist wasn't as problematic as the lane assist, despite using the same sensor. At first it was fine but it did deteriorate over time until giving up entirely when the 'fault' message appeared. It's working fine again now the sensor has been realigned.
The problem hasn't been a major inconvenience – the car drove just the same without the systems working and neither of them is incredibly important, but it does go to show that adding extra technology to cars adds extra potential problem areas. The issue doesn't seem to be widespread, though – we've had no reports of anything similar in any Volkswagen group vehicles.  
« Earlier: Platform Partners Later: How about something completely different? »
Updates

It's time to say goodbye to our SEAT Leon. Its replacement has some very big boots to fill.

After a few weeks spent driving other cars I take the SEAT on a long drive to stretch its legs.

The Leon has a comprehensive in car infotainment system with navigation, DAB radio and great connectivity - here's a more in depth look at how it works.

Our Leon is an SC model - which means it has three doors. That might make it look sportier but how does it affect practicality?

How close does the Leon get to its official fuel consumption figure - and how much is that dependent on driving style?

A hectic Christmas break meant covering more than 700 miles in two days - but the SEAT coped well.

The SEAT Leon has coped well with the recent wet, grey and miserable weather, it's just a shame its white paint shows dirt so much.

For new car buyers there's never been such a variety of cars to choose from - so aside from a hatch what else can you get for £20,000?

21 November 2013: We have a problem…
Lane keep assist and high beam assist are great gadgets to have – but the system on our Leon malfunctioned.

The SEAT Leon is built on Volkswagen-Audi group's MQB platform - so what else shares its underpinnings?

The new Leon is undoubtedly capable but SEAT wasn't always such a strong brand. Time to chart the history of our Leon's predecessors.

We welcome the Seat Leon SC FR to Our Cars, and it's loaded with some of the most desirable technology on offer.