Our Cars: SEAT Leon SC FR 1.4 TSI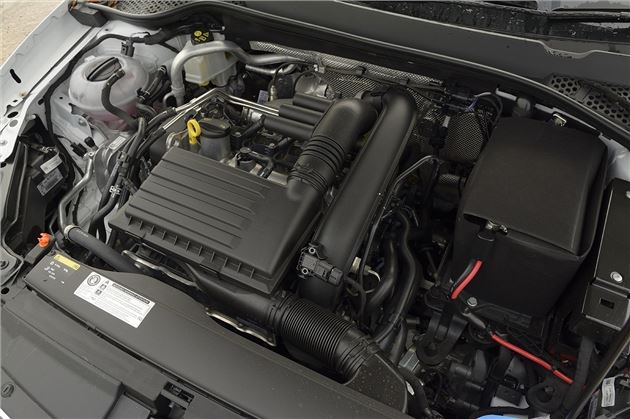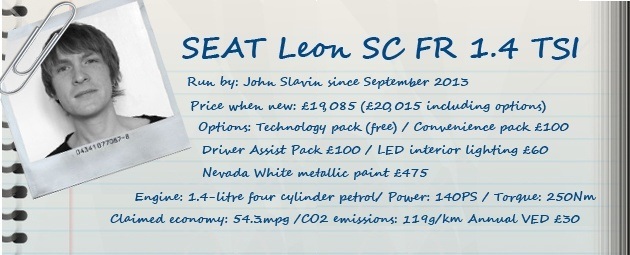 27 January 2014: Maximising fuel economy
The Details
| | |
| --- | --- |
| Current mileage 2912 | |
| Claimed economy 54.3mpg | |
| Actual economy 47.6mpg | |
I took my brother out in the Leon the other day for the first time, without telling him what engine is under the bonnet. After a blast up the motorway slip road I asked him what kind of engine he thought it had. Bearing in mind he drives a 2.5-litre V6 Mondeo, he reckoned it was a 2.0-litre petrol.
So he was quite surprised when I told him it was a mere 1.4-litre. His guess was pretty well educated, after all – ten years ago a car with 140PS would almost certainly be a 2.0-litre – or maybe a 1.8-litre at a push. Nowadays things are different – there's a drive to downsize with smaller, turbocharged engines.
The supposed advantage is an improvement in fuel economy, but with no performance losses. In fact, the turbocharger in our Leon gives better performance than a normally aspirated 2.0-litre thanks to its easily accessible torque, low down the rev range. It's also pretty frugal compared to an older 2.0-litre engine - that's progress.
However it isn't as frugal as the official figures would suggest. The combined cycle test produced an official 54.3mpg but in reality I'm getting nearer 43mpg. A quick check in the Real MPG section shows that other owners are doing better though, managing 46.1mpg on average – 15% short of the official figure. That's pretty typical across all makes and models.
Interestingly SEAT has installed a system in the Leon to help improve fuel economy as much as is possible – not by altering any aspect of the car directly, but by coaching the driver into a more economical driving style. Little 'Eco-tip' messages appear in the dashboard to tell you to change up a gear, or to avoid depressing the clutch when the revs are above 1300rpm.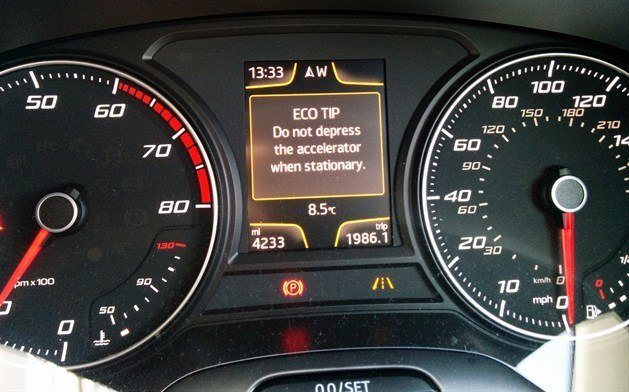 There's a lot of these messages...
Until recently I gesticulated at these and asked them to politely go away, but they don't listen. I'm sure that there is a way to turn them off hidden deep within the manual, but I've not bothered to look. In fact, I've decided to pay them heed and actually do as they ask. The result has been an improvement in my economy. Turns out I didn't know best after all.
Okay, so the improvement isn't as incredible as you'd hope – I've averaged 47.6mpg in the past week or so – but that's still an improvement. And I didn't really do much to achieve that – I still cruised at a decent pace on the motorway, I still used the air conditioning as I wished and I still spent lots of time stopping and starting in town.
Before I followed the car's driving instruction I was managing 43.2mpg, which equates to an approximate annual fuel bill (based on 10,000 miles and today's average petrol price) of £1380.66. The fairly minor changes to my driving would reduce that bill to £1253.04, a saving of £127.62. I'm convinced I can do better, too.
It just goes to show that driving sensibly can really improve you economy. Not only will it save you money on fuel but it should reduce wear on the brakes and tyres, which yields further savings. So if you buy a Leon and find yourself cursing the Eco Tips over and over again, give them a break. They're only trying to help. 
« Earlier: Christmas miles Later: All aboard »
Updates

It's time to say goodbye to our SEAT Leon. Its replacement has some very big boots to fill.

After a few weeks spent driving other cars I take the SEAT on a long drive to stretch its legs.

The Leon has a comprehensive in car infotainment system with navigation, DAB radio and great connectivity - here's a more in depth look at how it works.

Our Leon is an SC model - which means it has three doors. That might make it look sportier but how does it affect practicality?

27 January 2014: Maximising fuel economy
How close does the Leon get to its official fuel consumption figure - and how much is that dependent on driving style?

A hectic Christmas break meant covering more than 700 miles in two days - but the SEAT coped well.

The SEAT Leon has coped well with the recent wet, grey and miserable weather, it's just a shame its white paint shows dirt so much.

For new car buyers there's never been such a variety of cars to choose from - so aside from a hatch what else can you get for £20,000?

Lane keep assist and high beam assist are great gadgets to have – but the system on our Leon malfunctioned.

The SEAT Leon is built on Volkswagen-Audi group's MQB platform - so what else shares its underpinnings?

The new Leon is undoubtedly capable but SEAT wasn't always such a strong brand. Time to chart the history of our Leon's predecessors.

We welcome the Seat Leon SC FR to Our Cars, and it's loaded with some of the most desirable technology on offer.