Our Cars: SEAT Leon SC FR 1.4 TSI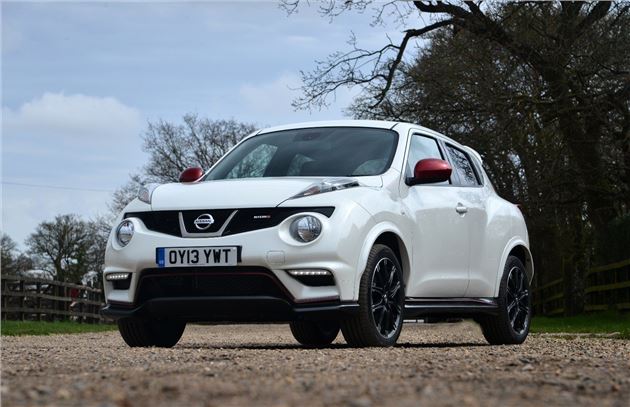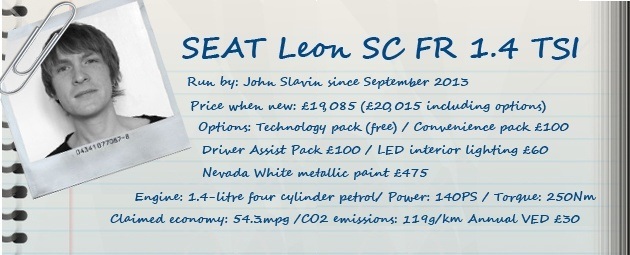 5 December 2013: How about something completely different?
The Details
| | |
| --- | --- |
| Current mileage | 1495 |
| Claimed economy | 54.3mpg |
| Actual economy | 43.2mpg |
When buying a new car there's more variety now than there ever has been. Buyers aren't restricted to a saloons, hatchbacks or estates any more, there are tiny city cars, compact crossovers, MPVs and SUVs to muddy the waters. Add to that a breadth of trim levels and options and it's tricky to decide what is within your budget and what is best for your needs.
Take my SEAT Leon. Its new price including a few optional extras is £20,015 – a price competitive with most family sized hatchbacks including the Ford Focus, Vauxhall Astra and Volkswagen Golf. It's not that simple, though – for that much you could buy a mid-spec Toyota Verso MPV, or a sporty two-seater in the form of the MX-5 Roadster Coupe.
Narrowing the brief to be more specific doesn't help too much either – I like an attractive car with a reasonable amount of space and affordable running costs but that's fun to drive and works as an all-rounder in town or on the motorway. I typically only need two doors, but a back row of seats is handy for the few times I need to carry a third passenger.
So I decided to see if the my Leon is a good buy at £20,015 compared with something else I'd also considered at about the same price – the Nissan Juke Nismo. It's the top model in the Juke range and with a 200PS 1.6-litre engine it's got more power than our Leon, with the advantage of a high driving position and two more doors, but it's about the same price at £20,395.
It makes a good first impression. The Nismo version has an aggressive body kit that makes it look more purposeful than a lesser Juke and the pearl white paint finish is much nicer than that on the Leon, which looks a little flat in comparison. The Juke's cabin impresses too, with Alcantara upholstery and sporty bucket seats.
Delving a little deeper does reveal some disappointing material choices though, with hard dashboard coverings and a few cheap-looking switches here and there – the Leon has much nicer soft-touch materials and the minor controls – like buttons and switches – feel more well engineered than they do in the Juke.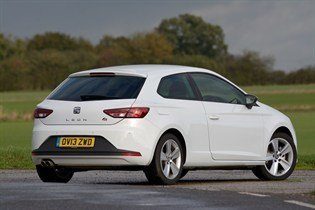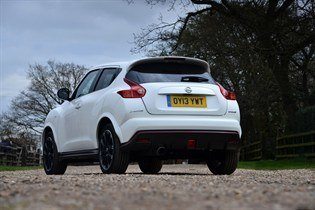 Similar price, different character
My Leon has a 1.4-litre petrol engine producing 140PS – a fair chunk less than the 200PS kicked out by the Juke Nismo's 1.6-litre engine. Strangely enough though, the difference isn't as striking as you'd expect. The Leon is sprightly enough to be entertaining and the Juke, thanks to noticeable turbo lag, can sometimes feel a bit slow, building its speed gradually as the turbo spools up.
That's not really fair on the Juke because if you keep the needle in the right bit of the rev counter and work the gearbox it's great fun – and on a twisting country road it offers exciting handling, with accurate steering and little body roll despite the higher ride height. I'd say it's more entertaining than the Leon.
The trade off is a very firm ride and compromises in other areas. Motorway cruising in the Juke isn't enjoyable because the engine drones at 70mph and fuel economy isn't very impressive – I averaged about 32mpg over a few hundred miles. Add to that a tiny fuel tank and visits to the pumps are all too frequent.
The two cars are fairly similar in terms of practicality. The boot in the Juke isn't quite as good as the Leon, but the rear seats offer more room to balance things out. There's less in the way of fancy technology in the Juke with no lane assist or full-LED headlights.
It's not a big deal though. That kind of technology is like a garnish on a plate – it looks nice but it's not that important. Still, picking between the two cars is fairly easy for me. The Leon is a better all-rounder which is easier to live with in town and on the motorway than the Juke Nismo. Since I spend almost all of my time in one of those environments it's the smart choice.
However if I still lived in rural Yorkshire and I had mile-upon-mile of twisting country road, the answer would be different. The Juke Nismo is enormous fun, so if you're not a regular motorway user and if you can cope with lots of trips to the petrol station it's a great – if completely different – alternative to the Leon.
« Earlier: We have a problem… Later: Coping with the weather »
Updates

It's time to say goodbye to our SEAT Leon. Its replacement has some very big boots to fill.

After a few weeks spent driving other cars I take the SEAT on a long drive to stretch its legs.

The Leon has a comprehensive in car infotainment system with navigation, DAB radio and great connectivity - here's a more in depth look at how it works.

Our Leon is an SC model - which means it has three doors. That might make it look sportier but how does it affect practicality?

How close does the Leon get to its official fuel consumption figure - and how much is that dependent on driving style?

A hectic Christmas break meant covering more than 700 miles in two days - but the SEAT coped well.

The SEAT Leon has coped well with the recent wet, grey and miserable weather, it's just a shame its white paint shows dirt so much.

5 December 2013: How about something completely different?
For new car buyers there's never been such a variety of cars to choose from - so aside from a hatch what else can you get for £20,000?

Lane keep assist and high beam assist are great gadgets to have – but the system on our Leon malfunctioned.

The SEAT Leon is built on Volkswagen-Audi group's MQB platform - so what else shares its underpinnings?

The new Leon is undoubtedly capable but SEAT wasn't always such a strong brand. Time to chart the history of our Leon's predecessors.

We welcome the Seat Leon SC FR to Our Cars, and it's loaded with some of the most desirable technology on offer.