Our Cars: SEAT Leon SC FR 1.4 TSI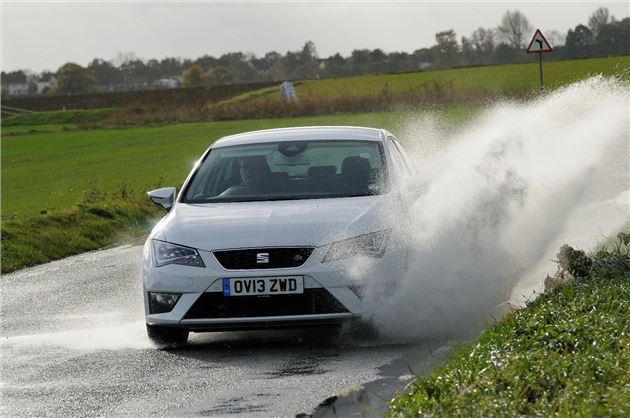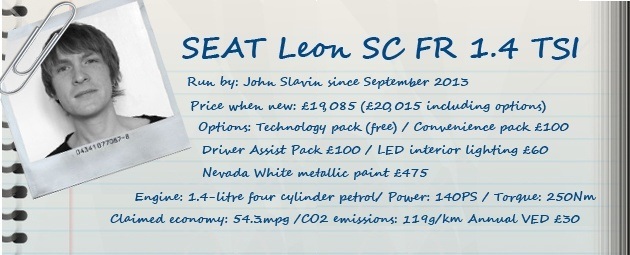 12 December 2013: Coping with the weather
The Details
| | |
| --- | --- |
| Current mileage | 1836 |
| Claimed economy | 54.3mpg |
| Actual economy | 43.2mpg |
Winter usually means snow, but so far it's just been wet. Very wet. That's meant mile after mile of driving through downpours, floods and the resulting traffic jams, but thankfully the Leon has been pretty good despite all that Mother Nature has thrown at it, thanks in no small part to the technology on board.
Most importantly, in dim, damp weather is the convenience pack, which costs £100. It adds automatic headlights, an auto-dimming rear view mirror and automatic wipers. Auto-on lights are great when you live in town, because when it's dull or even dark it's easy to forget to turn them on yourself, thanks to an abundance of street lights.
They work flawlessly, activating in dull conditions and staying on, rather than turning themselves on and off over and over when the light changes. The same can't be said for the automatic wipers though, which seem a little confused. Sometimes they'll react properly to the weather and other times I'll have to take control of them myself.
In fact I was so bothered I had to check the car even had them – I was starting to question whether or not I was imagining their reaction to the weather. Having said that I relentlessly fiddle with the indicator stalk to try and get exactly the right reaction from the wipers so it might be my fault that they don't do precisely what I want them to.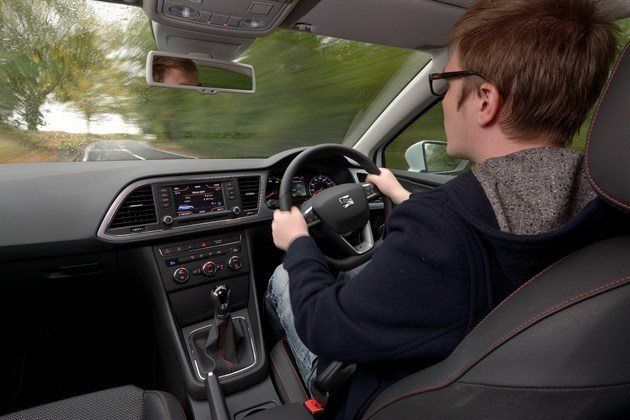 No heated seats, but the cabin warms up pretty quickly anyway. 
The biggest issue of all so far in this bad weather has been the car's colour. White shows even the tiniest bit of dirt, and because the weather never seems to improve it's a waste of money or effort to wash the car, because it'd be filthy again in five minutes, probably before I even got it home.
Aside from that the Leon has been a perfectly decent winter car. The air conditioning does a good job of quickly clearing condensation and the heater warms up quickly. SEAT does offer a winter pack, which I didn't choose. It adds heated washer jets, which would be handy if I lived in a colder area, but they're not needed in balmy London.
I do regret not specifying the winter pack's heated front seats sometimes, though not as often as you might expect. That's because when I do drive a car with them they 'mysteriously' turn on all by themselves when my partner is in the passenger seat. It was funny the first 200 times, but it's wearing thin now. 
I've not mentioned winter tyres yet and that's down to the fact I don't have them. Living in London means it's very rarely snowy. Winter tyres do help out in all temperatures below seven Celsius but in Richmond-upon-Thames and Shepherd's bush the roads are so busy any advantage of using winter tyres would be minimal.
I do travel out of London quite regularly of course, but usually it's on a major motorway so the surface will be well gritted and cleared of the worst snow or ice. Consequently there'd be little point in fitting a set of winter tyres. It'd be a different story if I lived out in the countryside, of course, where I would fit them without hesitation, much like David has with his Lexus. 
« Earlier: How about something completely different? Later: Christmas miles »
Updates

It's time to say goodbye to our SEAT Leon. Its replacement has some very big boots to fill.

After a few weeks spent driving other cars I take the SEAT on a long drive to stretch its legs.

The Leon has a comprehensive in car infotainment system with navigation, DAB radio and great connectivity - here's a more in depth look at how it works.

Our Leon is an SC model - which means it has three doors. That might make it look sportier but how does it affect practicality?

How close does the Leon get to its official fuel consumption figure - and how much is that dependent on driving style?

A hectic Christmas break meant covering more than 700 miles in two days - but the SEAT coped well.

12 December 2013: Coping with the weather
The SEAT Leon has coped well with the recent wet, grey and miserable weather, it's just a shame its white paint shows dirt so much.

For new car buyers there's never been such a variety of cars to choose from - so aside from a hatch what else can you get for £20,000?

Lane keep assist and high beam assist are great gadgets to have – but the system on our Leon malfunctioned.

The SEAT Leon is built on Volkswagen-Audi group's MQB platform - so what else shares its underpinnings?

The new Leon is undoubtedly capable but SEAT wasn't always such a strong brand. Time to chart the history of our Leon's predecessors.

We welcome the Seat Leon SC FR to Our Cars, and it's loaded with some of the most desirable technology on offer.