Our Cars: SEAT Leon SC FR 1.4 TSI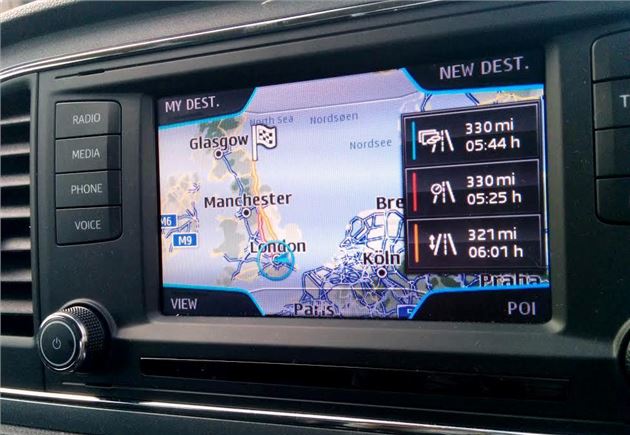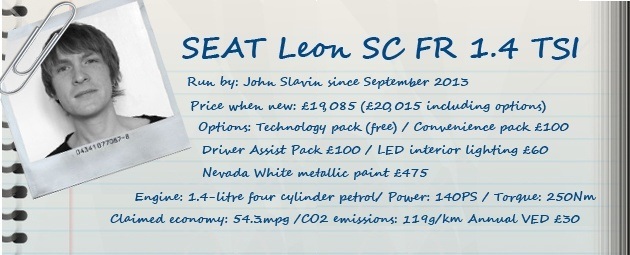 13 January 2014: Christmas miles in the Leon
The Details
| | |
| --- | --- |
| Current mileage | 2686 |
| Claimed economy | 54.3mpg |
| Actual economy | 43.2mpg |
Christmas is always a highlight of the year, but having been brought up in the north it means I have to cover a long distance to see family, since I now live in London. In previous years that hasn't been a major problem because the return journey would be after new year, with plenty of time to wind down and relax.
This year things were different. My partner's family were staying in Northumberland, my family is in Yorkshire and my partner only had two days off. So we had to cram all our present opening, Christmas dinners and 700 miles of driving into two days.
Originally the plan was to leave at around 3am on Christmas Eve morning but instead we left at 6am. The roads were pretty much clear, so the cruise control and lane keep assist could get on with their jobs – and they made the first 200 miles utterly painless.
The car kept itself in its lane and maintained its speed, but you can't just have a nap - if the car thinks you've stopped steering then it'll warn you to take control again. Similarly, the Leon has old fashioned cruise control rather than a fancy adaptive system, so if you don't pay attention it'll drive you into the back of a truck. 
We could easily switch between music en route – the Leon linked our iPod through a cable, which was supplied with the car, while my iPad linked up via Bluetooth. DAB reception was pretty good all the way up the M1, so the drive was easy and supplemented with a good selection of music.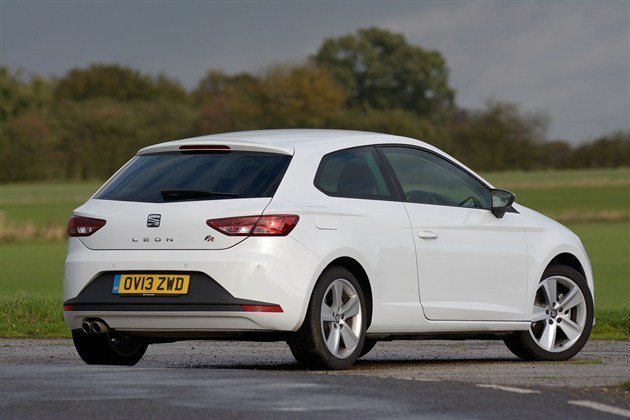 Unfortunately the sat nav had a hiccup near Nottingham. Having detected a traffic jam a few miles ahead it directed us off the M1 and towards the A1, via A-roads. I trusted it and started on the detour, only for it to refresh when I was halfway to the A1 and send me back to the M1.
Thankfully from there on out it was plain sailing. On Christmas morning we set out on a two hour trip to see my family and after a hearty meal it was back to London – another four hours. With a 1.4-litre petrol engine you might expect such a lot of driving to result in a headache, care of droning engine noise.
Not so with the SEAT, though. It might have a fairly small engine but thanks to its turbocharger there's 140PS on tap and plenty of torque. Add in a sixth gear and the result is a surprisingly competent and impressively refined motorway cruiser – one that'd give most diesel-powered cars a run for their money.
So despite covering the same kind of mileage as a truck does in two days I never felt too uncomfortable and I arrived at the end of both trips feeling fairly supple and awake. Fuel economy wasn't too bad either – at a steady cruise I was getting close to 50mpg – it'd have been better if the car didn't have a fully loaded boot and a passenger.
« Earlier: Coping with the weather Later: Maximising fuel economy »
Updates

It's time to say goodbye to our SEAT Leon. Its replacement has some very big boots to fill.

After a few weeks spent driving other cars I take the SEAT on a long drive to stretch its legs.

The Leon has a comprehensive in car infotainment system with navigation, DAB radio and great connectivity - here's a more in depth look at how it works.

Our Leon is an SC model - which means it has three doors. That might make it look sportier but how does it affect practicality?

How close does the Leon get to its official fuel consumption figure - and how much is that dependent on driving style?

13 January 2014: Christmas miles in the Leon
A hectic Christmas break meant covering more than 700 miles in two days - but the SEAT coped well.

The SEAT Leon has coped well with the recent wet, grey and miserable weather, it's just a shame its white paint shows dirt so much.

For new car buyers there's never been such a variety of cars to choose from - so aside from a hatch what else can you get for £20,000?

Lane keep assist and high beam assist are great gadgets to have – but the system on our Leon malfunctioned.

The SEAT Leon is built on Volkswagen-Audi group's MQB platform - so what else shares its underpinnings?

The new Leon is undoubtedly capable but SEAT wasn't always such a strong brand. Time to chart the history of our Leon's predecessors.

We welcome the Seat Leon SC FR to Our Cars, and it's loaded with some of the most desirable technology on offer.