Our Cars: SEAT Leon SC FR 1.4 TSI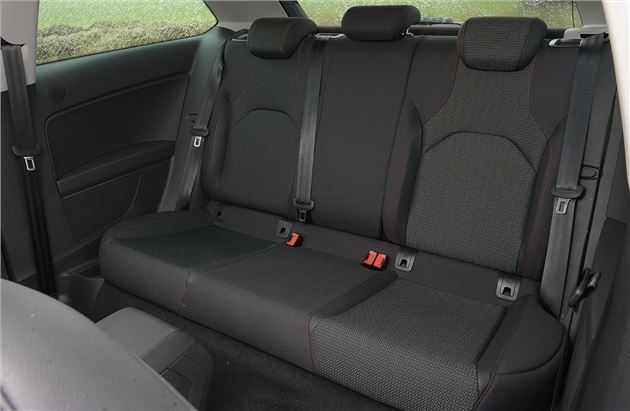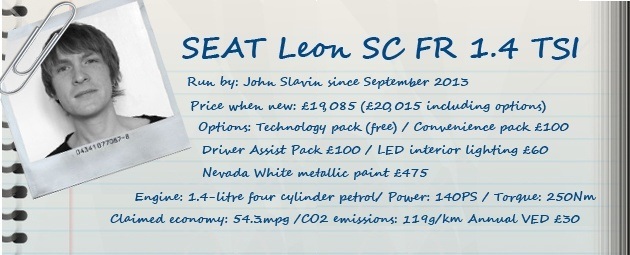 10 February 2014: All aboard
The Details
| | |
| --- | --- |
| Current mileage 3136 | |
| Claimed economy 54.3mpg | |
| Actual economy 46.4mpg | |
Our SEAT Leon is an SC – or Sport Coupe – model. That's a fancy way of saying it has three doors instead of five – so how practical is it in comparison to the bigger five door and the ST estate? Well if you're concerned about getting your shopping in then don't be – it's fine.
Indeed, the boot in the SC is precisely the same size as the boot in the five-door model at 380 litres. That's the same size as the Volkswagen Golf too, so it's bigger than both the Ford Focus and the Vauxhall Astra. It's plenty big enough for trips to the local recyling centre dump or camping trips.
The only way in which the Leon SC really loses out is in the amount of space for rear seat passengers. It's not so much head room or knee room that's the problem – although it is a bit tight back there – it's more the getting in and out. This is something that'll be familiar to anyone who has ever owned a three-door car, but it's an issue that's getting a little more prevalent in modern cars.
Traditionally cars had tiny seat backs that took up no room at all and weighed very little, so you could fold them much further forward – and you could do it without too much exertion. Furthermore, thanks to a distinct lack of side impact protection there wasn't much to obstruct access to the back row.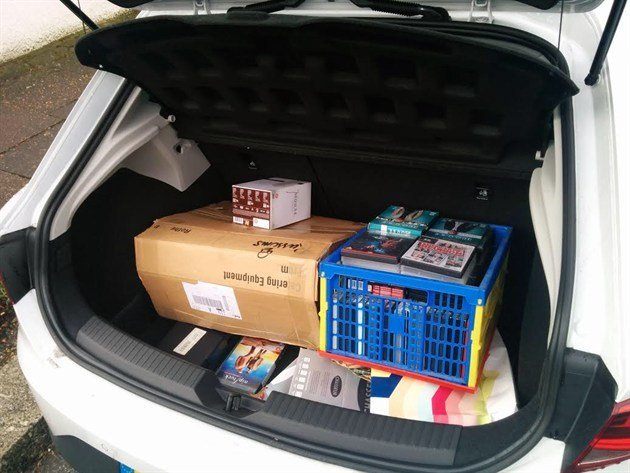 There's the same amount of boot space as in the five-door.
Now, care of improvements to safety equipment and quality, it's much harder to get in and out of the back row of a car in a dignified manner – although on balance I think I'd rather have a safer car that's a bit tricky to get into than a really unsafe one that's easy access. In the Leon's defence it's a problem with all modern three-doors.
Thankfully the Leon doesn't fall into another common three-door car trap – the seats, once folded forward to let someone in, will return to their original position with one shove. Rather irritatingly many three door cars don't have that function - the seats simply stop on their runners wherever you release them. It's something that irritated me about my previous Hyundai i30.
To be fair it's rare that I ever need to carry anyone in the back row, but many small families will pick a three door if their children are old enough to go without a car seat. For them, the Leon will be fine – my 14-year-old sister was quite content and had more than enough space.
So if you're wondering about which will suit you the most, then it comes down to your usage. If you have a child or teenager who can fold themselves into the back row then the Leon SC is fine – it looks better than the five-door and it's a bit cheaper. You won't lose any boot space, so the only reason to pick the five-door is if you carry adult passengers a lot, or if you have a child seat to get in and out. 
« Earlier: Maximising fuel economy Later: Are you not infotained? »
Updates

It's time to say goodbye to our SEAT Leon. Its replacement has some very big boots to fill.

After a few weeks spent driving other cars I take the SEAT on a long drive to stretch its legs.

The Leon has a comprehensive in car infotainment system with navigation, DAB radio and great connectivity - here's a more in depth look at how it works.

10 February 2014: All aboard
Our Leon is an SC model - which means it has three doors. That might make it look sportier but how does it affect practicality?

How close does the Leon get to its official fuel consumption figure - and how much is that dependent on driving style?

A hectic Christmas break meant covering more than 700 miles in two days - but the SEAT coped well.

The SEAT Leon has coped well with the recent wet, grey and miserable weather, it's just a shame its white paint shows dirt so much.

For new car buyers there's never been such a variety of cars to choose from - so aside from a hatch what else can you get for £20,000?

Lane keep assist and high beam assist are great gadgets to have – but the system on our Leon malfunctioned.

The SEAT Leon is built on Volkswagen-Audi group's MQB platform - so what else shares its underpinnings?

The new Leon is undoubtedly capable but SEAT wasn't always such a strong brand. Time to chart the history of our Leon's predecessors.

We welcome the Seat Leon SC FR to Our Cars, and it's loaded with some of the most desirable technology on offer.