Our Cars: Nissan Pulsar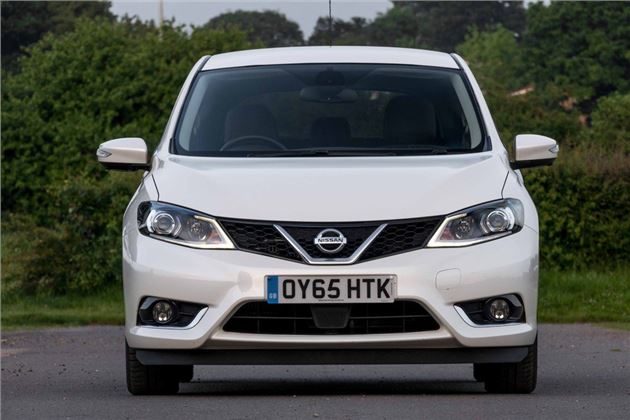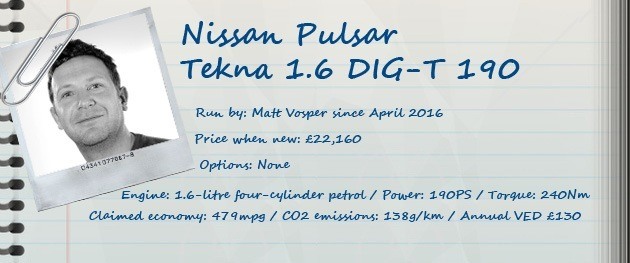 25 May 2016: Can a sporty hatch perform as a family car?
The Details
| | |
| --- | --- |
| Current mileage | 6114 |
| Claimed economy | 47.9mpg |
| Actual economy | 40.6mpg |
I've covered quite a few miles since my last update, mostly motorway, and I have to say that the driving experience in the Pulsar leaves me with mixed feelings. It's definitely a very nice interior with it's simple layout and well placed switches plus the leather seats are extremely comfortable.
The feedback from steering is a joy - it's not too light or heavy and is very direct. The gates for the gears slot in very sweetly and effortlessly with a nice light clutch. And given this is the DIG-T 190 with a maximum 190PS and a 0 to 62 mph time of 7.7 seconds, it feels every bit as nimble and quick as you'd want.
However, because this is a kind of hot hatch meets family runabout, it lies between two territories. Of course the two couldn't be further apart from each other, so when you combine a sports hatch with family transport, there will always be a compromise from each side.
The ride and handling are a perfect example. The Pulsar can be quick and sporty but also very annoying and quite stiff and uncomfortable on a long level motorway. After a while, this soon becomes tiring and you just crave a bit of comfort.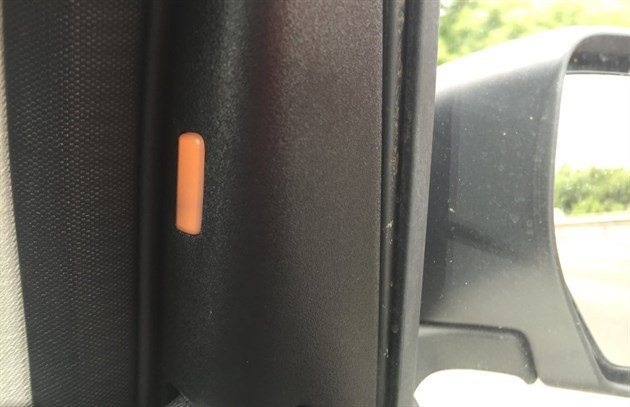 Blind spot warning is a really useful extra
Pull off a slip road and back onto a B road and the Pulsar begins to make more sense again. Driving around country lanes is where the Pulsar wants to be. Having said that, that's the Pulsar in this spec, the DIG-T 190. There are others in the range that are probably more suited to the eco-conscious long range motorway driver such as the 1.5 dCi.
The other thing that adds to the stiffer ride are the 18-inch alloys on the Tekna. The 1.5 dCi Acenta comes with 16-inch alloys. So there is a trade off for looks and handling with comfort. But I have to say that the 18-inch alloys look the part and are almost a necessity, otherwise this Pulsar would just disappear into a background of dullness.
And just a quick note on the Tekna. It's called the Tekna because it is full of tech. Things like blind spot warnings on the inside of the pillars. These have a glowing orange LED that warns you if a car is out of sight of your mirrors. It's really useful in fact and never fails when a car is in the blind spot. But recently I've found that it is seeing things that actually aren't there.
It's become overzealous and glows when things simply couldn't be there. At first I thought I was imagining it, but it's happened at least a dozen times and it's not a fault, just extremely sensitive to its surroundings. For instance it will glow for roadsigns, lampposts and anything mostly on central reservations, the one time nothing can physically be in your blindspot, hopefully!
« Earlier: Taking a brake Later: Tekna-phobe »
Updates

After six months we've come to the end of our time with the slightly-sporty Pulsar. So what's the final verdict?

It's time for our Pulsar to have its first service as it approaches 10,000 miles already. So how does Nissan do on the customer service front?

Matt is trying to work out whether our Pulsar is a sporty hatch or merely a family car with some posh wheels on...

The Pulsar isn't matching the claimed Nissan figures for fuel economy but it's still proving reasonably frugal as Matt finds out...

Need extra room in your hatch? We did and the solution was a posh roof box for our sporty Nissan.

The Pulsar has lots of cameras on board to make parking and tight manouevres easier. So do they actually help?

The low front end of our Pulsar is causing some problems when it comes to speed bumps and parking. As Matt finds out.

The Pulsar has keyless start but, as Matt finds out, it can be a temperamental system. He'd be happy with a conventional key.

Our Pulsar is fitted with a host of safety tech. But what happens when that tech decides not to work?

25 May 2016: Can a sporty hatch perform as a family car?
Our Pulsar is a kind of hot hatch that meets family runabout. But in reality, the two couldn't be further apart from each other. So does it work.

The Pulsar comes with an array of safety systems. But do they actually help you to become a better - and safer - driver?

Enter the Pulsar. Nissan's new Almera. And Matt will be running this sporty DIG-T 190 model for the next six months.