Our Cars: Nissan Leaf Tekna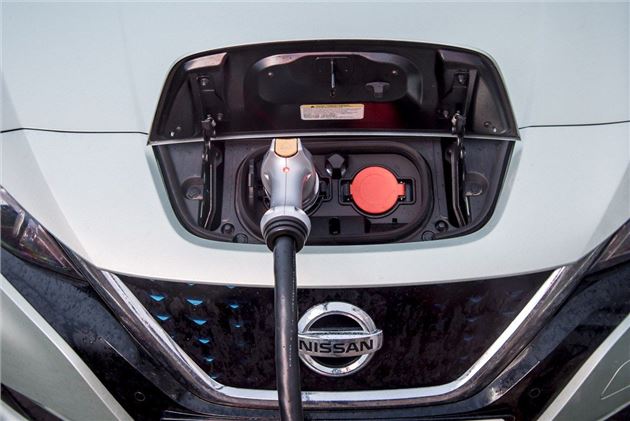 18 April 2019: What's the best way to charge my Nissan Leaf at home?
The Details
| | |
| --- | --- |
| Current mileage | 10,741 |
| Claimed range | 168 |
| Actual range | 110 |
Trying to keep our long-term Leaf going with just a three-pin has been a bit of a challenge. Research shows that most owners of this all-electric Nissan don't charge them every night. So it's fair to say that our stab at Leaf ownership isn't typical.
Despite starting the day at 100%, we return home most days with 30-40% left in the battery so we have to charge every night. And at least a couple of times a week we need to take a trip to the quick charger at the services over lunch as our daily mileage exceeds what's available.
This particular aspect of Leaf ownership requires a bit of planning because returning home after midnight with a low battery means that you won't have a 'full tank' of charge the next day – not on a three-pin charge anyway. That's because plugging the Leaf into the same type of domestic socket that powers your kettle takes at least 12 hours to charge the battery to full. The solution? To get a more powerful home charger installed.
And because the Leaf doesn't have any kind of cooling facility for its battery, its capacity to accept more than one 40kw fast charge a day is limited. While the first one might take your battery from 80% to nearly full in just over 45 minutes, the second time you attempt it often takes much longer.
Light bars are handy for checking the status of the Leaf's charge.
This is less than ideal for a number of reasons. One because most Leaf owners don't realise this. Two because rules around fast chargers supplied by Ecotricity (which you'll find at most of the UK's major motorway service stations) mean you're only supposed to use them once a day so you could find yourself in trouble if you have a lot of miles to do in a day. And, finally, it can get expensive – unless Ecotricity supplies your domestic power, you get charged a hook up fee as well as the cost of the electricity you use.
So we contacted home charge installer Pod Point to see if they could help. Government grants are still available, which means they're able to offer charge points from £279. This is for the low power 3kw version (the same as a domestic plug). We know what you're thinking – can't I just run an extension lead out from the house? Sure you can. But these cars do put quite a strain on your electrics and plugging your charge adapter into an extension lead isn't ideal.
To make the most of our charge time, we've opted for the slightly more expensive 7kw home charger – the most powerful available. This promises to fully charge the battery in about six hours. The unit should also connect to our home Wi-Fi network so we can monitor our electricity usage. We've also opted for a universal fitting, which means we can charge any EV at home – as long as we've got the lead.
Currently, the plan is to have the unit mounted on the exterior of the house. The installation includes a lock so it's safe and secure. We've been told to expect installation within five to ten days. We'll keep you posted.
« Earlier: Nissan Leaf e-pedal: What is it? How does it work? And is it any good?