Our Cars: Nissan Leaf Tekna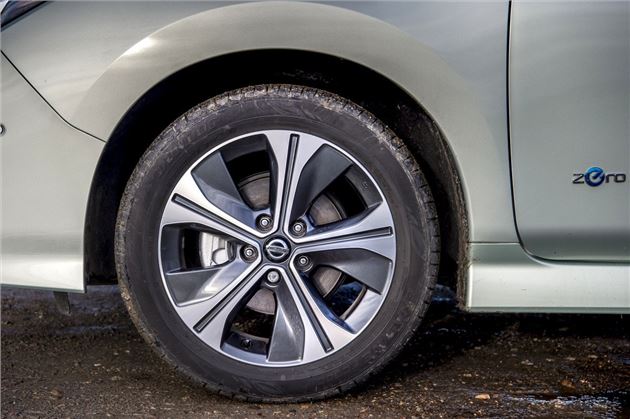 28 March 2019: Seven things we love about the Nissan Leaf
The Details
| | |
| --- | --- |
| Current mileage | 9998 |
| Claimed range | 168 |
| Actual range | 110 |
The Nissan Leaf is one of those cars that pushes the boundaries. For most would-be buyers, cars like this are easy to criticise – but there's actually a lot to love. True, it's not without its niggles but we reckon the good will easily outweigh the bad for most potential owners.
First up on the list of stuff we like is the powertrain. While the the 110kw engine isn't super powerful, it does offer 320Nm of torque – which is plenty. And, thanks to the fact you don't have to wait for the revs to rise or fiddle about with gears, that power is good to go whenever you need it. Such immediate power delivery makes driving the Leaf entertaining and enjoyable rather than dull and boring.
Also on the list of positives is the ProPilot system. This includes the e-pedal system (which we'll cover in a separate update) as well as clever cruise control and reversing tech. In a nutshell, it takes the stress out of driving as it'll keep you in your chosen lane at a safe distance from the car in front and makes stop-start traffic a breeze. It'll also park the car for you... although be warned that this last aspect can be quite slow and tedious.
Much more exciting is the fact you can use the charge in your Leaf's battery to power other fun stuff. Like your house. Sure, it's all a bit Tomorrow's World, but the logic is sound. It means you can put the energy you've recovered back into the grid and earn a few quid. Or you can just power your mobile disco with it.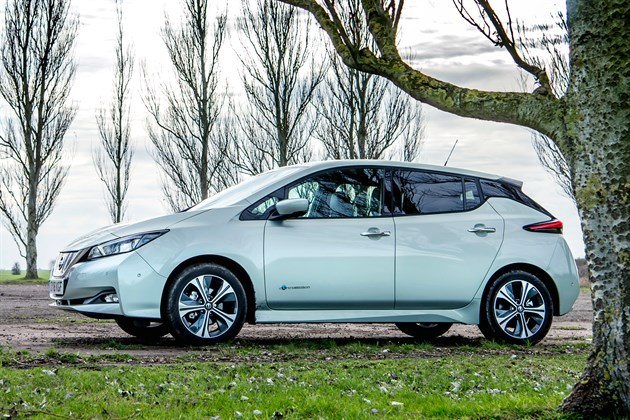 Keith thinks the Nissan Leaf looks pretty stylish.
When people think of electric cars, they generally think 'weird'. Sinclair C4, General Motors EV1, Honda Insight… we're talking spats, overly-aerodynamic styling and generally standing out (but not in a good way). The Mk1 Leaf was guilty of this too, but for this generation it's much improved. We think it actually looks pretty stylish, and the use of premium materials in the cabin make it a much nicer place to hang out.
It's made in Britain at Nissan's Sunderland site. Wait, what? 'Britain doesn't make anything anymore' is a line we've heard a lot recently. And while we're a long way from the British motor industry's 1970s heyday (it was the best of times, it was the worst of times… etc) we do ok. Aston, Bentley, Jaguar, Land Rover all make cars here – MINIs are assembled here, Ford's Dagenham site is a centre for diesel excellence and there are still quite a few F1 teams based in the UK.
Sixth on our list is the fact that's it's quiet. Over the Leaf's lifetime, we reckon Nissan has had to re-engineer quite a few components. Apparently, internal combustion engines are rather good at masking the whine of windscreen wiper motors. The result is that the Leaf's interior is a place of serene tranquillity where you can talk to your passengers at motorway speeds without having to shout.
And finally? Well, it had to be didn't it – the running costs. At £30k the Leaf is at the top end of most people's new car buying budget. But it is significantly cheaper to run. In a typical month, we clocked up 968 miles, which used 269.5kWh of electricity. At our domestic rate of 13p per kWh, it cost me £35. When you compare that to running a petrol car that gets 35mpg then the cost of covering those miles would've been £156.97 (working off the average price of unleaded of 125.4ppl) or £115.66 in a 50mpg diesel car (if diesel is 130ppl).
« Earlier: Nissan Leaf niggles mount up Later: Nissan Leaf e-pedal: What is it? How does it work? And is it any good? »
Updates

Should you spring for a wall-mounted charger - or can a three-pin socket cut it?

What is an e-pedal? How does it work? And is it any good? We explain all

28 March 2019: Seven things we love about the Nissan Leaf
There's plenty to like about the new Leaf. Here are just a few highlights.

We reflect on some of the more challenging aspects of running a Leaf

These days, is a car only as good as its app?

Baby wipes, free electricity, judgemental apps and other Leaf owners - Keith reflects on three months in an EV.

We get to grips with coping with the Leaf's limited range on a daily basis.

How does the latest Leaf stack up against its electric rivals? We find out

A drop in temperature dents the Leaf's range

Can you make the Leaf work if you don't live in the city? We find out