Our Cars: Nissan Leaf Tekna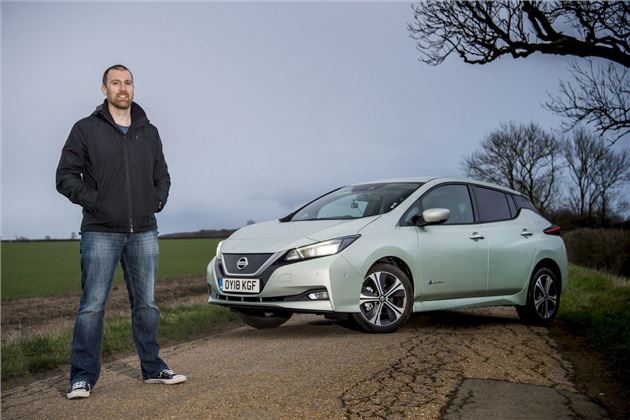 6 December 2018: Are friends electric? Nissan Leaf joins the fleet
The Details
| | |
| --- | --- |
| Current mileage | 7428 |
| Claimed range | 160 |
| Actual range | 120 |
| | |
As the editor of Honest John Classics, one of the questions I get asked a lot is what car is a future classic. People are always amazed when I suggest an early hybrid like a Honda Insight  – rather than a Ferrari or a Porsche.
But think about it for a minute. These cars are at the forefront of a major revolution and – last time I checked – gamechangers were a pretty decent investment. Audi Quattro, Mini, Volkswagen Golf GTI – all names of cars that broke the mould and now regularly make strong money at auction.
And there's no reason the Nissan Leaf can't join that roll call… just as long as Nissan does something to capture the public's imagination. Which is strange, considering that Nissan gave us the fire-breathing Skyline and once created a twin-engine Micra. Just for fun.
With the general public currently ignoring EVs in the hope that they'll go away (a strategy echoed by the Government, despite promising to ban sales of new petrol and diesel cars by 2040), I was keen to find out if it was possible to run one every day as a family car.
So say hello to the latest addition to the Honest John fleet – a Nissan Leaf. We've gone for the top of the range Tekna trim (although this will be superseded in 2019 with a new model that adds more range and power).
Trim wise, it's got everything you need – alloy wheels, automatic LED lights, air-con, cruise control, lots of things with acronyms, intelligent braking, self-parking and our favourite a Bose premium sound system.
With a list price of £32,890, it's definitely expensive when it comes to family hatchback – but compared to the similarly priced all-electric Volkswagen Golf that we ran, it's actually a much smarter choice.
Factor in the Government's Plug-in Car Grant (PiCG) and you can currently save £3500 on the list price, taking it down to £29,390. So if the figures work for you, follow our upcoming reports to find out whether or not you can really use an electric vehicle as a full-time family car.
Later: How much does winter hurt in an electric vehicle? »
Updates

Should you spring for a wall-mounted charger - or can a three-pin socket cut it?

What is an e-pedal? How does it work? And is it any good? We explain all

There's plenty to like about the new Leaf. Here are just a few highlights.

We reflect on some of the more challenging aspects of running a Leaf

These days, is a car only as good as its app?

Baby wipes, free electricity, judgemental apps and other Leaf owners - Keith reflects on three months in an EV.

We get to grips with coping with the Leaf's limited range on a daily basis.

How does the latest Leaf stack up against its electric rivals? We find out

A drop in temperature dents the Leaf's range

6 December 2018: Are friends electric? Nissan Leaf joins the fleet
Can you make the Leaf work if you don't live in the city? We find out