Our Cars: Mitsubishi Outlander PHEV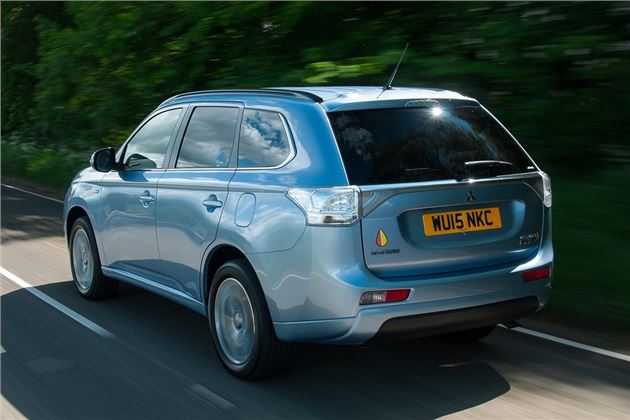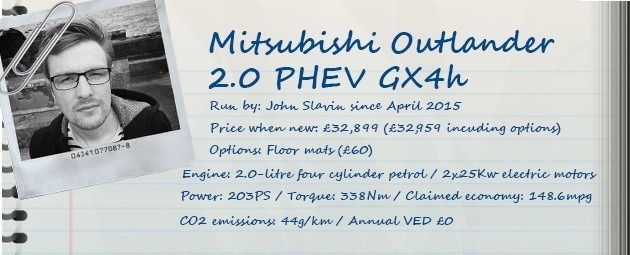 24 August 2015: What are the alternatives?
The Details
| | |
| --- | --- |
| Current mileage | 3890 |
| Claimed economy | 148.6mpg |
| Actual economy | 63.2mpg |
The Outlander PHEV is one of the most popular plug-in hybrids on sale, but it isn't the only one. In fact there are increasing numbers of plug-in models appearing in the model ranges of every kind of car manufacturer, from exotic brands like McLaren, with its P1, to Vauxhall with the less than successful Ampera.
In fact there are quite a few options if you want to blend petrol and electric drive. All have similar benefits when it comes to economical commuting and company car tax. Our Outlander cost a little less than £33,000 – so a McLaren P1 is out of the question – but what other plug-in hybrids are available for similar money?
One model that comes close to matching the Outlander PHEV on price is the Volkswagen Golf GTE. After the government plug-in car discount of £5000 it comes in at a cheaper £30,520 in top Nav trim – plus it is nicely finished and has impressive performance, thanks to peak power of 204PS.
But compared to the Outlander PHEV it's tiny. There aren't many scenarios in which you would compare a medium-sized family hatchback to a large SUV – so it isn't fair to do so here. The Golf might be cheaper and better to drive – but so it should be.
Volkswagen has a larger PHEV on the way in the form of the Passat GTE estate, though. Prices are to be confirmed but we estimate it will cost almost exactly the same as the Outlander PHEV after the government discount. This is certainly a more valid competitor for the Outlander.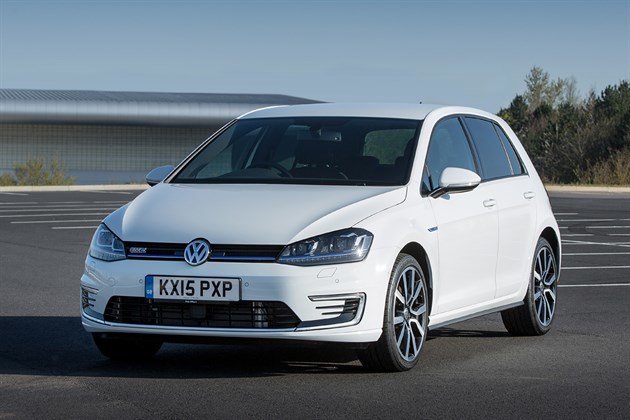 Golf GTE. Cheaper. Smaller.
The Passat GTE estate has a sizeable boot, plus it is smooth and quiet – but there is still a lot in the Outlander's favour, again because of its size. It is a full-sized SUV with a raised driving position and, even though the Passat is big, the Outlander is still the larger car.
Mitsubishi doesn't have a complete monopoly when it comes to plug-in hybrid SUVs though. In fact there are plug-in variants of the Porsche Cayenne, BMW X5, Audi Q7 and Volvo XC90 – but they're all significantly more expensive than the Outlander PHEV.
They may be nicer to drive and to be in than the Outlander, but then you'd hope so given the premium you have to pay. But this leaves the Outlander in a league of its own – there really isn't anything on sale that is the same size, at the same price, with the same plug-in technology.
That won't last forever, of course. Car makers don't tend to rest on their laurels, particularly when there's an opportunity to be seized upon, so over the coming years you can rest assured that other car manufacturers will come up with very similar vehicles at very similar prices. For now, though, the Outlander PHEV is the only big, company car tax friendly plug-in SUV you can get for around £33,000. 
« Earlier: Company car driver? Here's your new car Later: A second opinion: First impressions »
Updates

After six months of driving around on a mixture of petrol and electricity, it's time to say goodbye to the Outlander PHEV.

Out of order chargers and other EV drivers are getting on my nerves - but fortunately I can always rely on petrol to sort me out.

Since our Outlander arrived, Mitsubishi has busily beavered away on the design – now Outlanders get updated styling and a few other tweaks.

Matt was initially impressed with the space and quietness of the Outlander, but after covering some miles does he still like it?

John hands the Outlander over to Matt Vosper for a couple of weeks to see if it suits his high mileage driving.

24 August 2015: What are the alternatives?
If you've settled on the idea of driving a pluh-in hybrid, what other options are there aside from the Outlander?

The Outlander PHEV is a fantastic company car, thanks to BIK benefits that will save many drivers thousands of pounds.

What fits in an Outlander? Rather a lot of stuff, it turns out. John finds out as he buys an old moped.

The navigation system in the Outlander seems to be haunted by the ghost of a demon headmistress...

The Outlander has paddles for choosing one of five levels of regenerative braking - mastering them can add miles to the range.

Keeping the Outlander PHEV topped up is essential if you want to make the most of a tank of petrol - these are the methods.

We welcome the plug-in hybrid Mitsubishi Outlander. Part electric car, part petrol car, all futuristic.