Our Cars: Mitsubishi Outlander PHEV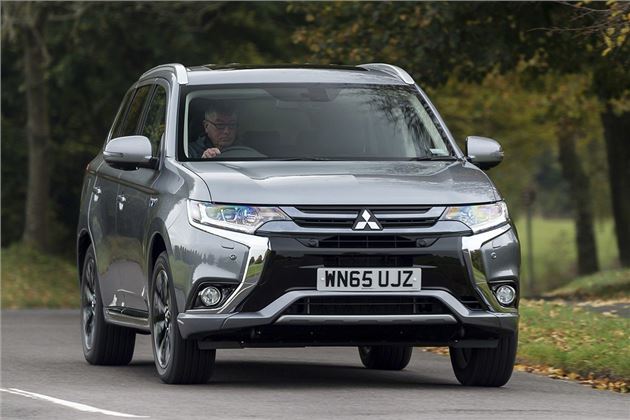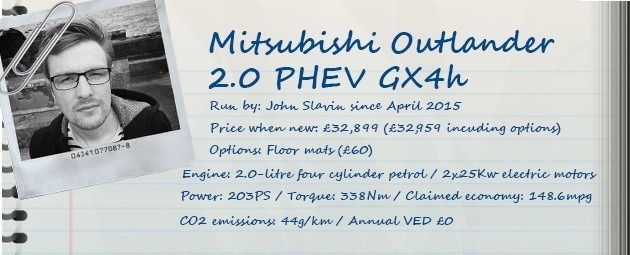 5 October 2015: Outlander gets a new face
The Details
| | |
| --- | --- |
| Current mileage | 6395 |
| Claimed economy | 148.6mpg |
| Actual economy | 48.1mpg |
See that car in the picture? It's not ours, but it is still an Outlander PHEV. Mitsubishi is calling the facelift its biggest midelife update ever - and it's easy to see why. The anonymous styling has been replaced with a strong, modern look both front and rear. And yet, underneath it all, the basics are the same as before.
The changes aren't merely skin deep though. The updated Outlander PHEV has revised suspension with improved ride and handling and tweaked steering. While we haven't had many complaints about the drive in our Outlander, a bit more weight and bite to the steering is welcome.
The powertrain remains unchanged with the same arrangement of two electric motors – one for each axle – and a petrol engine to generate power. That said, the software has been improved, meaning the new model accelerates slightly faster than our outgoing version.
Range remains the same, which means that most buyers can get to and from work without using much fuel, if any at all. The journey itself should be slightly more pleasant than in the outgoing version though, thanks to some improvements to the fit and finish in the cabin.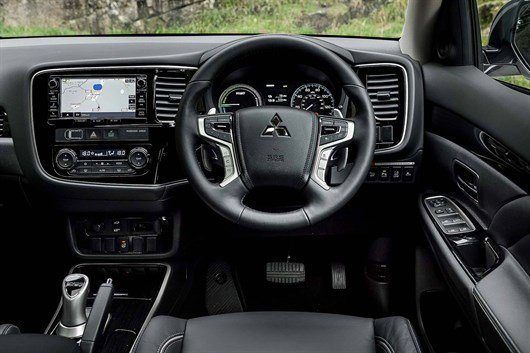 Perhaps the biggest criticism we have for our Outlander is the choice of materials inside, including on the dashboard top. It's not that they're of poor quality – they're very durable indeed – it's just that they don't look or feel like they belong in a large, fairly expensive car.
This criticism has been addressed in the revised model, which has a new steering wheel, new seats and a new centre console. There have also been plenty of subtle changes to improve noise isolation from the engine, the tyres and the wind, making the Outlander PHEV quieter than it was before – and it was hardly loud.
These changes aren't for nothing though – you have to pay more for the new Outlander PHEV. Fortunately, in addition to the improved quality and refinement there is some new technology on offer too including a heated steering wheel and a 360-degree around-view camera to make parking easier.
Since the Outlander PHEV went on sale it has been the most popular plug-in model available in the UK, but rivals are catching up – so it's good (for Mitsubishi at least) that the revised model is so appreciably better than the outgoing car. As for us – we have a few weeks left with the outgoing car, but it keeps providing faithful service.
« Earlier: A second opinion: Conclusions Later: Where's the infrastructure »
Updates

After six months of driving around on a mixture of petrol and electricity, it's time to say goodbye to the Outlander PHEV.

Out of order chargers and other EV drivers are getting on my nerves - but fortunately I can always rely on petrol to sort me out.

5 October 2015: Outlander gets a new face
Since our Outlander arrived, Mitsubishi has busily beavered away on the design – now Outlanders get updated styling and a few other tweaks.

Matt was initially impressed with the space and quietness of the Outlander, but after covering some miles does he still like it?

John hands the Outlander over to Matt Vosper for a couple of weeks to see if it suits his high mileage driving.

If you've settled on the idea of driving a pluh-in hybrid, what other options are there aside from the Outlander?

The Outlander PHEV is a fantastic company car, thanks to BIK benefits that will save many drivers thousands of pounds.

What fits in an Outlander? Rather a lot of stuff, it turns out. John finds out as he buys an old moped.

The navigation system in the Outlander seems to be haunted by the ghost of a demon headmistress...

The Outlander has paddles for choosing one of five levels of regenerative braking - mastering them can add miles to the range.

Keeping the Outlander PHEV topped up is essential if you want to make the most of a tank of petrol - these are the methods.

We welcome the plug-in hybrid Mitsubishi Outlander. Part electric car, part petrol car, all futuristic.