Our Cars: Mitsubishi Outlander PHEV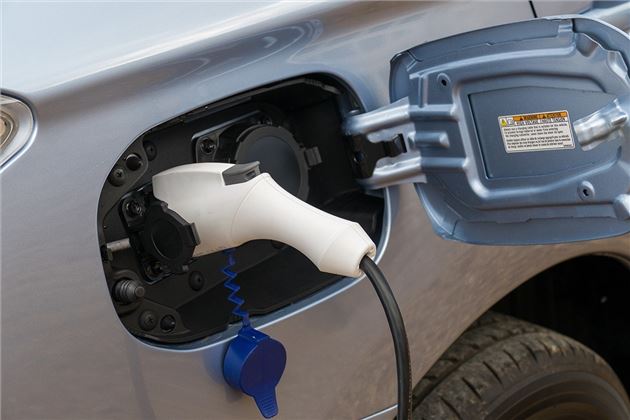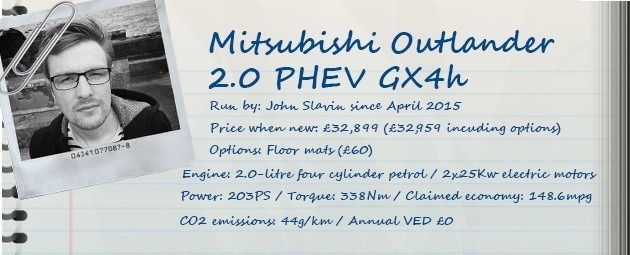 11 May 2015: Keeping the batteries charged
The Details
| | |
| --- | --- |
| Current mileage | 1210 |
| Claimed economy | 148.6mpg |
| Actual economy | 75.6mpg |
If you're planning on buying a plug-in hybrid like the Mitsubishi Outlander PHEV, you'll almost certainly be wondering about charging and infrastructure. Keeping the battery topped up is essential whether you're eco-conscious and want to reduce your emissions, or if you just want to save some money on petrol.
Thankfully charging the Outlander PHEV at home or at work via a three-pin socket is very, very easy. On the left side of the car there is a fuel filler flap, while on the right hand side there is a flap covering two sockets. The little one is for the provided three-pin charger, which you can use with any standard plug socket, while the larger socket is for fast chargers.
For a slow, three-pin charge you plug both ends in, flip the switch and voila - the charging starts. A solid green light on the charging unit means charging is in progress, a flashing green light means charging has completed. This takes about five hours from empty. It's worth noting that you can't connect the charger to an extension – apparently that isn't safe.
From the settings menu in the car you can tell the charge to start at a specific time, so if you hook it up before bed you can tell it not to charge until after midnight, which might be useful for some electricity tariffs. Charging the car from empty costs around £1 according to Mitsubishi and, realistically, that will get you around 25 miles. Doing 25 miles in the diesel auto, based on official figures and a diesel cost of £1.19 per litre, would cost £2.22.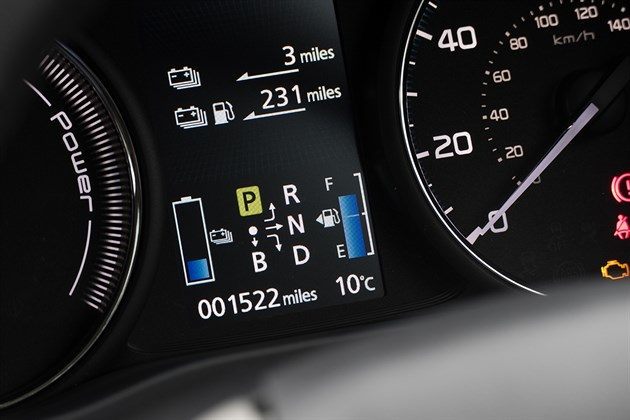 Keep the left bar full for good times 
That's not the whole picture though, because there are various free places to charge, including (once you have paid a £10 membership fee) at most motorway service stations, thanks to Ecotricity. You can also get a Source card which lets you charge (and in some cases park) for free in numerous shopping centres and towns. Zap Map is a useful tool for finding a charger.
Nothing is ever problem-free, though. Only a three-pin charger is provided for free by Mitsubishi, so you'll have to pay for an additional cable if you want to use most charging points. The exceptions are Ecotricity points, since they have cables attached – you just pick the right one, follow the instructions and come back when the charge is finished.
Charging from an Ecotricity fast charger takes about 25 minutes and tops the battery up to 80 per cent. That means you can stop in at a services, hook up, and then by the time you've got your Greggs pasty you'll be on your way with some free miles. Unfortunately some motorway services don't have Ecotricity points, while of those we've visited so far several have been out of order.
You also have to hope there isn't anyone else there – as time wears on and electric cars become more popular the chances of finding a free charging point get slimmer. That is the beauty of the PHEV, though – if you can't charge up then you can still continue on your journey, you'll just burn a bit more fuel.
« Earlier: Welcome to the future Later: Playing the regeneration game »
Updates

After six months of driving around on a mixture of petrol and electricity, it's time to say goodbye to the Outlander PHEV.

Out of order chargers and other EV drivers are getting on my nerves - but fortunately I can always rely on petrol to sort me out.

Since our Outlander arrived, Mitsubishi has busily beavered away on the design – now Outlanders get updated styling and a few other tweaks.

Matt was initially impressed with the space and quietness of the Outlander, but after covering some miles does he still like it?

John hands the Outlander over to Matt Vosper for a couple of weeks to see if it suits his high mileage driving.

If you've settled on the idea of driving a pluh-in hybrid, what other options are there aside from the Outlander?

The Outlander PHEV is a fantastic company car, thanks to BIK benefits that will save many drivers thousands of pounds.

What fits in an Outlander? Rather a lot of stuff, it turns out. John finds out as he buys an old moped.

The navigation system in the Outlander seems to be haunted by the ghost of a demon headmistress...

The Outlander has paddles for choosing one of five levels of regenerative braking - mastering them can add miles to the range.

11 May 2015: Keeping the batteries charged
Keeping the Outlander PHEV topped up is essential if you want to make the most of a tank of petrol - these are the methods.

We welcome the plug-in hybrid Mitsubishi Outlander. Part electric car, part petrol car, all futuristic.