Our Cars: Mitsubishi Outlander PHEV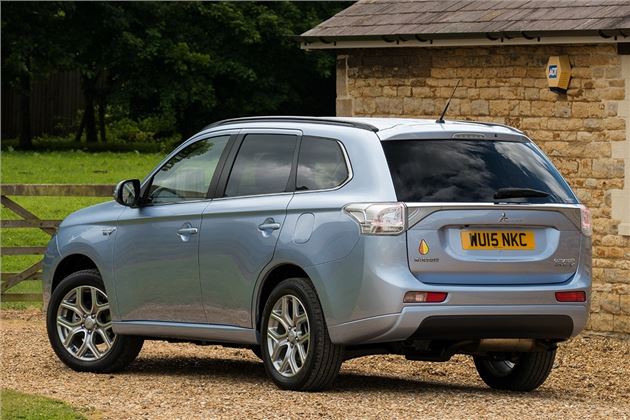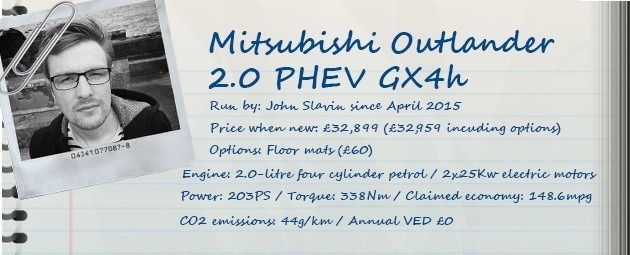 30 June 2015: How practical is the Outlander?
The Details
| | |
| --- | --- |
| Current mileage | 2956 |
| Claimed economy | 148.6mpg |
| Actual economy | 63.3mpg |
I've talked in depth about how the Outlander PHEV runs on a combination of electricity and petrol and how you can commute for almost nothing, but I've barely mentioned how useful it is as a car in the traditional sense. Which is a bit remiss of me, since it's about as practical and user-friendly as cars come, with a huge boot and masses of legroom.
For everyday use the Outlander is great. Our car has an electric tailgate which takes quite a long time to raise and lower, but if you're carrying heavy stuff it's easier to press the open button on the keyfob than to put everything down and find the button on the boot. There is an override button in the car that disables the electric function - then the hatchback raises and lowers on gas struts like on any other car.
Folding and unfolding the rear row of seats is easy enough to do, despite the lack of electronic one-touch levers. With everything folded the load deck is flat and level with the load lip, which makes sliding heavy stuff in and out really easy. That proved useful just a few weeks into my time with the car.
I put the Outlanders' spaciousness to the test by buying a knackered old moped. Most of the engine was missing, it was 50 miles away and it only cost £85, so hiring a van or a company to help out was a bit of a waste of money. Thankfully, with the rear seats folded flat, the scooter fit in fine - it took two people to get it in and out, but that was purely down to its awkward shape.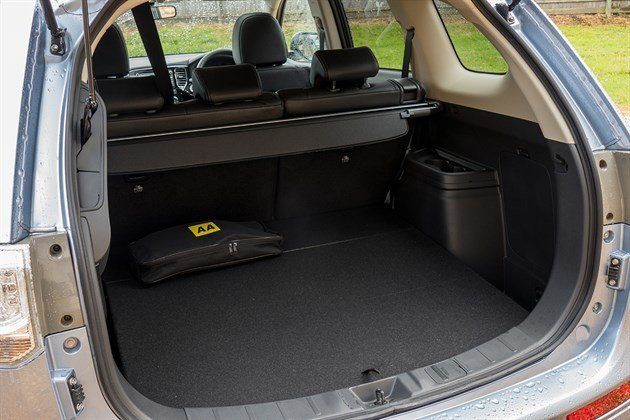 Lots can fit in here. Even a small motorbike...
The problem with loading a scooter into the back of a car on its side is that it leaks two-stroke oil all over the place - but Mitsubishi kindly fits a rubber load area protecter to the Outlander. It took some scrubbing to get ride of all the smelly old gloop, but it's as good as new now - just like the scooter. 
If you're carrying humans instead of bikes, the rear seats in the Outlander are great. They don't just fold flat, they also recline, which means rear seat passengers can get comfortable easily. Head room and leg room are generous, with plenty of space for adults in the rear row. If you really need space you can also get the Outlander PHEV with two additional, small seats that fold out of the boot.
Ours is the five-seater though, which is fine - we have no children to carry about the place. In fact most of the time it's just one or two people in the car - which perhaps renders its spaciousness pointless. But after six months with a little Skoda Citigo the space in the Outlander is really, really useful - if I want to go and get something big and bulky I can without worrying about getting it home.
Aside from testing the boot capacity it's been plain sailing with the Outlander. It's been a little warmer lately, which means using the air conditioning. And that means reducing the battery range a touch. Even so it's possible to get home from work and almost the whole way back to the office - around 35 miles - on electricity alone. I don't think that will ever get old.
« Earlier: The Outlander's sat nav is evil Later: Company car driver? Here's your new car »
Updates

After six months of driving around on a mixture of petrol and electricity, it's time to say goodbye to the Outlander PHEV.

Out of order chargers and other EV drivers are getting on my nerves - but fortunately I can always rely on petrol to sort me out.

Since our Outlander arrived, Mitsubishi has busily beavered away on the design – now Outlanders get updated styling and a few other tweaks.

Matt was initially impressed with the space and quietness of the Outlander, but after covering some miles does he still like it?

John hands the Outlander over to Matt Vosper for a couple of weeks to see if it suits his high mileage driving.

If you've settled on the idea of driving a pluh-in hybrid, what other options are there aside from the Outlander?

The Outlander PHEV is a fantastic company car, thanks to BIK benefits that will save many drivers thousands of pounds.

30 June 2015: How practical is the Outlander?
What fits in an Outlander? Rather a lot of stuff, it turns out. John finds out as he buys an old moped.

The navigation system in the Outlander seems to be haunted by the ghost of a demon headmistress...

The Outlander has paddles for choosing one of five levels of regenerative braking - mastering them can add miles to the range.

Keeping the Outlander PHEV topped up is essential if you want to make the most of a tank of petrol - these are the methods.

We welcome the plug-in hybrid Mitsubishi Outlander. Part electric car, part petrol car, all futuristic.