Our Cars: Mitsubishi Outlander PHEV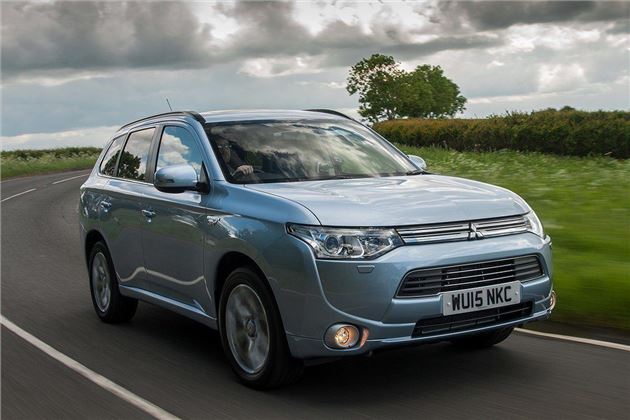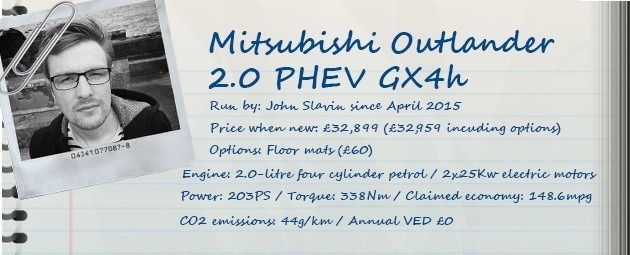 7 September 2015: A second opinion: First impressions
The Details
| | |
| --- | --- |
| Current mileage | 4362 |
| Claimed economy | 148.6mpg |
| Actual economy | 52.3mpg |
John hands the Outlander over to Matt Vosper for a couple of weeks to see if it suits his high mileage driving...
"I have been lucky enough to drive John's Mitsubishi Outlander PHEV for a couple of weeks while he's been out globetrotting the world, testing all kinds of other cars. Before I collected it I was quite looking forward to trying out the plug in hybrid technology to find out what it's all about. 
I'd often find John busily tapping away at his keyboard in the office and next to him was a cable, trailing from the wall plug out of the window into the car park, where it was connected to what looks like the petrol filler cap of the Outlander, but is actually the charging socket.
I know John is pretty pleased with this car and it's easy to see why when it comes to size, which is ideal for me with all my camera equipment. But I do travel quite a few miles, certainly more than John does on a weekly basis - such is the nature of my job. So does the hybrid tech work for all drivers?
In John's case, he can get to the office and back very nearly without using any fuel at all, but that's not the case for me. I'm not sure that will be the case for me...
                                   It's the demon headmistress, trapped behind a screen
The cabin is very spacious with decent visibility, it's very comfortable on long runs and in electric mode, albeit with some tyre noise, it is almost silent in operation. The only sound is a kind of futuristic sci-fi type whoosh, which my son absolutely loves being a Star Wars fanatic. 
Another, less impressive sound - and something that really does need to be mentioned, as John already has - is the unbelievably sinister woman's voice when using the navigation. It really is creepy and probably best to turn off voice instructions unless it's Halloween. It's all computer generated, but all the same it's really disconcerting to be guided by a demon headmistress on your way to a meeting.
There is loads of room in the back and there have been no complaints from my children, only that they know I have to hand back the keys to John soon. So from a family car point of view, it does the job more than well, especially as the ride is also very soft and very quiet.
Strangely I have noticed a bit of an oddity in the boot, where there is a set of cupholders on the driver's side at the very back, but obviously no seats to pop up. This is a hang up from petrol and diesel seven seats variants, but the PHEV has a huge set of batteries under the boot floor instead, which is a shame for a bigger family. 
« Earlier: What are the alternatives? Later: A second opinion: Conclusions »
Updates

After six months of driving around on a mixture of petrol and electricity, it's time to say goodbye to the Outlander PHEV.

Out of order chargers and other EV drivers are getting on my nerves - but fortunately I can always rely on petrol to sort me out.

Since our Outlander arrived, Mitsubishi has busily beavered away on the design – now Outlanders get updated styling and a few other tweaks.

Matt was initially impressed with the space and quietness of the Outlander, but after covering some miles does he still like it?

7 September 2015: A second opinion: First impressions
John hands the Outlander over to Matt Vosper for a couple of weeks to see if it suits his high mileage driving.

If you've settled on the idea of driving a pluh-in hybrid, what other options are there aside from the Outlander?

The Outlander PHEV is a fantastic company car, thanks to BIK benefits that will save many drivers thousands of pounds.

What fits in an Outlander? Rather a lot of stuff, it turns out. John finds out as he buys an old moped.

The navigation system in the Outlander seems to be haunted by the ghost of a demon headmistress...

The Outlander has paddles for choosing one of five levels of regenerative braking - mastering them can add miles to the range.

Keeping the Outlander PHEV topped up is essential if you want to make the most of a tank of petrol - these are the methods.

We welcome the plug-in hybrid Mitsubishi Outlander. Part electric car, part petrol car, all futuristic.