Our Cars: Mitsubishi Outlander PHEV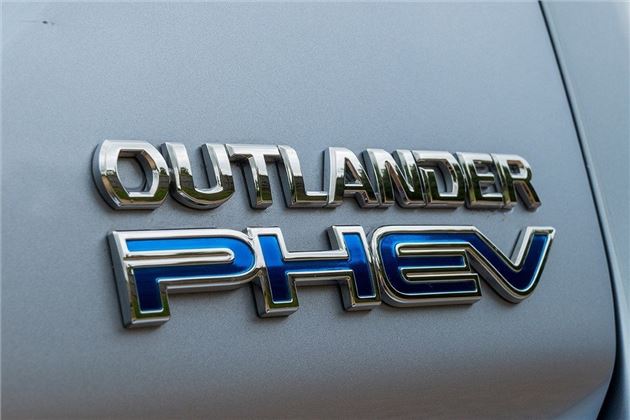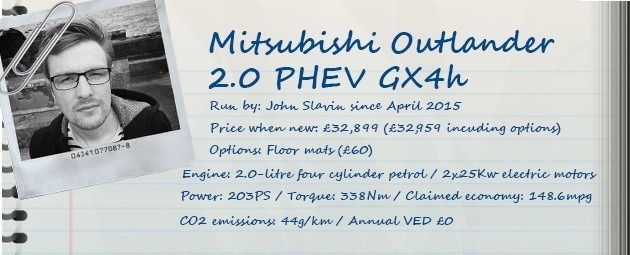 21 September 2015: A second opinion: Conclusions
The Details
| | |
| --- | --- |
| Current mileage | 5124 |
| Claimed economy | 148.6mpg |
| Actual economy | 48.1mpg |
Although hybrid technology is great and may well be economical and good for the environment, for me it's just not working. I do like the idea, but it's a faff. In an ideal electric car, you'd get in and drive just as you would a normal car, but in the Outlander PHEV, you have to both charge it up and fill it with petrol.
It may sound lazy, but in order to match the economy of many admittedly smaller and lighter petrol cars, you have to charge the battery every single time you drive. If you don't you'll soon see the a hole in your wallet, particularly if you cover a lot of miles.
Here's the scenario I found virtually every day with this car. Imagine a long day at work, coupled with long drive home in the rain. You're tired and before you've even parked you have to reverse onto the driveway in the dark. Then you have to get out of the car on the wrong side in the rain, open the boot and rummage for the cable, plug in the car, hook up, lock up and then go indoors.
Reverse that the next time you drive, every time. By doing this you're not cheating the system, nor gaining a huge advantage over anyone who doesn't have a hybrid, you're merely getting 31 miles of electric range from the car. Every time you don't do this you end up watching the petrol gauge like a hawk knowing the inevitable and wishing you had plugged the car in.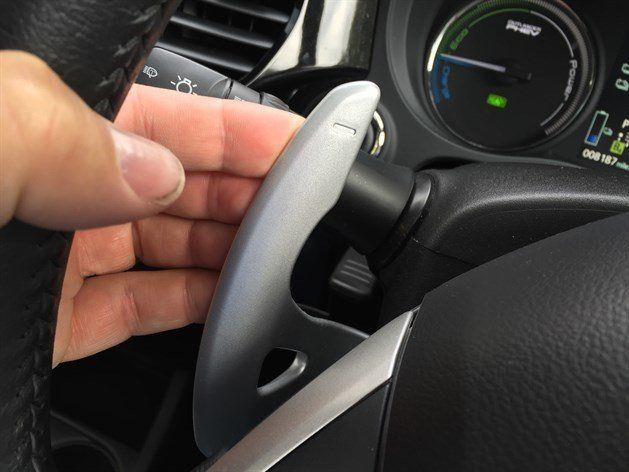 To maximise economy you'll need to learn to use these
So when you sign on the dotted line for this car you're also committing yourself to doing this from day one, a bit like buying a dog and then walking in the rain for the next few years at 5am until one of you eventually drops.
But thats not all, because if you charge it up you actually gain a maximum of 25 miles of extra range, not 31. And even that I would question, since it rapidly disappears to about five miles after only driving about five miles on the A1. Obviously the electric range lasts much longer in town and off the motorway - but I drive on the motorway a lot.
Something that is clever is the pair of paddles that allows you to regenerate the battery. Pulling them allows you to set the regenerative braking levels. Gauge it right and you'll hardly ever need to touch the brake pedals at all in normal driving.
But here's the bottom line for me - my new Dacia Logan MCV costs £50 to fill and you immediately get a range of around 750 miles. No cables, no getting wet, no driving changes, nothing. It might suit some drivers, particularly short distance commuters, but for me a diesel is better. Still, you can get a diesel Outlander if you like…
« Earlier: A second opinion: First impressions Later: Outlander gets a new face »
Updates

After six months of driving around on a mixture of petrol and electricity, it's time to say goodbye to the Outlander PHEV.

Out of order chargers and other EV drivers are getting on my nerves - but fortunately I can always rely on petrol to sort me out.

Since our Outlander arrived, Mitsubishi has busily beavered away on the design – now Outlanders get updated styling and a few other tweaks.

21 September 2015: A second opinion: Conclusions
Matt was initially impressed with the space and quietness of the Outlander, but after covering some miles does he still like it?

John hands the Outlander over to Matt Vosper for a couple of weeks to see if it suits his high mileage driving.

If you've settled on the idea of driving a pluh-in hybrid, what other options are there aside from the Outlander?

The Outlander PHEV is a fantastic company car, thanks to BIK benefits that will save many drivers thousands of pounds.

What fits in an Outlander? Rather a lot of stuff, it turns out. John finds out as he buys an old moped.

The navigation system in the Outlander seems to be haunted by the ghost of a demon headmistress...

The Outlander has paddles for choosing one of five levels of regenerative braking - mastering them can add miles to the range.

Keeping the Outlander PHEV topped up is essential if you want to make the most of a tank of petrol - these are the methods.

We welcome the plug-in hybrid Mitsubishi Outlander. Part electric car, part petrol car, all futuristic.