Our Cars: MINI Countryman PHEV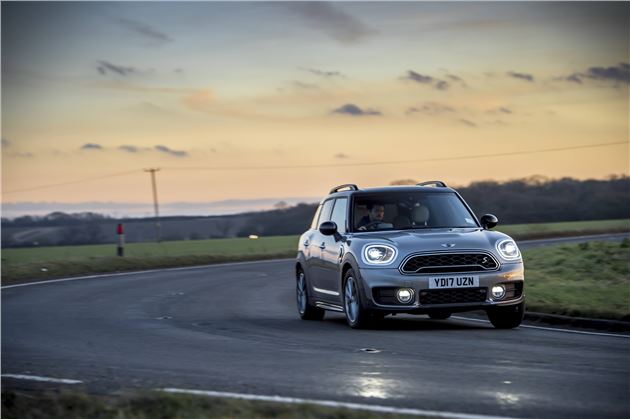 9 December 2017: Drive modes in different area codes
The Details
| | |
| --- | --- |
| Current mileage | 1583 |
| Claimed economy | 134.5mpg |
| Actual economy | 58.7mpg |
| | |
BIG MINI E has three drive modes: MAX eDRIVE, AUTO eDRIVE and SAVE. The first is its battery-only mode, within which BIG MINI is rear-wheel drive and capable of zero emissions driving at speeds up to 78mph – enough for everything, then.
And actually, in that mode the MINI does a sterling job of mimicking a full-time electric car. The petrol motor will kick in if you really hammer the throttle, but it takes some doing and in fact, there's something about being in electric mode that positively encourages gentle driving anyway. Feels quite quick too, what with the whole maximum torque at zero rpm thing. 165Nm, that is.
It's also mildly disconcerting – in a strangely amusing way, like – when the car begins to behave like the rear-wheel drive car it becomes.
With the MINI being on low rolling resistance tyres, with their inherently reduced grip, wet roundabouts become a different proposition. There aren't many compact SUVs – any, I believe – that will lose grip from the rear like BIG MINI does in this circumstance.
                                                  Mark enjoying Radio 5 Live there
So far I've tried to drive in MAX eDRIVE (MINI LOVES ITS CAPITAL LETTERS) mode as much as possible, although it's not actually that sensible at times – more of which in later updates.
AUTO eDRIVE, then, is fairly self-explanatory. The car will decide on the best power arrangement depending on how you're driving. Drive gently - and with sufficient charge in the battery - and it defaults to as much electric-only driving as possible. Drive with more enthusiasm and the motor does most of the work, the electric motor relegated to being a sort of fancy turbocharger for the engine. eBOOST, or something.
It's in this mode that BIG MINI is arguably at its most impressive, in that it near-imperceptibly switches from electric vehicle to fairly rapid twin-engined crossover. With a fully charged electric motor boosting the petrol motor, the Countryman does feel pretty rapid. Indeed, 0-62mph happens in 6.8 seconds.
Finally, SAVE mode. It retains the electric motor's battery, only using the petrol motor so that you can have a few miles zero-emission driving later on, for whatever reason. I've not used it. Probably won't bother either. 
« Earlier: 1,000-mile(ish) report: this MINI makes sense, somehow Later: Big road test of BIG MINI [Pt.1] »
Updates

An unexpected late night knock at the door starts the latest chapter in the MINI's odd behaviour…

In cold statistical terms, BIG MINI works very well for some and not so for others - but there's joy for all in the cabin.

Our Countryman isn't giving us anywhere near its claimed mpg - obviously - but what if you're a company car driver?

As the temperature drops so too does the MINI's battery range, and so too does overall fuel economy...

Our Countryman PHEV isn't giving us anywhere near the economy it should be. It's getting frustrating.

We've established that BIG MINI electric is fun to drive, but unfortunately it's also a very flawed long distance car.

We've had our big hybrid MINI for a while now, so if you're after a road test, here's the first half of one.

9 December 2017: Drive modes in different area codes
The hybrid Countryman is part zero-emissions car, part hybrid hot hatch, depending where you are...

The first few weeks toing and froing with our big plug-in MINI is bringing much frugal enjoyment.

The MINI Countryman plug-in has a complicated and intriguing drivetrain. Here's the crack.

Our big plug-in MINI has arrived. It's confusing and exciting in equal measure. Mark explains all...