Our Cars: Mazda CX-5 2.2 SE-L NAV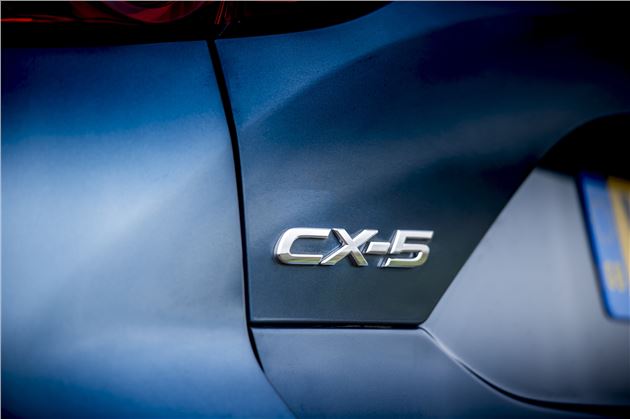 21 March 2018: What's the feeling among owners about the the CX-5?
The Details
| | |
| --- | --- |
| Current Mileage | 4829 |
| Fuel consumption | 43.4mpg |
At HonestJohn.co.uk we're continuously looking from owners on their cars - what they like, what they don't, what the fuel consumption is like and what's gone wrong.
One of the ways that we do that is through our owner reviews. These give a real sense of what it's like to live with a car and the more that we get, the more accurate picture we can build about a certain model - warts 'n all. You can leave a review for your own car here. 
So, what do out owner reviews tell us about the CX-5? 
If we start with the previous 2012-2017 model CX-5, we'll see a car that scores 4.1 out of five and is generally we received by its owners. Of the 17 reviews that have been submitted, 12 rate it as either 4.0 or 5.0 (out of five) and only one gives it a 1.0 - the lowest possible score.
Comfort and quality are two of the themes that users return to again and again in these review. One user states: "We're into CX-5 number two after buying the first one in 2012. Will drive the competition, but will probably buy the new model CX-5 shortly-as an all round suv, for less than £30k there's nothing comes close for sense of fun, reliability,economy or standard fit equipment. Keep it up Mazda", while another says: "Spacious, comfy, well-built. Handles nicely despite size. Very full spec despite being basic model. Achieving around 40mpg overall which is reasonable for petrol engined SUV. Pleasantly surprised to discover how cheap insurance is (apparently due to the laser auto-brake). Gearbox is a little more solid than my previous RAV4, but soon becomes familiar." A further reader, also gives full marks: "This car is extremely comfortable long journeys are a pleasurable - Fuel economy is great and improved after first 2000 or so miles of ownership. "
It's a similar story for the current 2017-on model. Though we've only had two reviews submitted, so at the time of writing there was one glowing review and one not so glowing, giving an average score of 3.0. The review with the 5.0 rating says: "Very comfortable; Quiet; Easy to get In/Out; Economic. Electric Handbrake once mastered is good & the Hold/Hill start assist is excellent."
It's cancelled out by a rating of just 1.0 and although the first two words are "Great package", it's followed by "shame". It's clear that this reader has a long and ongoing issue with the car and the response that he's received from Mazda UK:
"Our first Brand New CX-5 Diesel Automatic, but not our first new Mazda, we have had 2 New MX-5's and a new Mazda3 diesel manual that we had for 3 years giving us no problems whatever, leading us to go for the CX-5 Diesel as a result, plus our second-hand MX5, Mk3-.which we still have and love to bits.
The CX-5, initially, it was absolutely superb having had a fantastic makeover outside along with a sumptuous leather interior being a 2 fwd automatic which we took on our first long trip to the Jurassic Coast, For a high riding SUV we achieved a really good MPG around 50 MPG and was, after the 3 found to be a much quieter driver/passenger compartment. So far so good.
In May 2018 and 2270 miles on the odometer my wife started the CX-5 up at our home address and to my horror it started on 3 cylinders with such a mechanical rattle I expected an imminent catastrophic failure prompting me to tell her nibs to shut it down.
She then informed me it had done this once before at the car park where she worked prompting 3 of her work colleagues some fifty feet away to look on in astonishment due to the noise made on start up
The CX-5 was uplifted to the Garage we purchased it from via Mazda Assist where it was investigated and found by the computer ....No Faults.
I was not surprised as this was a mechanical problem NOT an electronic one, being somewhat cynical I have vidoe'd each start-up from cold since this has happened in which out of 11 starts she has made 4 three cylinder starts with various levels of noise attached."
Our advice here would be to try to work things out as much as you can with the dealer first, before involving the manufacturer's head office. If that fails and you still think you have a problem car - you then have grounds to reject it. But make sure you've gone through the proper channels first - it will significantly strengthen your case.
« Earlier: How much does it cost to insure a Mazda CX-5? Later: How does the CX-5 hold up in a heatwave? »
Updates

After little more than 12 months on sale, there's some nips-and-tucks for the second generation CX-5

As temperatures top 30 degrees, how does the CX-5 cope?

21 March 2018: What's the feeling among owners about the the CX-5?
Thumbs-up or thumbs-down from readers on HonestJohn.co.uk?

Insurance is one of the most significant costs of owning a car - so what does that mean for the CX-5?

Despite looking very similar to the outgoing model, Mazda has put much thought into improving the driving experience - but how does it stack up?

Our latest analysis on every MoT conducted in 2016 has a bit of a surprise in store for the CX-5.

The CX-5 has been something of a runaway success for Mazda, with many happy owners. How will this latest model fare?