Our Cars: Honda Jazz Crosstar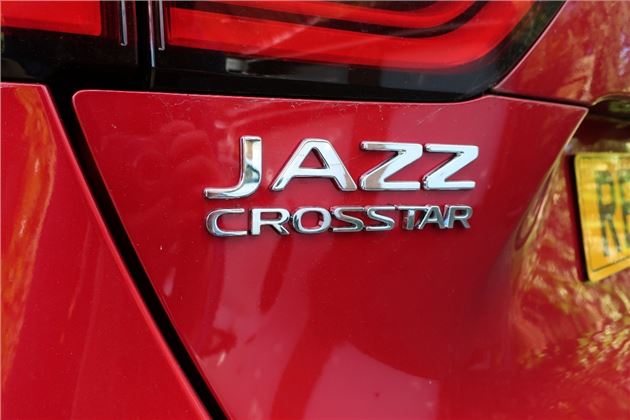 2 November 2020: Clever touches in the Honda Jazz Crosstar
The Details
| | |
| --- | --- |
| Current mileage | 1738 |
| Claimed economy | 58.9mpg |
| Actual economy | 53.2mpg |
The Honda Jazz is the small car to beat when it comes to space. And that isn't simply due to cavernous storage, it's mostly due to clever features like Honda's Magic Seats and boot hooks.
If you're unfamiliar with the Magic Seats, the concept is beautifully simple. The seats can be configured in various ways to give you more useable space in the cabin, say, to carry tall items, suitcases, bikes, dishwashers etc that would be too cumbersome for a rivalling small hatchback. The seat bases can be folded upwards to free up floor space or the rear seats can be folded completely flat to make space for larger objects.
It won't add anything to the fun factor and younger buyers are unlikely to be swayed by this feature, but those who want superb MPV-level versatility in a car that fits in a tiny parking space will be well served.
Similarly, the visibility is a big plus - and it's no accident or coincidence. There's an almost panoramic view of the road thanks to the tall windscreen and thin front pillars and a vertical dashboard, while the infotainment screen doesn't stick upwards out of the dash - so it doesn't obstruct our view at all. In combination, those features give it a much better visibility than you'd get from a Vauxhall Corsa, for example.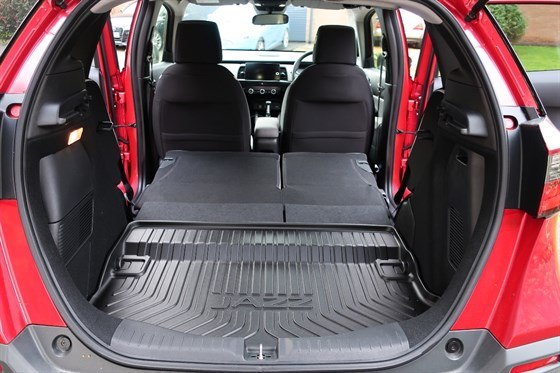 The boot has useful hooks on each side for shopping bag handles, while the boot door handle itself is nicely designed to fit within the door - meaning we don't have to get our hand dirty by grabbing the edge of said boot door. However, this newer incarnation of the Jazz loses about 50 litres of bootspace compared with the previous generation so there's 304/1205 litres with the seats up and down. That's trumped by the Volkswagen Polo.
Oh, and there's an app (as with most things these days). The My Honda+ app  allows you to programme the sat nav, locate the vehicle and even lock/unlock it. 
What else? Well, the fuel tank sits under the driver and passenger so there's nothing under the rear seats. This allows for all of the Magic Seat flexibility, as well as a tonne of passenger legroom in the back. For those with growing kids to cart around, it's a smart choice.
If you're in the market for a sensible small car that caters for practicality and economy over style and performance, the Honda Jazz Crosstar should be on your list. The high list price can't be ignored, though the sheer amount of tech that's gone into the new Jazz explains the reasoning there. It'll also be a reliable motor with a probable decent residual value due to it being both a hybrid and a Honda.
« Earlier: Top marks for economy in our hybrid Honda
Updates

2 November 2020: Clever touches in the Honda Jazz Crosstar
Georgia looks at all the clever touches that make the Jazz Crosstar easy to live with.

Georgia discusses the Jazz Crosstar's high fuel economy figures, as well as an unusual noise.

We get to grips with our new Honda hybrid.