Our Cars: Honda Civic 1.8 i-VTEC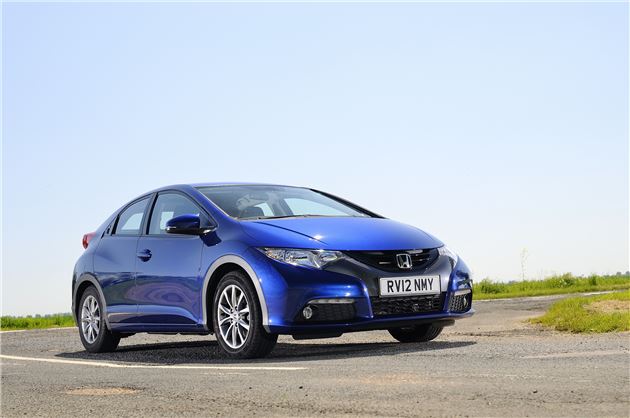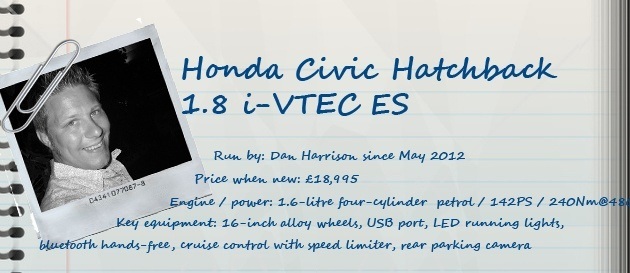 3 May 2012: Introducing The Honda Civic
The latest car join our fleet is this new generation Honda Civic. Launched earlier in the year, the Civic continues my trend for long term tests of models which are of most interest to you – users of Honestjohn.co.uk. Both the Yeti and Focus that I previously ran were firm and this Civic has already generated plenty of interest on the site. And, if the "Car Brand Index" I to be believed, we're not the only ones – its survey reckons that there's been more online chatter – on Facebook and Twitter – about the latest Civic, out-chatting the Ford Focus and Range Rover Evoque.
The previous-generation Civic caused quite a stir when it hit the showrooms back in 2006 and it took a little while to warm to its avantgarde looks. So Honda's played safe this time and gently evolved the design, rather than returning to the drawing board. I'll be looking at the details of what's happened in my next update. Under the bonnet, we've opted for the free-revving 1.8-litre i-TVEC petrol engine with 142bhp. Although there are two petrol engines on offer, the 1.4-litre – with just 100bhp – rules itself out for longer motorway runs. Performance should be well suited for longer trips with a 0-60mph time of 9.1 seconds and a top speed of 134mph; max torque is 174Nm at 4300rpm. It will be interesting to see if the Euro 5 engine lives up to the official figure of 47.1mpg. Evidence of other models in our Real MPG section suggests it could come close. Plenty of motorway miles should help with that.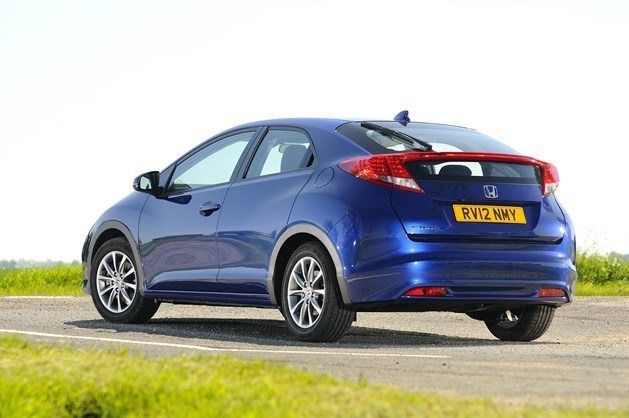 With the miles that I'm planning to cover in the next six months, a petrol should work out more cost effective for my circumstances but there is a 2.2-litre diesel on offer too. The official figure on this is 67.3mpg, though there's a significant premium on all trims, with the range-topper coming in at more than £26,500. For company car buyers, it comes in at £58 per month if you're a 20 per cent rate tax payer and £116 per month if you pay tax at 40 per cent.
This Civic is ES specification, which is mid-range. That makes it comfortable without being lavish and the list price is £18,995. Its specification includes climate control air conditioning, start-stop, economy mode switch, 16-inch alloy wheels, USB port, LED running lights, bluetooth hands-free, cruise control with speed limiter, rear parking camera, front fog lights, CAT1 alarm, automatic lights and wipers, leather steering wheel, armrest and alloy pedals.
One omission from the spec is satellite navigation (you need to go for an EX spec and above for that), so I'll also be testing out a TomTom GO LIVE 825 to see whether it's a more cost-effective option than the factory-fit sat nav.
Later: Honda Civic - Spot The Difference? »
Updates

I've decided to so without sat nav on my latest car to see if the TomTom 825 Live is a realistic alternative.

Civic finally gets the 'fold-up' seats that have been so popular in the Jazz for years.

It's the small things that can delight or irritate when you run a car over a longer period. So how does the Civic do?

At first glance, there isn't much difference between old and new Civics, but, under the surface there are some notable changes.

3 May 2012: Introducing The Honda Civic
The Civic has set the net alight with chatter - apparently. We're running one for six months t see what all the fuss is about.