Our Cars: Audi A6 Allroad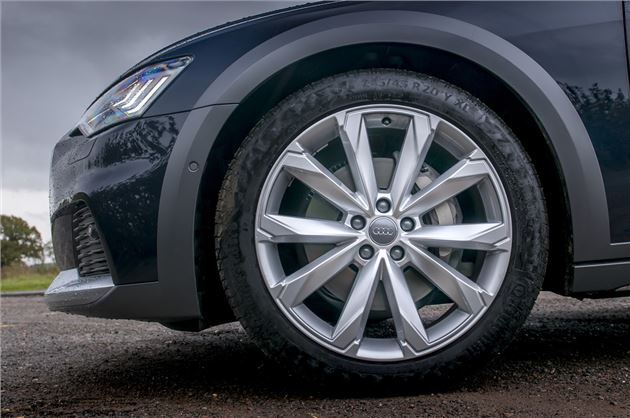 12 December 2019: The options that are worth spending your money on
The Details
| | |
| --- | --- |
| Current mileage | 2602 |
| Claimed economy | 47.9mpg |
| Actual economy | 35.7mpg |
I've already talked about how much our A6 Allroad costs - close to £70,000 - and it's fair to say that few people would buy a Sport model with that many options when you can get a Vorpsrung for the same money.
The Vorsprung model wasn't available when our car was ordered, but it did mean we got to choose lots of options from £150 for heated and folding mirrors to £2200 for the big 20-inch alloy wheels. So which do we think are worth the money?
Well we'd have to say those wheels are an expensive luxury. They're not much different in design to the standard 19-inch wheels. If you want a sportier look for your Allroad, the Vorsprung with its big 21-inch grey wheels is the one to go for. For us, this is an easy way to save more than £2k.
There are a few packs available - the Comfort and Sound Pack at £1895, Technology Pack for £1495 and the £1700 allroad interior line pack. The latter gets you sports seats and an allroad projection on the floor from under the doors, plus stainless steel pedals. We'd give this one a miss.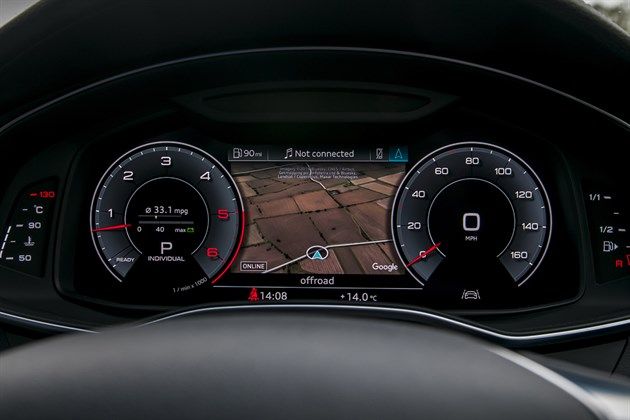 The Comfort and Sound Pack looks expensive at almost £1900 and indeed, it's hard to justify spending so much. It gets you a Bang & Olufsen Premium sound system plus the extended LED Interior Lighting Pack, so you can change the colours of the lights in the cabin.
True, it does also include 360 cameras and the advanced key (giving you keyless entry) but with the exception of the latter, these are all things we think most A6 owner's could live without.
What we do think represents good value for money is the Techology Pack. It's £1500 and adds MMI Navigation Plus and the excellent Audi Virtual Cockpit which replaces the conventional instrument dials with a large 12-inch colour display that you can alter - giving you a huge map view if you want. It means you can have the nav in front of you and use the central screen for something else, such as making a phone call. Also included is a wireless phone charging pad.
The other big cost on our car is the £1950 on the panoramic glass roof. It's one of those things that's a nice luxury - and my four year old sat in the back loves it - but it's a lot of money just to have a glass roof. The one extra I didn't initially think that necessary is the HD matrix LED headlights but there will be more about that in a future update.
« Earlier: Is this A6 worth £70,000? Later: A6 Allroad or S6 Avant - which would be our choice? »
Updates

They may seem like an expensive gimmick but Matrix LED headlight have proved to be a great innovation - as we've discovered in our A6.

For the cost of our A6 Allroad you could get a well specified S6 Avant. So which is the better choice? You probably won't be surprised...

12 December 2019: The options that are worth spending your money on
With close to £13,000 of optional extras fitted to our A6 Allroad, we look at which are worth spending money on. And those that aren't.

With all its extras, our A6 Allroad comes in at close to £70,000. Is it a worthwhile investment?

Our A6 Allroad has an eight-speed Tiptronic gearbox but it's not without its issues, as we're discovering.

The A6 Allroad has plenty of good points but its perhaps the quality and design of the interior which really stands out.

The new Audi A6 allroad joins our fleet as a replacement for the Volvo XC60. Can it match the Volvo's all round talents?