Our Cars: Audi A6 Allroad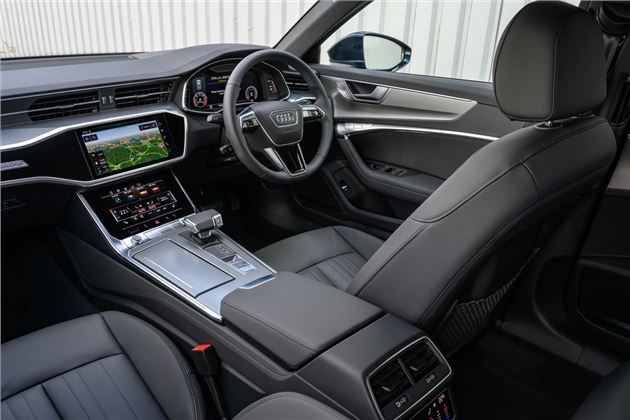 30 October 2019: Simply one of THE best interiors around
The Details
| | |
| --- | --- |
| Current mileage | 1455 |
| Claimed economy | 47.9mpg |
| Actual economy | 34.9mpg |
I'm a month into my time with the A6 Allroad and if there's one thing that continues to stand out for me, it's the design of the interior. I first saw this on the Q8 and loved it. So while this generation A6 may not look that different on the outside, the interior is a big change from the old one. 
Audi has basically done away with as many buttons as possible and gone for a clean and minimal look. Now the danger in doing this is that simple things, such as turning the heating up, require messing with menus in touchscreens. Fortunately, that's not the case with the A6.
It has two touchscreens and the lower one is solely for the climate control. The top one controls everything else but thanks to an intuitive layout - helped by the column of quick buttons to get you to most places - it's very simple to use. 
What is quite odd is that both touchscreens feature haptic feedback, similar to a phone. It probably seemed like a neat touch when Audi thought of it, but it's really a step back from a touchscreen. Because you now have to push the screen like a button. Which surely defeats the whole object of a touchscreen? Fortunately, when you use Apple CarPlay, it acts like a standard touchscreen.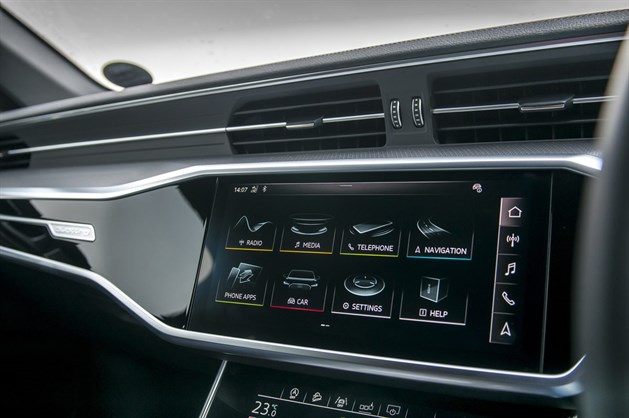 The top screen is cleverly designed to flow in with the wide dash, with all its gloss black trim. There's big chunky metal around this and at night the ambient lighting looks superb around the edges while the quattro badge also lights up. Being a £70k you won't be surprised to learn you can change the colour of the interior lights. It's currently set to purple...
The other interior that comes close for me is the E-Class, another car I think is excellent. That interior is quite different with its circular vents and rotary controller, but it has the same special feel to it. Personally I prefer both to the BMW 5 Series interior.
The only thing i'd like in the Audi is slightly better seats. Theyr'e certainly comfortable enough but compared to a Volvo V90, they don't feel as supportive. You tend to sit on them rather than in them. That said, the driving position is excellent with a low slung feel and huge amounts of adjustment and at 6ft2 tall it's one of the few cars I don't have the driver's seat all the way back.
The one fly in the ointment of the A6 Allroad is the Tiptronic gearbox which seems to be quite indecisive at lower speeds. Slow down for a roundabout for instance, and you go back on the power there's a big delay. It's something I'm hoping will improve over time.
« Earlier: Audi A6 allroad - halfway from an estate to an SUV Later: Dear Audi gearbox, what is going on? »
Updates

They may seem like an expensive gimmick but Matrix LED headlight have proved to be a great innovation - as we've discovered in our A6.

For the cost of our A6 Allroad you could get a well specified S6 Avant. So which is the better choice? You probably won't be surprised...

With close to £13,000 of optional extras fitted to our A6 Allroad, we look at which are worth spending money on. And those that aren't.

With all its extras, our A6 Allroad comes in at close to £70,000. Is it a worthwhile investment?

Our A6 Allroad has an eight-speed Tiptronic gearbox but it's not without its issues, as we're discovering.

30 October 2019: Simply one of THE best interiors around
The A6 Allroad has plenty of good points but its perhaps the quality and design of the interior which really stands out.

The new Audi A6 allroad joins our fleet as a replacement for the Volvo XC60. Can it match the Volvo's all round talents?