The perfect Christmas present for 11-17 year olds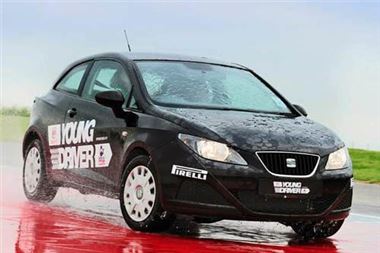 Still searching out those last-minute gifts for tricky-to-please teenagers? A voucher for the successful SEAT Young Driver training programme could be just the thing.
Established just over a year ago SEAT Young Driver, sponsored by Admiral Multicar, has already run upwards of 10,000 sessions for 11- to 17-year-olds at its seven sites nationwide.
The scheme puts youngsters behind the wheel of new dual control SEAT Ibizas alongside qualified Government-approved driving instructors to give them their first taste of real-world driving in a safe, secure environment on private land.
Devised to develop the driving skills and attitudes of youngsters before they are old enough to drive on public roads, SEAT Young Driver is also a great fun experience. In fact many families are already booking sessions as presents for their youngsters – with grandparents, in particular, signing up their grandkids for a spin in a bid to instil good driving habits from an early age.
And there's a very positive safety message behind the four-wheeled fun. Kim Stanton, spokeswoman for SEAT Young Driver, said a similar scheme in Sweden had helped cut accident rates by 40% among those who had taken part.
She said: 'The accident statistics involving young drivers in this country are very worrying, and it's clear that there is a genuine need for youngsters to learn basic driving skills before they go out on the public road.
'We help youngsters experience car control and learn hazard recognition, and make it good fun for them at the same time.'
Lessons, available at weekends and during school holidays at venues from Glasgow to Southampton, are provided in either 30- or 60-minute slots, and are available to children between 11 and 17, with a minimum height of 1.5 metres.
Prices, which all include VAT, are £29 for 30 minutes or £55 for an hour, while special half-term mid-week 'taster' sessions can be booked for just £19. All of the SEAT Young Driver Approved Driving Instructors have been checked by the Criminal Records Bureau.
To book sessions for SEAT Young Driver visit www.youngdriver.eu On successful booking a confirmation is e-mailed and the lesson voucher posted out in time for Christmas. Then it's just a matter of arranging a lesson at a convenient time over the next nine months.
Steve Robertson, Head of Marketing at SEAT UK, said: 'The SEAT Young Driver programme has already proved its worth with more than 10,000 sessions run successfully so far. I'm sure the idea of a gift voucher will prove really popular this Christmas.'
Comments