Insurethebox celebrates its 50,000th telematics sale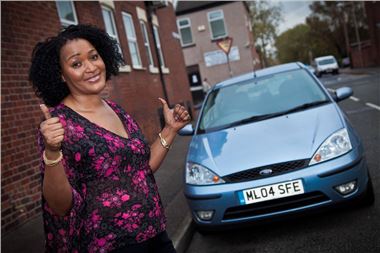 Insurethebox confirmed its credentials as the UK's leading telematics-based insurer when it celebrated the sale of its 50,000th motor policy.
The landmark was passed, just 16 months after launch, when Elizabeth Ngulube from Stockport, Greater Manchester purchased cover for her Ford Focus Edge.
Elizabeth, 39, says she saved "crate-loads of money" thanks to insurethebox, whose quote came in cheapest by about £2,000.
"It has made driving affordable," she said.
insurethebox pioneered the use of telematics for car insurance in the UK.
Policyholders buy an initial 6,000 miles of cover.
A ClearBox, installed behind the dashboard, monitors their driving.
Data sent via satellite assesses their performance by five different criteria.
Good drivers receive up to 100 bonus miles per month.
Each policyholder has their own portal where they can check how well they have driven and how many extra miles they have earned.
"We're delighted to welcome Elizabeth to our growing family of customers," said business development director Mark Grant.
"Launching a completely new type of insurer was an act of faith but our progress shows that people appreciate what we offer. We expect to reach 100,000 sales during 2012."
One benefit of telematics is that, by incentivising better driving, it helps to bring down the number of accidents.
Recent data showed that, as well as getting cheaper car insurance, around 60% of insurethebox customers receive discounts on renewal at a time when motor insurance prices generally have risen by 30%.
More at www.insurethebox.com
Comments