Warranty Direct Builds a Car of Your Worst Nightmares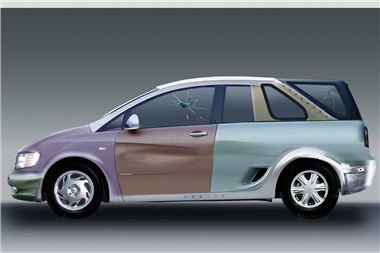 If Dr Frankenstein built a car, it would surely look something like this - meet the Monster Mk1.
The Warranty Direct-inspired horror vehicle would break down every other month and cost an average of £2,050 to fix each year.
By uniting the cars with the worst profiles across the categories that make up its Reliability Index (www.reliabilityindex.com), a unique tool that measures car reliability by considering average cost of repair, frequency of failure, age and mileage, Warranty Direct reckons its ghastly creation is the stuff of nightmares.
The disastrous car cocktail draws its power from an MG TF engine, sits on the suspension of a BMW M3, has the electrics of a Renault Megane, the gearbox of a Land Rover Freelander and the braking ability of the Audi A8.
Overall, the Monster Mk1 claims a Reliability Index figure of over 500 -  more than five times that of the average car.  
The 'body parts' of the 'Nightmare MK1'
Audi A8: Brakes
BMW M3: Suspension
MG TF: Engine
Land Rover Freelander: Gearbox
Mercedes-Benz V-Class: Ignition
Renault Megane: Electrics
SEAT Alhambra: Air-conditioning
SEAT Toledo: Heating & Cooling systems
Volvo C70: Steering system
Overall, the Reliability Index shows that four out of ten cars require a trip to the workshop each year and some models can cost up to £7,000 a time to fix.
Warranty Direct managing director, Duncan McClure Fisher, said: "The Monster Mk1 represents the worst-performing vehicles in every sector, from suspension to electrics, on our roads today.
"The wide range of cars included in our special blend highlights how mostly reliable cars can be dragged down by one problem part."
Nearly 40 percent of BMW M3s require repairs to axle and suspension components alone each year, while the same proportion of Renault Megane owners report an electrical fault. One in five Land Rover Freelanders suffer transmission glitches each year and the same number of Audi A8s need repairs to their brakes. Close to a quarter of MG's TF sports cars will experience engine troubles, while. if you like keeping cool, beware the SEAT Alhambra: more than one in eight will need their air-con fixed during a typical year.
The Monster Mk1 was created using Warranty Direct's database of 50,000 live policies on cars aged five years on average.
Warranty Direct cover starts from as little as £15 a month. For more information on the reliability of your vehicle, visit www.reliabilityindex.com, or for a quote on cover www.warrantydirect.co.uk.
Comments