More than 43,000 Peugeot and Citroen models recalled for brake issue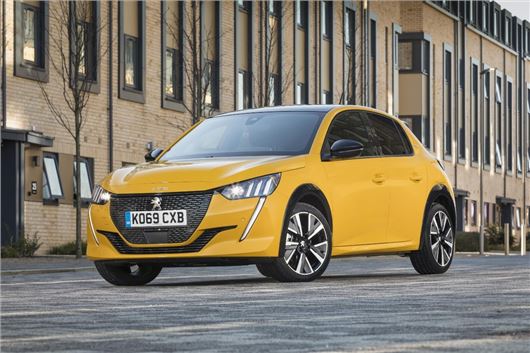 Published 11 February 2021
Peugeot, Citroen and DS are recalling more than 43,000 cars due to a brake safety issue.
The recall notice affects selected Peugeot, Citroen and DS models. The safety bulletin says the brake vacuum pump may be affected by material detaching from the timing belt, with the fix including a potential replacement of the vacuum pump and timing belt.
The safety recall affects a number of popular models, including the C3, C4, C4 Cactus, C4 Picasso, DS3, DS4, 208, 308, 2008, 3008, 5008 and Partner van.
>>> What is a vehicle recall and what should you do if your car is affected by one?
South Korean carmaker Hyundai has also recalled the Kona Electric and hybrid model to update the software to remedy a braking system issue. Over 12,800 of the popular electric crossover are being recalled to update the software for the "Integrated Electronic Brake" (IEB). The notice says that reduced braking power could extend the vehicle's stopping distance and increase the risk of a crash.
Since mid-December, Vauxhall has begun recalling over 12,200 Corsas for a "possible unexpected side airbag deployment due to insufficient electrical grounding."
Check out all the latest DVSA recalls below:
Model(s)
Problem
Build date
End date

Hyundai Kona EV, Kona Hybrid

If an abnormality is registered within the IEB system that might illuminate the malfunction indicator lamp (MIL) on the vehicle cluster braking performance may be reduced.

24/01/2018

10/11/2020

Citroen C3, C4, C4 Cactus, C4 Picasso, DS3, DS4, Berlingo

The brake vacuum pump may be affected by material detaching from the timing belt.

20/03/2013

01/04/2017
Peugeot 208, 308, 2008, 3008, 5008, Partner

The brake vacuum pump may be affected by material detaching from the timing belt.

17/06/2013

01/04/2017
Kia Soul EV

The vehicle's Integrated Electronic Brake (IEB) motor control software logic can automatically disable motor operation upon detection of an abnormal sensor signal.

20/04/2018

 
25/11/2020

Volvo V60, V60CC, V90, V90CC, XC60, XC90 (model year 2021).

Vehicles may have the Supplementary Restraint System (SRS) control unit incorrectly tightened to the car body.

 
 

10/09/2020

22/09/2020

Vauxhall Corsa

Possible unexpected side airbag deployment due to insufficient electrical grounding.

30/06/2020

31/10/2020

BMW MINI Countryman

A possibility of impurities contained in the HV batteries may cause short circuit.

09/03/2020

 

18/09/2020

 

BMW X1, X2, X3, X5, 2 Series, 3 Series, 5 Series, 7 Series, i8

A possibility of impurities contained in the HV batteries may cause short circuit.

 

12/02/2020

 

30/09/2020

 
Toyota Corolla, CH-R

A possibility that a bolt of the brake pedal bracket may not have been torqued correctly.

15/06/2019

 

20/05/2020

 
Peugeot 2008

On affected vehicles there may be a defect in the operation of the urea injector which may become blocked leading to NOx emissions exceeding regulatory limits.

08/10/2019

27/09/2020

Mercedes-Benz C-CLASS, GLC, EQC

The wiring harness of the steering control unit might not have been manufactured according to specification.

12/12/2019

 

18/03/2020

 

Mercedes-Benz GLE/GLS, C-CLASS, E-CLASS, GLC with hybrid drive

The shield for the high-voltage wiring harness may not permanently withstand the electrical loads that are induced under certain driving profiles

15/01/2018

29/02/2020

Mercedes-Benz GLE

The middle seatbelt buckle could be pushed under the seat cushion in certain circumstances while buckling up

18/10/2018

24/07/2020

Subaru Impreza, XV

Vehicles are equipped with brake hose fittings with insufficient sealing.

28/07/2016

21/01/2018
Subaru Impreza, XV, Forester

Possible engine stall and restart failure.

20/09/2016

01/10/2019

Peugeot 2008, 308, 5008, 508

The filtering performance of the Diesel Particle Filter (DPF) may not meet the required specification.

01/04/2019

15/07/2019

Mercedes-Benz E-Class

Certain specific calibrations of functions must be changed in the engine management of the vehicles

26/05/2009

 

02/05/2011

 

Land Rover Range Rover Evoque, Discovery Sport 

An electrical overload event in the 48Volt (V) electrical system may cause a failure of the Metal Oxide Semiconductor Field Effect Transistor.

 

25/05/2018

02/10/2020

 

Dacia Sandero, Logan MCV, Duster

There is a possible risk of the ignition switch not disengaging correctly after starting the vehicle resulting in the key jamming in the start position. In rare circumstances this may cause a thermal incident.

01/09/2017

19/10/2018 

Nissan NV200, Leaf

The welded joint on the park lock actuator plate may be of poor quality and has the potential to fail during usage. 

18/07/2019

 

09/09/2019

 
Comments
Author

Georgia Petrie
Latest