September 2019 recall check: Airbag danger forces Honda to recall 122,000 cars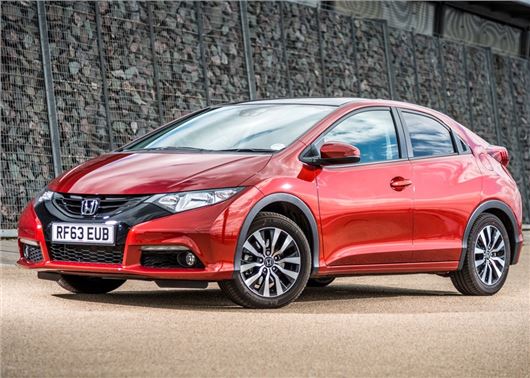 Published 18 September 2019
Honda is recalling more than 120,000 cars due to a dangerous fault with the airbag.
The safety recall affects a number of popular models, including the Civic, Jazz and CR-V. Honda says the passenger airbag may not deploy correctly and it is in the process of contacting owners to arrange for the inflator inside the airbag module is to be replaced free of charge. 
>>> What is a vehicle recall and how can you check your car?
Mazda has issued a recall for CX-5, Mazda6 and Mazda3 models built between January 2012 and June 2018. The recall notices affects 70,000 cars, with Mazda stating that soot may accumulate around the intake shutter valve on the inlet side of the engine. Mazda says it will need to check each car and arrange to have the intake shutter valve cleaned or replaced. 
A software problem has prompted Audi to recall 45,000 Q3 vehicles. A failure of the front LED turn signal may not always be detected and Audi needs to install a software update for the on-board supply control unit. 
Citroen and Peugeot has also issued a serious safety noticed for the Space Tourer and Traveller MPVs. There is a risk of inadvertent release to the front outer passenger seat belt. The recall states that a modified central seat buckle with foam and heat-shrinkable protective tubing needs to be fitted to affected models. 
| | | | | | |
| --- | --- | --- | --- | --- | --- |
| Recall number | Make | Model | Problem | Build start | Build end |
| R/2019/260 | Audi  | Q3  | Failure of the front LED turn signal may not be detected. |  Dec 2014 | July 2018 |
| R/2019/257 | Citroen   | Space Tourer | Risk of inadvertent release to the front outer passenger seat belt. | April 2015 | April 2019 |
| R/2019/198 | Chrysler | 300C | Passenger air bag may deploy incorrectly if activated. | April 2009 | Dec 2016 |
| R/2019/228 | Ford | KA+ | Un-fused Battery Monitoring System (BMS) Wire Chafing. | Sept 2017 | May 2019 |
| R/2019/243 | Honda | Accord, Civic, Jazz, CR-V, Insight, Stream | Passenger air bag may not deploy correctly. | Nov 2000 | Dec 2014  |
| R/2019/047 | Jaguar | XE, XF | Vehicles failed to routinely achieve the required levels of CO2 emissions. | Oct 2014 | Nov 2018 |
| R/2019/198 | Jeep | Wrangler | Passenger air bag may deploy incorrectly if activated. | April 2009 | Dec 2016 |
| R/2019/259 | Kia | Optima | Forward Collision Avoidance Assist system may have problems identifying stationary cars. | Sept 2017 | May 2019 |
| R/2019/227 | Land Rover | Range Rover Evoque | The front or rear windshield washer system may fail. | Oct 2018 | April 2019 |
| R/2019/046 | Land Rover | Range Rover Evoque | Vehicles failed to routinely achieve the required levels of CO2 emissions. | March 2015 | June 2018 |
| R/2019/187 | Mazda  | Mazda3, Mazda6, CX-5 | Soot may accumulate around the intake shutter valve on the inlet side of the engine. | January 2012 | June 2018 |
| R/2019/219 | Mazda  | Mazda3 | A manufacturing defect may cause the wheel nuts to loosen | Nov 2018 | May 2019 |
| R/2019/217 | Mercedes-Benz | A-Class, B-Class, CLA | Under certain circumstances it might not be possible to shift into Drive or Reverse mode. | July 2018 | Feb 2019 |
| R/2019/268 | Mercedes-Benz | GLE | The air conditioning drain hoses might be incorrectly fitted in the vehicle.  | Jan 2018 | July 2019 |
| R/2019/256 | Mercedes-Benz | GLE, GLE Coupe, GLS, E-Class  | Improve the vehicle emissions via software updates. | June 2012 | Nov 2017 |
| R/2019/257 | Peugeot | Traveller | Risk of inadvertent release to the front outer passenger seat belt. | April 2015 | April 2019 |
| R/2019/204 | Porsche | Cayenne, Panamera | The transmission selector lever plastic sleeve does not have the required durability. | July 2002 | Sept 2016  |
| R/2019/286 | Vauxhall | Zafira C | The vehicle's fixed roof luggage carrier rails may become loose. | Nov 2011 | May 2018 |
Comments
Author

Dan Powell
Latest