May 2019 DVSA recall round-up: Fire risk forces Vauxhall to recall 234,000 Zafiras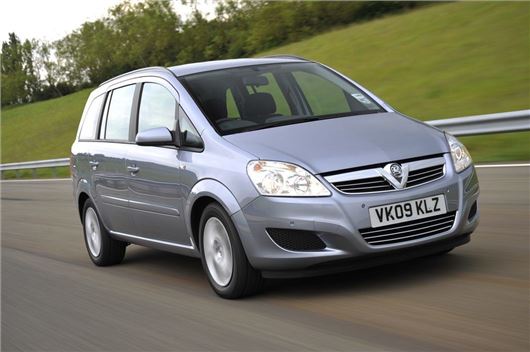 Published 29 May 2019
Vauxhall is recalling 234,931 cars due to an electric fault that may present a fire risk. 
The UK recall affects thousands Zafira B models built between 2004 and 2014. Vauxhall says movement within the wiring harness connector (to the fan speed resistor) may lead to electrical stress and heat damage. 
Vauxhall dealers will contact owners within the next few weeks to replace the heating and ventilation system wiring harness, with a redesigned connector plug and additional mounting points.
>>>What is a DVSA recall and what should you do if your car is affected by one?
Kia dealers have also issued a safety notice for over 5000 Niro Hybrid and Plug-in Hybrid models. The recall note states that a reduction of contact pressure on the main relay could cause heat to build-up in the main power relay assembly. 
Peugeot has issued a safety bulletin for 2686 vehicles, after it found a problem with the diesel particulate filter (DPF). The recall affects the 308 hatchback and the 2008, 3008 and 5008 crossover models. Peugeot says a plastic component inside the exhaust line could under certain conditions damage the DPF.
Mazda is also recalling 19,467 vehicles due to an electrical problem. The issue affects Mazda 3 models built between 2015 and 2017, with the front windscreen wipers potentially failing due to a defect in the relay.
Latest DVSA recalls
Recall number
Make
Model
Problem
Build start
Build end

R/2019/115

Hyundai

Kona

A right-front brake fluid line and a/c tube may become damaged and leak.

April 2017

Sept 2018

R/2019/167

Kia

Niro Hybrid and Plug-in Hybrid

A reduction of contact pressure on the main relays causes heat build-up in the main Power Relay Assembly (PRA).

Nov 2016
Sept 2017

R/2019/123

Lexus
ES, UX
There is a possibility that the emergency calling system has not been activated.
Oct 2018
March 2019 
R/2019/148
Mazda
3
The front windscreen wipers may become inoperable due to a defect in the relay.
July 2015

July 2017

R/2019/136

Peugeot


308, 2008, 3008, 5008

A plastic component inside the exhaust line could under certain conditions damage the diesel particle filter (DPF).

Oct 2016
June 2018
R/2019/151 
Porsche
Panamera 

Possible short circuits in the heater blower control unit.

July 2009 
Sept 2016

R/2019/122

Toyota
Corolla, RAV4 
There is a possibility that the emergency calling system has not been activated.
Oct 2018

April 2019

R/2019/082

Vauxhall

Zafira B

Movement of the wiring harness connector to the fan speed resistor can in rare circumstances lead to electrical stress.
Nov 2004
Nov 2014

R/2019/135

Volvo
V60
A rear suspension link nut and screw may not have been correctly assembled.
Sept 2018
April 2019
R/2019/128
Volvo
XC90
An engine cooling system hose may break and could cause a coolant leak.
April 2014

May
2019
Comments
Author

Dan Powell
Latest