Ineos Grenadier: all you need to know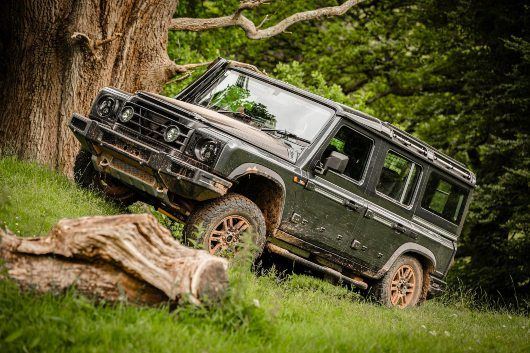 Published 13 January 2022
Rugged SUV grabs baton dropped by Land Rover Defender
Gets six-cylinder BMW power and a range of body styles
Priced from £48,000
Kicking yourself that you never bought a brand new version of the original Land Rover Defender? Then the Ineos Grenadier could prove to be just the ticket. It'll rival models like the Toyota Land Cruiser, cheaper Suzuki Jimny and pricier Mercedes-Benz G-Class.
>>> Best new cars coming in 2022 and beyond
Ineos Grenadier price and release date
Built in France, the Grenadier will be priced from £48,000 for a basic two-seater commercial variant which gives you an idea of the kind of people who'll buy the Grenadier – it's a working SUV designed to handle everything from farmyards to war zones.
A five-seater crew cab will also join the range, and there will be a five-seater SUV to cater for private buyers lured by the Grenadier's no-nonsense image. They should add between £4,000 and £6,000 to the basic price.
Reservations for the Grenadier are open now – it'll cost you £450 to secure a slot – and deliveries are expected in the middle of this year.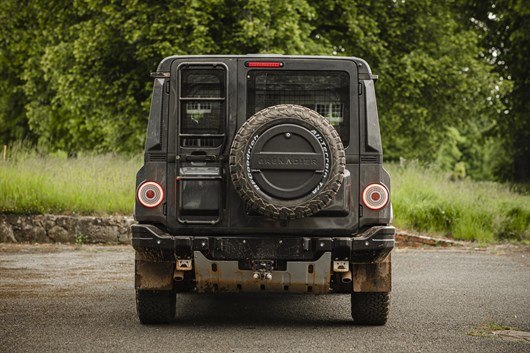 Ineos Grenadier specs
The Ineos Grenadier might look like a Defender – its basic shape is almost identical – and it has the same trademark features like a slatted grille, roof skylights and spare wheel on the rear door. Yet, despite all this, it is an all-new design.
Upfront you get bright LEDs backed up by powerful auxiliary lights housed in the grille – they're designed to make it easy to tackle tricky terrain in the dead of night.
Look closer at the rear of the Grenadier and you'll spot there are no Defender-style exposed hinges, plus you get 30:70 opening barn doors – so you don't have to haul the spare wheel out the way when loading small items.
More Defender parallels come when you read the specs. You get permanent four-wheel drive, low and high-range gears, plus locking front, centre and rear differentials. Its tall ride height means it can tackle undulating terrain and steep hills, and you can have a raised air intake for dusty environments.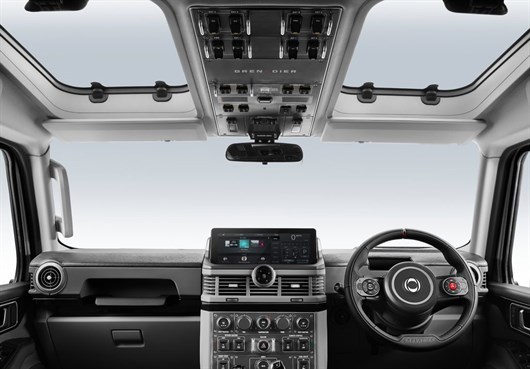 As well as being a formidable off-roader, the Grenadier can also be used as a (very) mobile generator – it can get you and your tools to tricky locations and provide them with power once you get there.
The car is built on a girder-like ladder-frame chassis, with beefy solid beam axles and coil-sprung suspension that provide excellent wheel articulation and is more durable than air springs.
You can choose from 17 or 18-inch wheels  wrapped in either all-terrain/all-season Bridgestones or go for knobbly BF Goodrich rubber that leans more towards off-roading. Both have Three-Peak Mountain Snowflake certification – so they'll keep you on the right side of the law in countries where winter tyres are a legal requirement.
Instead of developing everything itself, Ineos has outsourced various components to experts in their respective fields.
As a result, it uses six-cylinder BMW engines (petrol with 285PS and a diesel with 249PS), ZF gearboxes, Carraro axles and Recaro seats.
A similar amount of thought has gone into the interior.
The Grenadier has the features you'd expect to find in a modern SUV, including a 12.3-inch touchscreen with DAB radio, Apple CarPlay and Android Auto. It can also give info on vehicle angle, tyre pressures, power, torque and more. There's a 12v power socket and two USB ports, with the option to spec two more for the rear seat.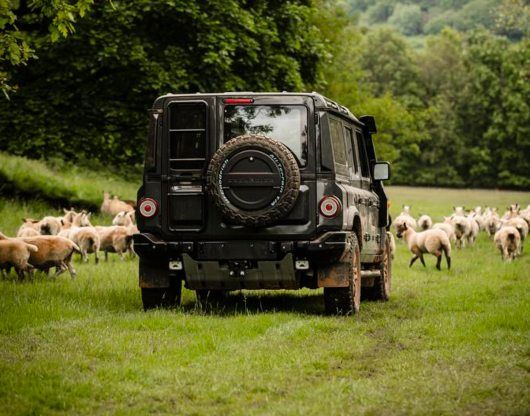 Along with the touchscreen, the Grenadier has plenty of conventional buttons – some of which are pre-wired for additional auxiliary features – that are chunky and well-spaced so they're easy to use when you're wearing gloves.
The front seats are eight-way adjustable, stain-and-water resistant and you have the choice to upgrade to leather at extra cost. The rear bench, meanwhile, splits 60:40 and has Isofix child seat mounts.
Popout glass sunroofs make the interior – which isn't as roomy as you might ultimately expect given the exterior dimensions – feel light and airy. 
The cab can also be hosed-down thanks to draining valves hidden in the floor.
Even the horn has been given thought – you get two tones, one for normal use and a more jovial tone that's 'toots' the Grenadier's presence. It's ideal for warning cyclists of your presence, a hint that the Ineos Grenadier comes from the same company that founded Team Sky.
How much will the Ineos Grenadier cost?
Full prices and specs for the Ineos Grenadier have yet to be revealed, but it will have a starting price of around £48,000. 
Is the Ineos Grenadier a Land Rover?
The Ineos Grenadier is inspired by the Land Rover Defender, but it's a completely new design.
Where will the Ineos Grenadier be built?
The Ineos Grenadier will be built in Hambach, France. 
Ask HJ
Is it still worth buying a Land Rover Defender?
I love the Land Rover Defender. Is it worth still buying one?
If you want a proper 4x4 this is still the best thing to buy and given the industry that's built up supplying parts and spares for them, you will have no issues keeping it on the road. They also hold their value well. Definitely a good time to buy.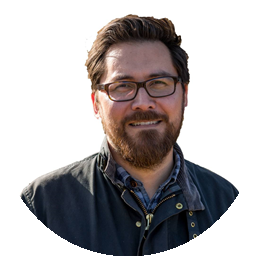 More Questions
Ask HJ
Buying an old Land Rover
I'm considering buying an old Land Rover Defender 90 to use on my small holding, occasional school runs with three kids and short trips to the beach with the dogs etc. Is there anything I should be wary of with an old Defender or should I consider something else like a hilux twin cab? My max budget is £5000. Many thanks!
Compared to an old pick-up they are very expensive. But they have an enormously enthusiastic following. You will need to devote some of that £5,000 to a decent set of spanners. For what to be wary of, bets to check with the clubs - and join them.
More Questions
Comments
Author

Russell Campbell
Latest