Tesla Model 3 is the third best-selling car in the UK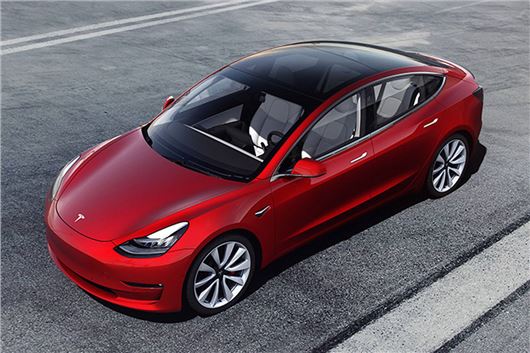 Published 05 September 2019
The Tesla Model 3 is the UK's third best-selling car, according to the latest monthly figures from the Society of Motor Manufacturers and Traders (SMMT).
Tesla's affordable electric car, which starts at £36,490 in the UK, outsold the Ford Focus, Vauxhall Corsa and Mercedes-Benz A-Class in August, with 2082 examples registered. The best-selling car for the month was the Ford Fiesta.
>> Top 10: Electric cars to buy in 2019
It comes as SMMT data reveals a surge in popularity of electric vehicles, with more than 3000 battery-electric vehicles (BEVs) registered last month, an increase of more than 377 per cent compared to the same period last year.
A number of manufacturers are struggling to cope with demand for their electric cars, with the Hyundai Kona Electric currently off sale until more can be allocated to the UK.
Predictably, registrations of new diesel cars continue to fall, with diesels now accounting for just 26 per cent of the UK market share. Fewer than 25,000 were registered last month - down 12.2 per cent compared to August 2018.
In total, the number of new cars registered last month fell by 1.6 per cent, while year-to-date registrations are down by 3.4 per cent.
"August is typically the new car market's quietest month so the huge increase in EV registrations is very visible but especially welcome," said the SMMT's chief executive, Mike Hawes. "It's great to see consumers respond to the massive industry investment made over many years.
"While this is encouraging, these figures also show the scale of the challenge ahead. It's a long road to zero and while manufacturers can deliver the technology, they can't dictate the pace of uptake."
Hawes added that 'long-term government commitment' is required to give car buyers confidence to invest in electric vehicles.
Comments
Author

Andrew Brady
Latest