Jaguar F-Type Coupe launched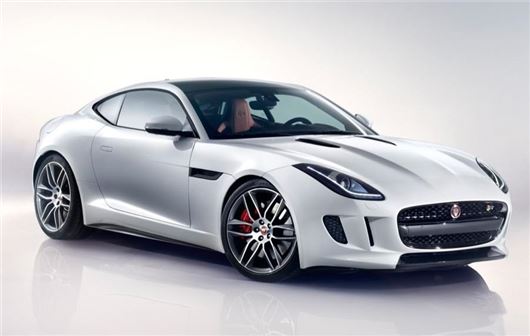 Published 20 November 2013
The Jaguar F-Type coupe was finally launched at the Los Angeles motor show. It's probably the most anticipated sports car launches in 2013 and easily one of the most scooped – but despite this, Jaguar has still managed to pull of a couple of surprises. The addition of the F-Type R Coupe is unexpected, as well as an aggressive pricing strategy.
The F-Type R Coupe is the latest member of Jaguar's expanding R Performance line, and boasts 550bhp from its supercharged V8 – which means that the new range topper will cover the 0-60mph in just 4.0 seconds. It also has a maximum speed of 186mph, and can also accelerate from 50-75mph in 2.4 seconds. But the numbers only tell a small part of the story – the F-Type R will be the most focused driver's car yet from Jaguar, helped no part by the superbly-engineered, super-stiff, body shell.
But that's not all – the suspension features adaptive dynamics that manage the car's body movements. The springing is also firmer – it's 4.3 per cent stiffer in front and 3.7 per cent tighter at the rear than the F-Type V8-S Convertible, and the driver can select an even stiffer suspension setting in Dynamic Mode, which will also tweak the steering, gear-changes of the eight-speed SportShift automatic and the throttle mapping.
A new electronic active differential and a torque vectoring system has been added. The former controls the amount of torque sent to each wheel, and the latter is able to independently brake the inner wheels in order to improve responsiveness. The F-Type R's brakes, meanwhile are the largest available in the F-Type range, at 15 inches – carbon-ceramic units will be available soon.
Features such as a high-strength, hydroformed aluminium beam that runs over each door opening from the bottom of the A-pillar to the back of the C-pillar, have been incorporated in order to maintain 'shell stiffness, despite that low roofline and lack of B-pillars. The car's torsional rigidity figure of 33,000Nm/degree is Jaguar's best yet, and has been enabled by clever thinking such as the single-piece aluminium pressing that takes in the coupe's entire body side.
Both V6-powered F-Type Coupes are are cheaper than expected, perhaps as a result of the early criticisms of the Convertible's lofty pricing. The base F-type and F-Type S are £7285 less than their open-topped counterparts starting at £51,235, while the R Coupe comes in at £85,000 before options. The Coupe will go on sale next March.
Comments
Author

Keith Adams
Latest