New Aixam Car Can Be Driven By 16 Year Olds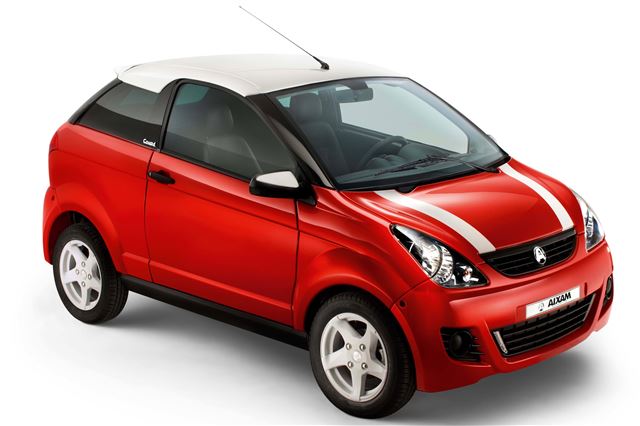 From 19th January 2013, 16 year olds will be able to drive a car, albeit a 400cc quadricycle restricted to 30mph, but still a car.
They will first have to attained the new AM Moped licence. This comprises: Provisional licence/ CBT / (New) Full Moped Test (Practical on 50cc moped/scooter).
But then they can drive an Aixam 2-seater Coupe S on the road, carrying one passenger, without 'L' plates.
This suddenly offers children of comparatively wealthy parents the freedom to pick friends up and take friends home, get to sporting events, go to the movies, in comfort, without getting wet, whenever they like (depending on insurance restrictions), no longer having to rely on mum and dad.
Insurance is stiff, initially, quoted at around £2,200 a year. Though 'black box' insurances may be cheaper and, as long a kids don't start removing the restrictors, the underwriting record should be good resulting in much lower premiums in years to come.
It also gives kids a good start in developing real life road sense in preparation for passing their full car tests a year later.
The car itself is a cute little four wheeler coupe. To qualify as a 'light quadricycle' (dubbed 'carped') it has to weigh less than 350kg, have a power output of less then 4kw (equivaent to 5.44PS or 5.36bhp), with a maximum speed of no more than 30mph.

The launch of the Aixam Coupe S in the UK follows EU legislation which allowed 'carpeds' to be driven on UK roads with a moped licence.
Set to be launched in the UK at the Motorcycle Live event from November 24 at the NEC in Birmingham, the Aixam S Coupe is considered to be a safer alternative than two-wheeled mopeds.
Justin Bond, Aixam's UK manager, said: "The Aixam S Coupe was launched internationally at the Paris Motor Show to great acclaim. We believe that the young rider market for scooters and mopeds has been contracting
lately due to the difficulty in convincing parents of the safety issues surrounding mopeds and scooters, and this will offer a safer method of transport to this demographic."
The Aixam Coupe S is powered by a Kubota 400cc diesel engine, and comes with 12 months 'free' road tax, alloy wheels and a CD/radio.
Aixam hopes to sell up to 1,000 units in the first year, with the first vehicles being delivered in January 2013.
They will be sold through a network of motorcycle dealers, and the Coupe S will retail at £9,999.
More on the Aixam Coupe S in our Car-by-Car entry.
Comments