Lexus LFA Nürburgring arrives in UK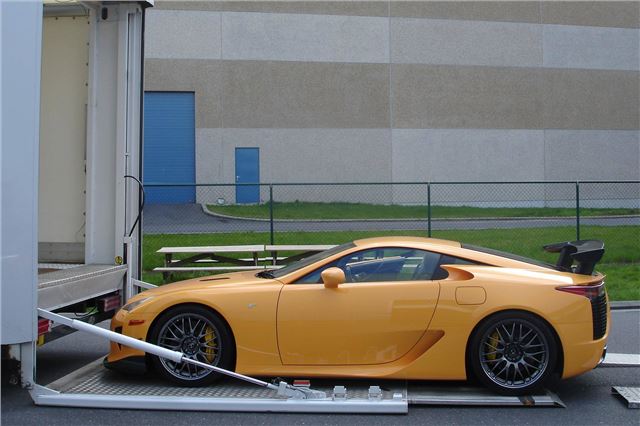 The first Lexus LFA with Nürburgring Package to arrive in Europe has gone to a British customer. It is only one of just 50 examples that will be sold.
Painted orange with black interior, the car's exclusivity is matched by its track performance and hand-crafted quality. Building on the speed and handling of the LFA, the Nürburgring Package adds a number of elements that increase downforce for sharper circuit performance, without compromising out-and-out speed.
The LFA Nürburgring Package comprises a front spoiler made from CFRP (carbon fibre reinforced plastic), special mesh-type wheels with dedicated and high-grip tyres to improve manoeuvrability and stability. Maximum power from the LFA's 4.8-litre V10 engine has been increased from 552 to 562bhp (411 to 420kW), maintaining the car's 3.7-second nought to 62mph acceleration time and 202mph top speed.
Last year, Lexus undertook a performance check with professional driver Akira Iida driving the LFA around the Nürburgring's famous Nordschleife.
And this year a Lexus LFA will join two GAZOO Racing Toyota GT86s in the 24 Hours of Nürburgring endurance race from May 17 to 20, driven by Akira Iida, Takayuki Konoshita and Juichi Wakisaka.
GAZOO Racing team has been competing in the 24 Hours Nürburgring endurance race since 2007.
Participation is part of a broader commitment by Toyota and GAZOO to get back into motor sport at a wider level, as Toyota did many years ago with Walter Rohrl and its Celicas in the World Rally Championship. The intention is to reach and support a new generation of car enthusiasts around the world, Toyota is striving to make cars that satisfy enthusiast drivers and promote the joy of cars.
UK fans will get a chance to see the The GAZOO Racing cars from Nürburgring race when they join other Toyota motorsport star cars such as the BTCC Avensis of Frank Wrathall and famous historic Toyota rally cars such as the Celica GT4 and Corolla WRC at the Goodwood Festival of Speed from 29 June to 1 July.
More at Lexus
Comments