Volkswagen to launch Passat Alltrack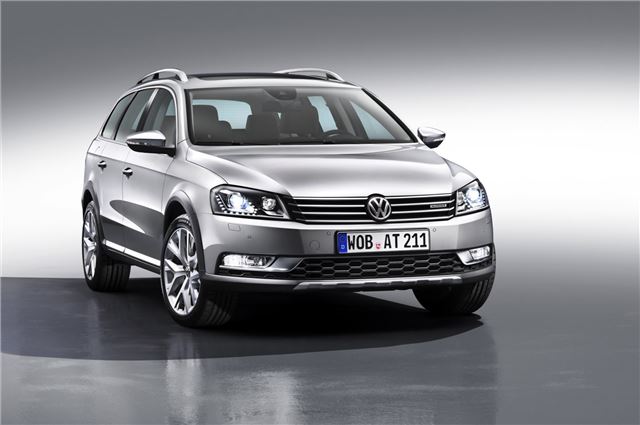 Volkswagen has revealed a four-wheel drive version of the Passat estate. Called the Alltrack, it features a raised ride height to improve ground clearance, along with underbody protection and flared side sills for added body protection over rougher ground. Orders open in April 2012, with first deliveries due in July.
The Passat Alltrack rides 30mm higher than the standard estate. This not only improves the Alltrack's ability to clear obstacles on level ground, but also its ability to clear the crest of a hill without grounding out.
Remodelled bumpers increase the approach and departure angles, meaning the Alltrack can climb and descend steeper hills without grounding at the bottom.
Power comes from a 2.0-litre TDI diesel engine with a six-speed gearbox. Two power outputs are offered - 140PS and 170PS - the latter of which is fitted with a DSG gearbox. Under normal conditions only the front wheels are driven, but when the 4MOTION system detects a loss of traction it sends power to the rear wheels too. This combination means that drivers get reasonable fuel economy in normal conditions, with the advantage of four-wheel drive when it's needed.
An offroad mode is featured, which is activated by a button on the dashboard. In offroad mode the settings for ABS and EDS are altered to better cope with muddy or loose surfaces, and hill descent assist is activated to automatically brake the wheels on steep descents.
Standard equipment includes Alcantara upholstery, 2Zone climate control, cruise control, tyre pressure monitoring system, iPod connectivity, Bluetooth and 18-inch alloys.
Pricing details will be revealed nearer to the Alltrack's UK launch in April 2012. 
Comments