BMW to launch hybrid 5 Series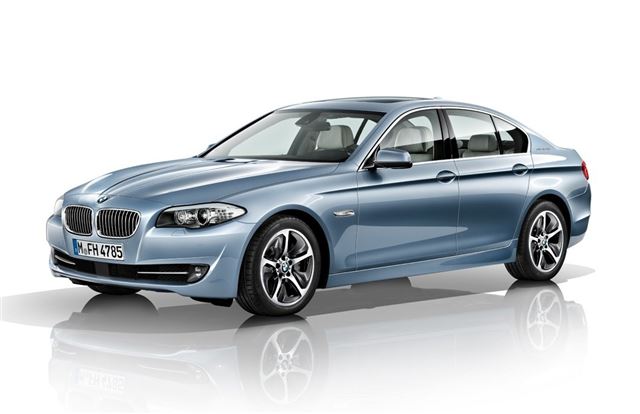 BMW is set to launch its first hybrid model next year with the introduction of the ActiveHybrid5 - a petrol-electric version of the 5 Series. On sale from February 2012 and priced at £46,860, BMW says the new model delivers performance similar to that of the 535i but with far lower fuel consumption and CO2 emissions.
It's powered by a 3.0-litre twin turbo engine with 306PS (the same engine that's used in the 535i) along with an electric motor that develops 54PS and an eight-speed automatic gearbox. Combined, the engine and electric motor produce a total of 340PS and 450Nm of torque.
The ActiveHybrid 5 can travel for yp to 2.4 miles on electric power - at speeds up to 37mph - supplied by the high-performance lithium-ion battery stored in the boot. The electric motor, also integrated into the gearbox housing for the best packaging efficiency, delivers a maximum 210Nm of torque from rest, so performance from a standstill should be impressive.
The petrol engine only kicks in when more power is needed or if the battery energy runs out. When accelerating, the electric gives the petrol engine an additional boost which gives performance equal to the 535i so 0-60mph takes just 5.6 seconds. Of course the real benefits are fuel economy and emissions with the ActiveHybrid 5 averaging a claimed 44.1mpg and 149g/km of CO2. This equates to a benefit-in-kind tax rate of only 19 per cent.
At up to 100mph the BMW ActiveHybrid 5 is capable of cruising in ECO PRO mode when the driver lifts off the accelerator, running soundlessly with zero tailpipe emissions until the driver accelerates.
Standard equipment on the ActiveHybrid 5 includes the BMW Professional Multimedia satellite navigation system, an eight-speed automatic transmission, four-zone climate control, 17-inch alloy wheels, black panel display and high-gloss Fineline Anthracite wood interior trim. On the outside the car is distinguished by chrome slats on the grille, door sill strips and on an aluminium plate on the centre console. It also gets matt chrome tailpipes.
The Professional sat nav system is able to read the road ahead and prepare the car's powertrain and electrical systems to respond in the most efficient way. For example, if it detects a hill, it stores energy in the battery so that the electric motor is ready to assist the engine, already knowing this will be recouped later in the journey.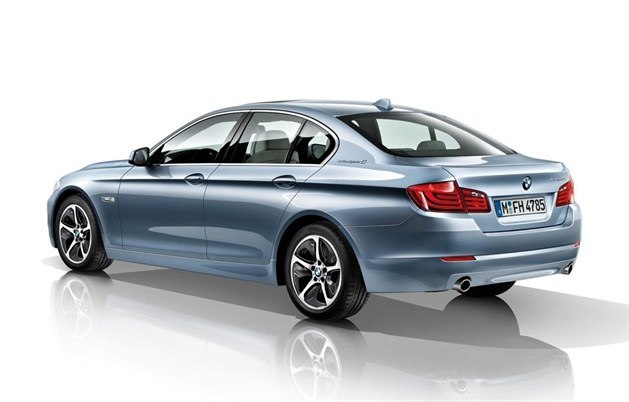 Comments