Volkswagen reveals new Jetta prices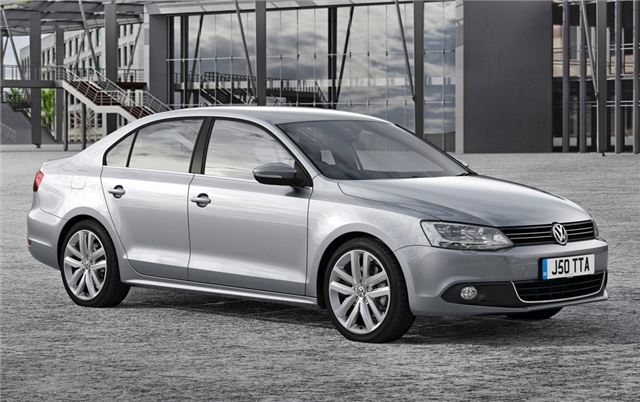 Volkswagen has announced prices for the new Jetta with the entry-level S 1.4-litre TSI 122bhp model starting at a competitive £16,960 'on the road'. The top of the range Jetta, the 2.0-litre TDI with DSG costs £22,320. All new Jettas are fitted with air conditioning, an MP3 compatible CD stereo, six airbags, ABS, Electronic Stabilisation Programme (ESP), an alarm and folding rear seats.
Compared to the car it replaces, the new Jetta is 90mm longer at 4644mm with a wheelbase increase of 70mm to 2648 mm. This allows the rear legroom to increase by 67 mm, while the interior has been improved too with a more upmarket look and feel. To help give the Jetta a stronger identity, none of its panels are shared with any other Volkswagen.
Powering the Jetta is a range of efficient and refined TSI petrol and TDI diesel engines. Two petrol engines are offered - joining the 1.4-litre TSI 122bhp entry-level engine is a range-topping twincharged 1.4-litre TSI unit developing 160bhp.
The diesel range starts with a highly efficient 1.6-litre TDI engine developing 105bhp. Equipped with BlueMotion Technology, features including Start/Stop and battery regeneration are standard and it's capable of achieving a claimed 67.3mpg on the combined cycle while emitting just 109g/km of CO2. A 2.0-litre TDI engine developing 140bhp is also available. Still frugal, it returns 58.9mpg combined and has a CO2 figure of 126g/km. The 1.6-litre TDI and the 1.4-litre TSI 160 PS unit can be specified with the option of a seven-speed DSG gearbox. The 2.0-litre TDI is available with a six-speed DSG transmission.
The Jetta is available to order now, with first customer deliveries due in May.
Model
Gearbox
Output
(PS)
CO2,
g/km
Price, RRP
OTR*
S
1.4-litre TSI
6spd manual
122
144
£16,960
1.6-litre TDI BlueMotion Technology
5spd manual
105
109
£18,410
1.6-litre TDI BlueMotion Technology
7spd DSG
105
113
£19,735
SE
1.4-litre TSI
6spd manual
122
144
£18,080
1.4-litre TSI
6spd manual
160
147
£19,380
1.4-litre TSI
7spd DSG
160
140
£20,690
1.6-litre TDI BlueMotion Technology
5spd manual
105
109
£19,530
1.6-litre TDI BlueMotion Technology
7spd DSG
105
113
£20,855
2.0-litre TDI
6spd manual
140
126
£20,005
2.0-litre TDI
6spd DSG
140
138
£21,440
Sport
1.4-litre TSI
6spd manual
160
147
£20,260
1.4-litre TSI
7spd DSG
160
140
£21,570
1.6-litre TDI BlueMotion Technology
5spd manual
105
109
£20,160
1.6-litre TDI BlueMotion Technology
7spd DSG
105
113
£21,485
2.0-litre TDI
6spd manual
140
126
£20,885
2.0-litre TDI
6spd DSG
140
138
£22,320
Comments