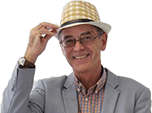 Mercedes unveils all new SLK roadster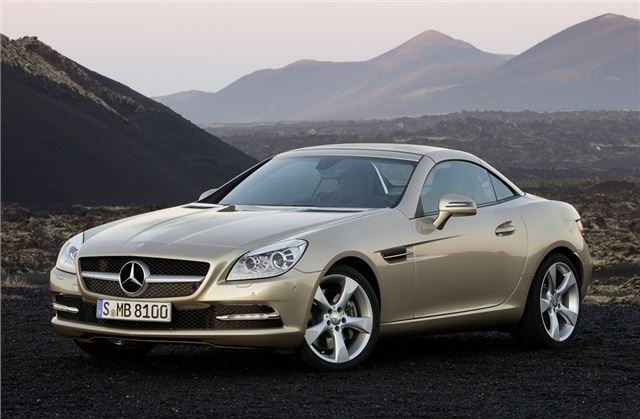 Mercedes-Benz has taken the wraps of its stylish new SLK which is set to go on sale in the UK in June 2011. Powered by a range of four and six-cylinder engines, the new SLK will also debut Mercedes' panoramic vario-roof with 'Magic Sky Control' which can switch from light to dark.
The SLK will come with three versions of the lightweight vario-rood which neatly folds away turning it from a coupe to a convertible. The standard version is a roof painted in the vehicle colour or alternatively there is the option of a dark tinted panoramic vario-roof.
But it's the third variant - the panoramic vario-roof with Magic Sky Control - which is the most intriguing. This is a glass roof which switches to light or dark at the press of a button. When light it is virtually transparent while in its dark state the roof provides shade and prevents the interior from getting too hot in bright sunshine.
Another key feature is Airguide - an alternative to the conventional wind-deflector. It consists of pivoting transparent plastic layers which are attached to the reverse of the roll-over bars. The driver or passenger can swing them to the centre of the vehicle, reducing turbulent air flow.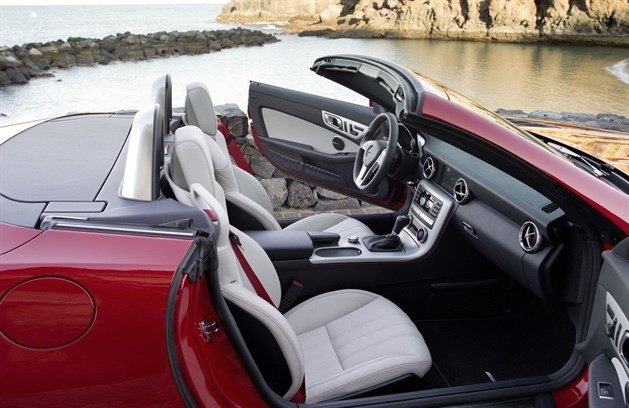 There will initially be three models of the SLK available, all powered by new engines with direct injection. The four-cylinder engines in the SLK 200 BlueEFFICIENCY and SLK 250 BlueEFFICIENCY develop 184bhp and 204bhp respectively from 1.8-litre petrol engine. With the optional seven-speed automatic transmission 7G‑Tronic Plus the SLK 200 can return a claimed 46.3mpg on the combined cycle and has a 0-62mph time of 7.0 seconds.
The SLK 250 BlueEFFICIENCY is equipped as standard with the 7G-Tronic Plus automatic gearbox and returns a claimed 45.5mpg while from a standstill it reaches 62mph in 6.6 seconds. Finally there's the SLK 350 5-litre V6 engine with 306bhp. 0-62mph comes up in just 5.6 seconds yet it still averages a claimed 39.7mpg, helped by an engine start/stop system which is standard on all models.
Mercedes-Benz is promising that the new SLK will also be more enjoyable to drive than the outgoing model, with three suspension versions to choose from. Along with the conventional steel suspension, a sports suspension with harder springs is available while the final alternative is the Dynamic Handling package which gets suspension with continuous adjustable damping.
It has an electronically controlled fully automatic damping system, so the vehicle rolls away gently even on poor road surfaces, but still offers high driving dynamics. Also included in the Dynamic Handling package are a Direct-Steer system. This offers more handling and agility than the standard steering, while reducing the amount of physical effort required when parking.
Final details of prices and specifications closer to the launch of the new SLK in June 2011.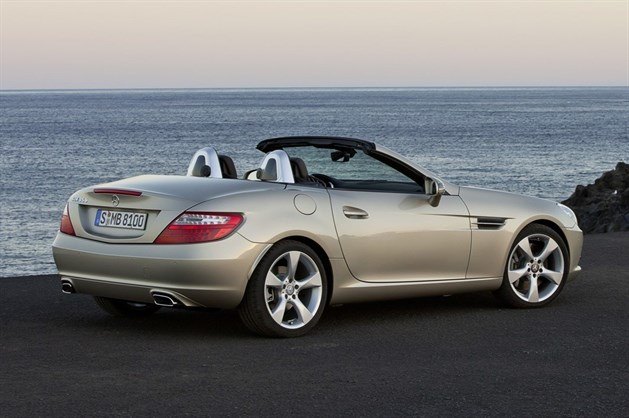 Comments