First UK Drive: Honda FCX Clarity

Could the Honda FCX Clarity be the future of motoring? With the pressure to reduce CO2 emissions from vehicles ever increasing, there's no doubt that alternatives to the standard internal combustion engine are here to stay. But what makes the FCX Clarity unique is that it's powered by a fuel cell which converts hydrogen into electricity. And the only emissions are water vapour. Just two cars have been brought to Europe and we've been fortunate enough to drive one of them.

Of course there are now several choices when it comes to alternative energy vehicles. Hybrid models, which combine an engine with an electric motor, have been on the market for several years now and are increasing in popularity - the Toyota Prius being probably the best known. 2011 will see the introduction of the first mainstream electric vehicles (or EVs for short), with the Mitsubishi i-MiEV, its sister car the Peugeot iOn and the impressive Nissan Leaf all due to arrive in UK showrooms.
So how does it work?
The FCX Clarity is a very different vehicle. Although it is essentially an electric car, it doesn't require plugging in and charging, as the power is generated by the fuel cell. Instead of a petrol tank there's a 171-litre high-pressure hydrogen tank and this hydrogen is combined with atmospheric oxygen to generate electricity. The fuel cell is really a tiny electric power station, generating its own electricity rather than through a plug-in system.
As a result there are no CO2 emissions - instead the only by-product is water. A compact lithium ion battery, housed under the rear seat, stores electricity generated during braking and deceleration, which then works with the fuel cell to power the car. As a result it's three times more efficient than a petrol-engined car.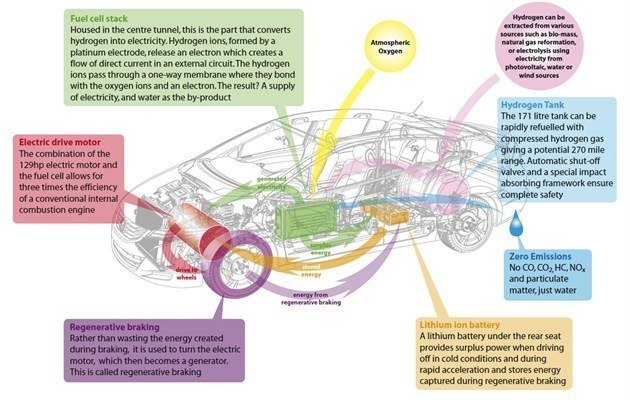 Of course the big question is where does the hydrogen come from. Hydrogen is in fact the most common element in the universe and the most widespread way of producing it is steam reforming from natural gas. There is an environmental cost to this method, but it can be produced from other sources such as solar, wind or hydroelectric power. Hydrogen is also a more effective and efficient way of storing energy compared to batteries.
Refuelling the FCX Clarity is like fuelling a normal car and takes just a few minutes. The main problem, as is the case with any new fuel, is having the fuel available at enough garage forecourts. There are currently only a handful of operational hydrogen refuelling stations in the UK - at University sites in Loughborough, Birmingham and Baglan in Wales, although there are more under construction.
It's a bit of a chicken and egg situation. No one will buy a fuel cell vehicle if there are only a handful of places to fuel it, but there's little incentive for garages to invest in hydrogen pumps if there are going to sit there unused most of the time. The future looks promising though with a programme called UK-HyNet which plans to make the UK a leader in terms of a hydrogen refuelling infrastructure, while the London Mayor's office has announced plans to establish six hydrogen stations in London by 2012. The first one is set to open in November and will be used for refuelling the hydrogen buses which will be running on the RV1 route.

What is it like on the road?
Perhaps the biggest difference between the FCX Clarity and current EVs is the performance it offers. Honda likens it to a 2.4-litre Accord - a car with around 200bhp - and it certainly feels rapid on the move. There are no official performance figures but 0-62mph is claimed to take less than 10 seconds. Like other electric vehicles, it's most impressive away from a standstill due to the fact that the 136bhp electric motor's peak torque of 256Nm is available immediately, unlike a petrol or diesel engine which has to reach a certain rpm.
But it's at higher speeds where the FCX Clarity shines, It's refined and relaxed, even under maximum acceleration, while it gains speed effortlessly. It's pretty much silent when pulling away, while a prod of the throttle results in a faint electric whine although if you really accelerate hard there's a rather odd whirring noise reminiscent of something from a sci-fi film. The CVT gearbox means there's essentially just one gear so all you need to do is move the switch-like gear lever in D and you're away.
It corners well with responsive steering while the ride is smooth and forgiving too. The brakes aren't great as they lack progression so coming to a halt smoothly isn't always easy, no doubt a side effect of the regenerative braking system. However the key aspect of the FCX is that anyone coming from a 'normal' car won't feel out of place. Aside from the lack of engine noise, it's very much like driving a standard petrol vehicle and that's very much a good thing.
The other big strength of the FCX Clarity is the range. At 270 miles it's far more than any other EV - the Nissan Leaf covers around 80 to 100 miles for example - plus there's no long wait for recharging either. To fill up the hydrogen tank costs roughly £24 - around the current cost of 4.5 gallons of diesel, making it equivalent to a car that can average 60mpg.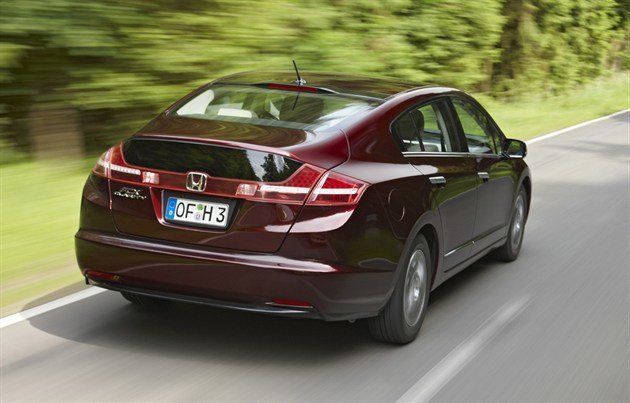 And the future?
The bad news is that you can't actually buy an FCX Clarity yet and Honda has no firm plans to sell it in the UK. The model is currently being leased in Japan and the United States where it's available for around £380 a month on a three-year lease, however there simply aren't enough refuelling stations in the UK to justify it coming here yet. But Honda says that it will happen one day.
That's good news because the four-seat layout, reasonable boot and spacious cabin make it an ideal family car and so you don't have to compromise for choosing an alternatively powered car. The fact it's not 'off the wall' in terms of design and styling will work in its favour if Honda is going to tempt people away from conventional petrol or diesel powered vehicles. As you can see from the pictures, the cabin is a fairly standard layout with the small gear lever (just to the right of the steering wheel) and the digital 'orb' instrument display the only unusual features
The International Energy Agency believes that by 2050 two thirds of all vehicles on the roads will need to be fuel cell or battery electric and this is a vision shared by Honda. The brand doesn't claim that the FCX Clarity is the only way forward, instead it sees it as just one of a number of forms of alternative power that will sit alongside hybrids, plug-in hybrids and full electric vehicles. In terms of alternative power, the FCX Clarity is the best example yet.

Want another glimpse into the future? Check out our coverage of the 2010 Paris Motor Show.