Honda improves its Insight hybrid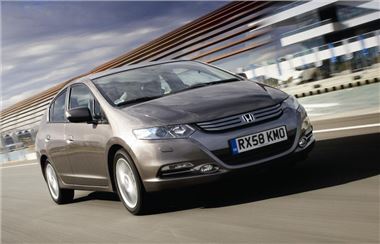 Honda has made changes to the Honda Insight, first introduced in Spring 2009, following feedback from customers, improving the ride quality and adding a higher specification interior to the hybrid model.
Following negative feedback on ride and comfort levels, the suspension has been adjusted to improve ride comfort and noise levels with changes to the springs, rear camber angles and alterations to the the rear suspension brace. The upgrades promise to deliver improved ride, handling and stability.
As well as these revisions, Honda has added rear parking sensors to ES models and above, plus there are new trims to smarten the interior. The dashboard and seat colours have been changed to give a more uniform finish and some of the plastics have been improved. Chrome rings now surround the air vents and the doors have been given a silver trim. There is also a new, top-of-the-range EX model, featuring black leather upholstery, DVD satellite navigation and hands-free telephone equipment.

Pricing for the Insight starts at £16,325 for the SE model, but with Honda's current Affordable Driving offer, the hybrid is available at £14,995 on the road until the end of September 2010. The new EX model with leather upholstery starts at £20,215 on the road.
Comments