First Drive: SEAT Ibiza Ecomotive with new 1.2-litre 75bhp three-cylinder diesel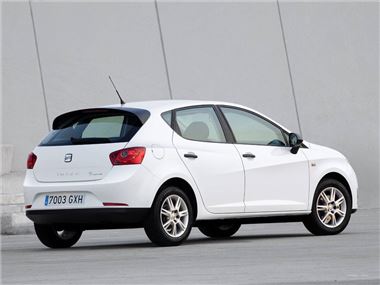 SEAT has slotted a new up-to-the-minute 75bhp 1.2-litre TDI diesel engine into the Ibiza line-up and, at a stroke, turned it into one of the cleanest cars on the market.
It's the replacement for SEAT's long-running 80bhp 1.4-litre TDI PD that powered previous Ibiza Ecomotive models with 99g/km of CO2. It's that variant that it features in again, generating some eye-catching stats in the progress: emissions of 92g/km of CO2, fuel economy of 80mpg and a potential range of almost 800 miles. That's the equivalent of driving from London to Edinburgh. And back. Plus, a tenner's worth of diesel will buy about 150 miles of driving.
That's if you plump for the bells-and-whistles Ecomotive model with stop-and-start technology and brake energy regeneration.
There's also a 1.2-litre diesel available without that technology, as simply the 1.2 TDI S a/c. You could call it the Cinderella model. It's not quite as clean (102g/km), not quite as economical (72mpg), and you'll have to pay Road Tax (£0 in the first year; £20 per year after that), but while the Ecomotive is busy grabbing headlines with almost unbelievably low CO2 and high mpg, the standard 1.2-litre TDI is doing a similar job, with the same engine, for a lot less money. Aside from the eco technologies, these two models are identical.
The 1.2 TDI S a/c costs £12,300. That's £780 less than the £13,080 Ecomotive. Although the Ecomotive earns its stripes as an ultra-low CO2 model, it makes little sense in terms of cold, hard cash. The £780 premium gets you free road tax (a £20 saving from year two) and an additional 8mpg. It also makes no difference to a company car driver's BIK bills. These are only modest savings and, as a result, most buyers will never recoup the initial outlay.
With the exception of the Ecomotive model switching itself off (and then on as you move off) at traffic lights, both versions are the same when you get out onto the road. And that's a good thing as this chain-driven 1.2-litre TDI is a cracker. It's a three-cylinder, so expect a distinctive rorty sound when it first starts up. After that it behaves beautifully.
It's light to drive around town, doesn't require excessive gearchanges and has a useful turn of speed when required on backroads. It may only be a small diesel, but the 1.2-litre TDI still has more than enough punch for overtaking and holds its own well. On the motorway it'll happily cruise in 6th gear at 2000 revs - and is surprisingly quiet with it. Peak torque of 180Nm is available at just 1500rpm.
What also makes the Ibiza stand out against the eco crowd is the wider availability of bodystyles. There are plenty of sub-100g/km hatches on the market, but the Ibiza is the only one available as a three-door coupe, five-door hatch and practical ST estate. All three are available as the full 1.2-litre TDI Ecomotive or S A/C.
SEAT Ibiza 1.2 TDI CR Ecomotive / S a/c
Prices from: £12,300 (1.2 TDI S A/C); £13,080 (1.2 Ecomotive)
0-62 mph: 13.9 seconds (14.6 seconds for the ST)
Top speed: 108mph (104mph for the ST)
Economy: 72 / 90mpg
CO2 emissions: 92g/km / 102g/km
Kerb weight: 1150kg
Gross Weight: 1601kg
For the full Ibiza Car-by-Car Review, click here
Comments