Lotus steals limelight at Paris Motor Show
Lotus was undoubtedly the star of the Paris Motor Show as the famous carmaker launched a complete new model range with five cars making their debut. It was a unique event as completely unseen and stunning models were unveiled in front of a huge crowd with the brand aiming to return to what it calls its 'rightful place' alongside the likes of Porsche and Aston Martin in the performance sports car market.
While news of the new Elite had been released previously, the other models were still under wraps with plenty of speculation doing the rounds during the build up to the official unveil. Lotus heralded the new line-up as building on founder Colin Chapman's philosophy of lightweight and great handling cars, but evolving it for the future.
The new range will begin with the Lotus Esprit due in Spring 2013 which was unveiled by Brian May and Naomi Campbell. Powered by a 5.0-litre V8 with 620bhp it's expected to cost £110,000 when it goes on sale. Here are the full details of the entire range.
Then there is the Lotus Elan (main picture above) which will follow in Autumn 2013 and is said to delivery high performance with everyday usability and is powered by a 4.0-litre V8 developing 450bhp. Next is the amazing Lotus Elite which is set to hit showrooms in the Spring of 2014 and is said to 'redefine the modern classic' and includes a retractable hard top. It's prices at £115,000.
The most exciting model is the new Lotus Elise which will cost £35,000 when it goes on sale in Spring 2015 and uses a 2.0-litre engine with 320bhp.
There was also an exciting debut for the Lotus Eterne - a four-door sports saloon to rival the likes of the Porsche Panamera and uses a 5.0-litre V8 with 620bhp. It will cost £120,000.
The new Lotus Esprit - due in Spring 2013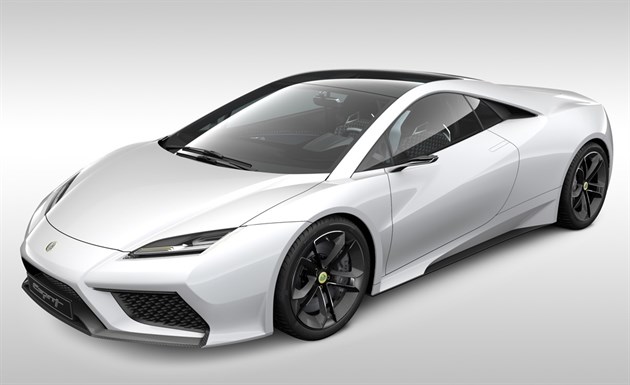 Powered by a 5.0 litre V8 pressure charged engine with 620bhp, the Esprit has been designed to deliver exceptional performance through its lightweight design making it the ultimate model in the new line-up, with Lotus describing it as the 'supercar that will redefine ride and handling, performance, comfort and exclusivity'.
The styling of the Esprit echoes the performance with strong lines throughout the sleek low body. It's a two-seater, mid-engined design that accelerates from 0-62mph in just 3.4 seconds, helped by a total weight of just 1450kg. Like the Elite it is available with a hybrid system as well as KERS, which brings down emissions to a very respectable 250g/km of CO2. It's expected to go on sale in early 2013 with an estimated cost of around £110,000.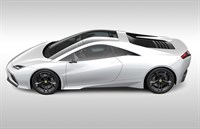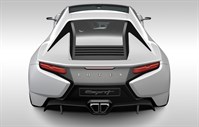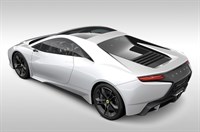 The new Lotus Elan - due in Autumn 2013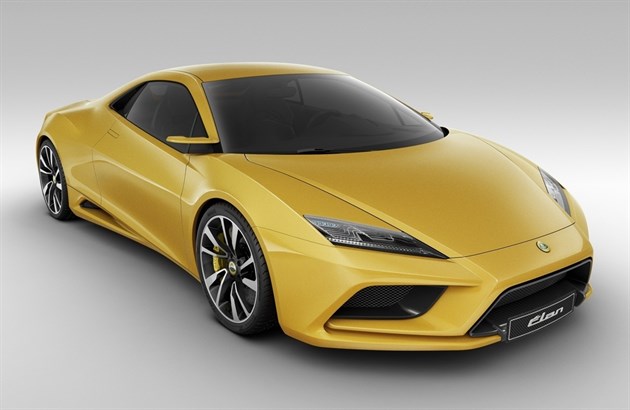 The Elan features a 4.0 litre V6 engine capable of delivering up to 450bhp and taking into consideration its relative light weight of 1295kg, it's no surprise Lotus says that the Elan's performance edges on supercar. It sprints from 0-62mph in 3.5 seconds and instead of a manual gearbox there is a seven-speed DCT double-clutch semi-automatic. In keeping with the rest of the new Lotus range, the Elan features optional hybrid technology with KERS, which helps keep emissions low at 199g/km of CO2.
It's a two-seater although is available as a 2+2 as an option, with Lotus describing it as a high performance car that's also practical enough to live with everyday.


The new Lotus Elite - due in Spring 2014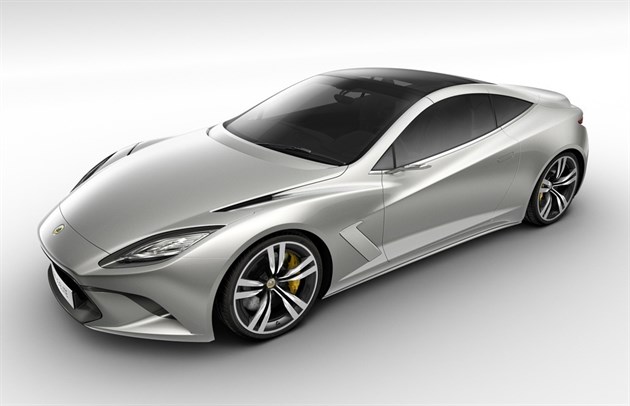 Lotus says the Elite will redefine the idea of a 'modern classic' and judging by the pictures, this elegant and well-proportioned model certainly has the looks to do that. It wll also incorporate some of the very latest technological innovations Lotus has to offer. A retractable hard top version and the optional use of hybrid technology with KERS are two examples of Lotus tailoring technology to deliver performance.
Designed as a GT, the front-mid-engined Elite is rear-wheel drive and at 4.6 metres long, similar in length to an Audi A5 with a two plus two seating layout. Power comes from monster 5.0-litre V8 engine with 620bhp that revs to 8500rpm and can cover the 0-62mph benchmark in 3.5 seconds with a top speed of 196mph.
It will also be available with a hybrid powerplant as an option. This uses an electric motor alongside the petrol engine and with the lightweight body (of 1650kg) it can emits just 215g/km of CO2, helped by the use of KERS (Kinetic Energy Recovery System) which was used by several manufacturer's in the 2009 Formula One system. Production of the Elite is set to commence in early 2014 with the launch due in Spring the same year. It's expected to cost around £115,000.
The new Lotus Elise - due in Spring 2015
The most affordable model in the new Lotus line-up will be the Elise which is expected to cost around £35,000 when it arrives in early 2015. With it's angular lines and shark-like nose, it's a big evolution of the current Elise and promises some significant and key improvements. Practicality has had a major overhaul with sizeable improvements made to the ingress and egress so you don't have to fold yourself in half to get in and out.
It may be the least powerful model in the range but with 320bhp from its 2.0-litre four-cylinder engine, it's certainly no poor relation and weighing in at just 1095kg has a 0-62mph time of 4.3 seconds. There's a six-speed manual gearbox as standard and a seven-speed twin-clutch DCT semi-automatic as an optional extra. Along with the low overall weight and aerodynamic shape, an engine start/stop system helps with efficiency so that CO2 emissions are just 150g/km.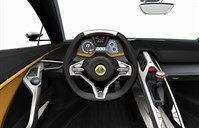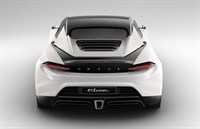 The new Lotus Eterne - due in Spring 2015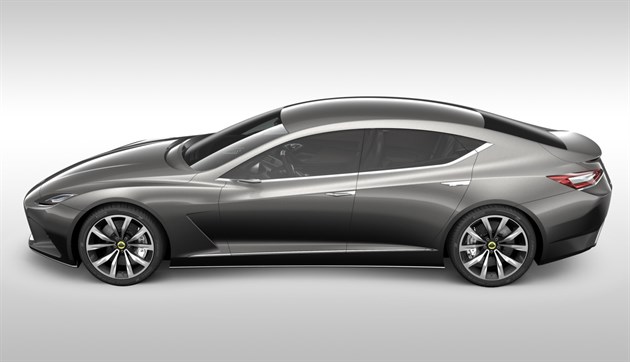 The Lotus Eterne is perhaps the most intriguing model in the new Lotus line-up. It's four-door, four-seater sports saloon in a similar ilk to the Porsche Panamera and a model that Lotus says will have 'refined style, sophistication and grace'. With an estimated price of around £120,000 it has an upmarket price tag - the Panamera range starts at around £62,000 and goes up to £97,500 - but it will have to have genuine quality to be a real rival. Lotus interiors have hardly been renowned for their comfort or sophistication in the past.
But on paper it definitely has the power. Under the bonnet there's a 5.0 litre pressure charged V8 engine delivering up to 620bhp with Lotus aiming for best in class performance and efficiency. It will go from 0-62mph in 4.0 seconds and while the standard car is rear-wheel drive, an all-wheel drive version will also be offered. As with all the new Lotus models, the Eterne features optional hybrid technology with KERS, which helps keep emissions at 220g/km of CO2.
Lotus certainly seems confident about the future of the Eterne. "We truly believe that there is a market for the Eterne, there is nothing else like it out there both in terms of design, capacity and performance," said Dany Bahar, the new Chief Executive Officer of Group Lotus. "The biggest difference between the Eterne and it's class competitors is that it's not an evolution of an existing two-door model, it's a deliberate and considered stand-alone creation. It's the ultimate four door sports car,"
Click here to read our 2010 Paris Motor Show A-Z guide.