Goodwood to host Golf GTI 40th birthday bash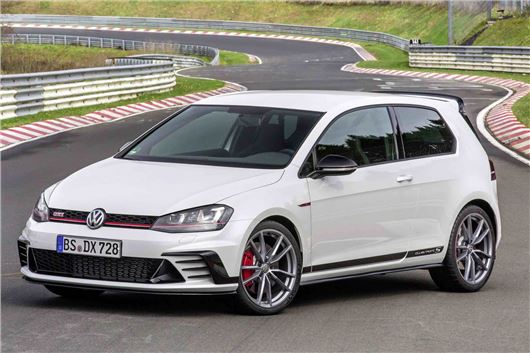 Published 16 June 2016
Volkswagen will celebrate 40 years of the Golf GTI by sending a 1976 first generation model up the hill at the Goodwood Festival of Speed.
It will be followed by the latest Golf GTI Clubsport S, meaning Goodwood spectators will see the bookends of a range that's spanned seven generations in its four decades.
The new GTI Clubsport S is available to order now, limited to 400 copies worldwide, 150 of which will come to the UK. The pricing hasn't been announced but it's expected to cost around £35,000.
The most powerful and hardcore Golf GTI ever, it has 310PS from a 2.0-iltre turbo engine and has just broken the lap record for a front-wheel drive production car at the Nurburgring.
Its success is down to the extra power, but not only that - weight saving measures like removing the rear seats helped, as did fiddling with the car's suspension, brakes and steering systems. It's also fitted with a set of gluey Michelin Pilot Sport Cup tyres, which wrap a set of lightweight 19-inch alloy wheels.
The Clubsport S has a top speed limited to 155mph but its 0-62mph time drops from 6.5 seconds in the standard 220PS GTI to 5.8 seconds. Its power output is 10PS more than the Golf R's, even, although the R is four-wheel drive, where the GTI Club sport S is front-wheel drive.
That helps explain why the Clubsport S can't match the R's 5.3-second 0-62mph time despite having more power. It's still a far cry from the original Golf GTI though, which boasted 110PS – big power at the time, but today the same output as a lower level diesel Golf. 
The Goodwood Festival of Speed takes place 23-26 June 2016. 
Comments
Author

Mark Nichol
Latest