Goodwood 2015: Lamborghini debuts Aventador LP 750-4 Superveloce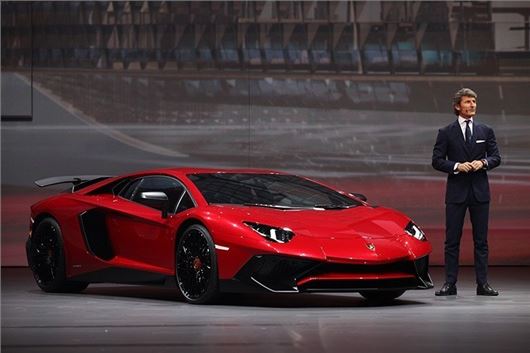 Published 19 June 2015
The Lamborghini Aventador LP 750-4 will make its UK debut by tearing up the hill at the 2015 Goodwood Festival of Speed on 25-28 June.
The quickest production Lamborghini ever, the Aventador Superveloce has 750PS running from a naturally aspirated V12 engine to all four wheels. That explains the '750-4' part of the name, while the Superveloce bit signifies a 50kg weight reduction over the fatty standard Aventador, mostly achieved through liberal use of carbon fibre.
The result is a 0-62mph time of 2.8 seconds and a 217mph top speed, and the sort of theatre that makes Lamborghini's other pair of Goodwood 2015 entries – Huracan 610-4 and Huracan 620-2 Super Trofeo – look rather tame.
The Huracan, Lamborghini's Gallardo replacement, was launched in 2013 and comes with a 5.2-litre V10, loosely related to the engine in the Audi R8 V10 – that's Volkswagen Group synergy for you. It does the 0-62mph sprint in just 3.2 seconds, although you won't get the chance to see that in Goodwood because the car is being used as a display opposite Goodwood house.
Finally, Lamborghini enthusiasts will get the chance to see the Super Trofeo version – the racing version, that is – of the Huracan at Goodwood. The 620PS, rear-wheel drive version of Lamborghini's cheapest car has spent most of this year racing in various heats of the Blancpain Super Trofeo in Europe, America and Asia. 
Comments
Author

Mark Nichol
Latest