Geneva Motor Show 2013: Lamborghini Veneno set to wow the show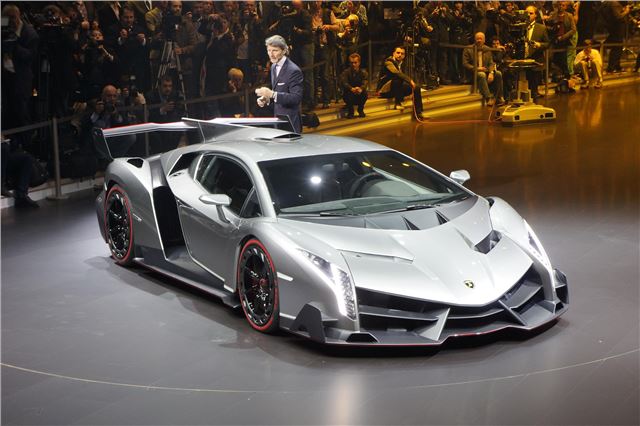 A motorshow wouldn't be a motorshow without an utterly outrageous car and at this year's Geneva Motor Show that car is supplied by Lamborghini: meet the Veneno.
This road-going supercar-cum-racing-prototype has been built to celebrate the 50th anniversary of the firm that was once better known for its tractors. It's not quite a one-off, but it's almost as exclsuive as it gets: just three Lamborghini Venenos will be built and car number 0 is being shown at Geneva.
Stats are what you'd expect of a car built to impress: 740bhp, 0 to 100 km/h in just 2.8 seconds, top speed 355 km/h and a price tag of 'just' three million euros. Gulp. And they've already been sold.
So what's the appeal? Well, this is a racing car that has been homologated for the road and  features a twelve-cylinder power unit with a displacement of 6.5 litres, an extremely fast-shifting 7-speed ISR transmission with 5 driving modes and permanent all-wheel drive, as well as a racing chassis with pushrod suspension and horizontal spring/damperunits. The complete chassis is produced as a CFRP monocoque, as is the outer skin of this extreme sports car. The inside, too, features innovative, Lamborghini-patented materials such as Forged Composite and CarbonSkin.
And the name? Keeping with the Lamborghini tradition, the name originates from a legendary fighting bull. Veneno is the name of one of the strongest and most aggressive fighting bulls ever. He is also famous for being one of the fastest bulls in the history of bullfighting. His name became popular in 1914, when he fatally wounded he famous torero José Sánchez Rodríguez during the bullfight in the arena.

Comments