Geneva Motor Show 2012: Lamborghini unveils hardcore Aventador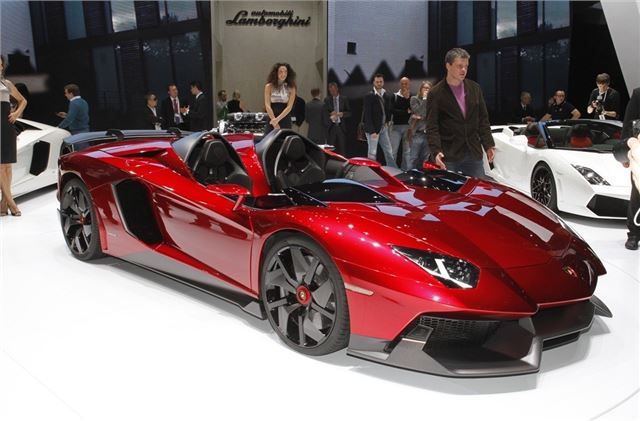 Lamborghini unveiled the most uncompromising open sports car in its history at the 2012 Geneva Motor Show - the Aventador J. The one-off hardcore sports car does without a roof or even a windscreen and thanks to the extensive use of carbon fibre has a top speed of more than 185mph.
Based on the standard Aventador it's powered by the same 6.5-litre V12 engine with 700PS to provide immense performance. The high revving unit is combined with a super-fast seven-speed ISR transmission and gets permanent all-wheel drive and pushrod suspension to provide unparalleled handling precision.
The odd name comes from the FIA motorsport rules - the 'Appendix J' defines the technical specification of race cars in various classes. This explains the lightweight design with and lack of a roof and windshield. The driver and front passenger sit in separate cockpits with two safety bars behind the seats. There are no luxuries like air conditioning or a sat nav system which helps keep the weight down to just 1575kg - about the same as Ford Mondeo TDCi.
There are no traditional seats either, instead the Aventador J has seats made of forged composite with flexible carbon fibre inserts - a Lamborghini patent. It also has a new fabric called Carbonskin which is made of woven fibres soaked in a special resin which keeps the material soft. In the Aventador it's used across the complete cockpit as well as parts of the seats.
The front of the Aventador J is narrower than the standard Aventador and is dominated by a carbon fibre air scoop with 'winglets' on the outer edges that tilt upwards. The rearview mirror is perched on top of an arm like a periscope so the driver can see over the large rear spoiler.
Even the paintwork is special with the particular shade of red with a slight chrome effect developed specifically for the one off Aventador. The wheels were also developed especially for this car with 20-inch alloys at the front and 21-inch wheels at the back. The five-spoke designs have a central lock system and carbon fibre inserts that work like a small fan to keep the brakes cool.

As with all good Lamborghini's, the doors open upward and they are thinner than the standard Aventador with a tiny fixed side window. At the back there is a large carbon fibre diffuser and four huge exhaust pipes plus the J gets bespoke bumpers with carbon fibre fins that increase downforce at the front and rear. The inside is best described as minimalist with just two programmable LCD displays behind the steering wheel.
There is just one Aventador J with no prototypes and no reserves kept for the Lamborghini museum. We don't even like to think about how much it will cost but considering the standard Aventador costs more than £240k it's likely to be very very pricey.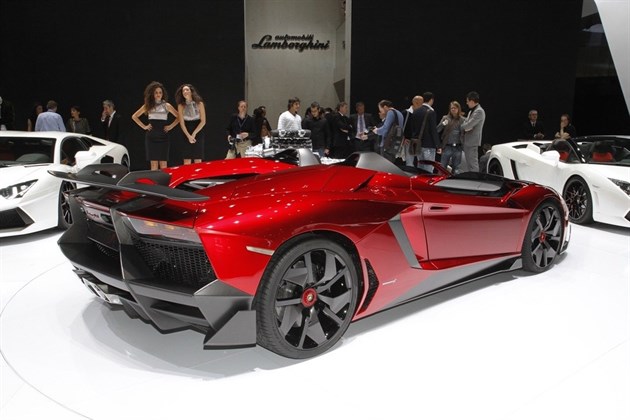 Comments