Inifiniti premieres ultimate FX SUV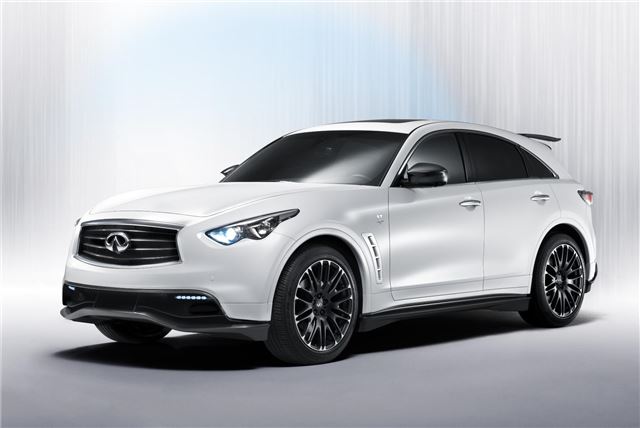 Inifiniti revealed the ultimate version of their FX SUV at the Frankfurt Motor Show, inspired by Red Bull Formula 1 driver Sebastian Vettel.
The high performance, luxurious FX50 is fitted with an already powerful 5.0-litre V8 as standard, but in the Vettel edition it's been enhanced, with power increased from 390PS to 420PS and the top speed limiter removed to allow for a top speed of more than 180mph. 0-62mph takes 5.6 seconds.
Sebastian Vettel commented: "I drive a lot in Germany on motorways that have no speed limits and have enjoyed my FX around the Nürburgring Nordschleife. Driving at high speed where safe and legal is part of my life."
The aerodynamics of the standard FX were improved on the Vettel version, too, increasing downforce and reducing the drag coefficient. Compared to a standard FX the weight is reduced by 46kg thanks to carbon-fibre components and lightweight alloy wheels.
The interior has been customised with black chrome details, quilted suede seats, purple stitching and special 'SV' logos, with the F1 star's signature finishing off the centre console.
For more Frankfurt Motor Show coverage, click here. 
Comments