Toyota comes up with a compact, self-contained hydrogen fuel station

Published 05 April 2019
Convenient hydrogen fuel supply throughout the country has taken a step closer to reality with a compact, self-contained hydrogen fuel station being trialled at Toyota's Motomachi factory in Japan.
SimpleFuel™1 is a small, simplified hydrogen station that draws electricity from the plant's solar panels for low-carbon hydrogen production using a water electrolysis process. The hydrogen is then compressed, pressurised and supplied to Motomachi's fleet of fuel cell (FC) forklifts.
Each station can produce up to 99Nm3/day (approx. 8.8kg/day) of hydrogen each day, enough to fuel seven or eight FC forklifts. Its compact dimensions allow it to be installed in small spaces, making it suitable for refuelling the forklifts within the plant.
A hydrogen station has been operating on-site at Motomachi since March 2018, supporting an increasing number of FC forklifts. By introducing the extra fuelling provision, Toyota anticipates rising demand for hydrogen and also aims to reduce the factory's carbon emissions.
To reduce CO2 emissions from its plants, Toyota intends to replace its conventional forklifts with a new generation of machines powered by hydrogen fuel cells. This process began at the Motomachi plant with an initial two FC forklifts in 2017, followed by another 20 in 2018. With carbon-reducing subsidy support from Japan's environment ministry. It has been possible to adopt SimpleFuel™ and 50 further FC forklifts.
Obviously, the wider implication is a means of supplying hydrogen fuel cell road vehicles such a Toyota's Mirai , Hyundai's Nexo and Honda's FCX Clarity, making them a practical, environmentally friendly proposition for more owners and drivers. 
Unlike Electric Cars, no PMTs, CO, CO2 or NOx are created either in producing the fuel or in running the vehicles.
The only emission is water.
In line with the goals of the Toyota Environmental Challenge 2050, Toyota has been using hydrogen energy to develop and implement new technologies to make progress towards eliminating CO2 emissions from its manufacturing plants. The use of SimpleFuel™ and FC forklifts at Motomachi forms part of this strategy.
Specifications

2
Hydrogen production capacity (max.)
99Nm

3

/day (8.8 kg/day)
Storage volume
72.18Nm

3

Hydrogen purity
99.97%
Hydrogen filling pressure
35MPa
Hydrogen generation method
Alkaline water electrolysis method
1SimpleFuel™ is a product of and jointly manufactured by IVYS Energy Solutions and PDC Machines in the U.S.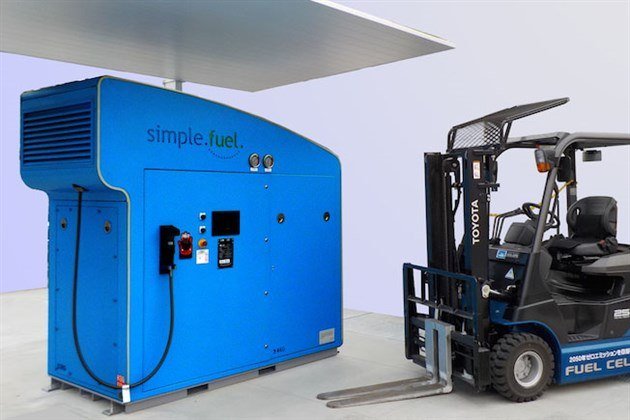 Comments
Author

Honest John
Latest