Honda's new Mean Mower can hit 150mph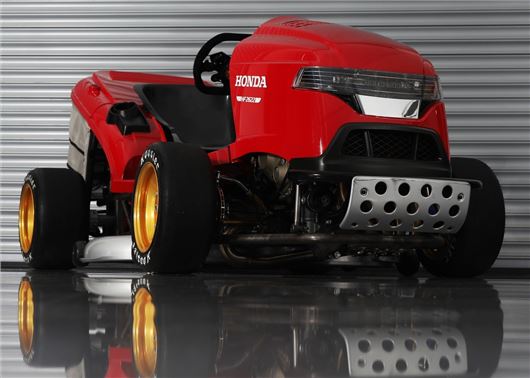 Published 04 July 2018
Ever wondered just how fast a lawnmower can go? Well, the official world record is 214.967km/h (around 134mph), set by a Norwegian chap on a modified Viking T6 on Bonfire Night 2015. That made the previous record, set by Honda's Mean Mower in 2014 with its 109PS and 116mph top speed, look pretty amateurish.
Still with us? Good. Anyway, Honda's now decided it wants that record back, and has announced the Mean Mower V2 with a 999cc Fireblade motorbike engine producing more than 190PS and a 'target speed' of 150mph.

Yup, 150mph. From a lawnmower.
The recipe's fairly simple. Combine that ultra-powerful (and lightweight) CBR1000RR sportbike engine with an extremely light frame and the result is a power-to-weight ratio of around 1000PS per tonne. And 1000PS per tonne makes for a pretty fast mower.
The work was carried out by Team Dynamics - that's Honda's British Touring Car Championship partner and the team behing the original mean Mower.
Rather than just making an ultra fast thing, Team Dynamics says the biggest challenge was making the Mean Mower look and act like a mower. It features the same front cowl, grass box and body panels as the Honda HF 2622 lawn tractor and clever modifications to the cutter deck means it can still cut grass.
Essentially, more space was required to house the chain running to the rear tyres and the two batteries required to power electric motors. Oh, and the cutting blades are made from actual carbonfibre.
As well as the engine, Fireblade parts include the clutch, ECU, six-speed drive train and full colour LCD display. Gears can be changed through carbon paddles on the steering wheel - although Honda says it can hit 90mph in first gear alone.
Underneath, it looks neither like a motorbike or a standard Honda mower. The Mean Mower has a bespoke lightweight chassis made using T45 steel, intended to allow an element of flexibility - important for comfort and durability as it does without suspension. Brakes are fairly hefty four-piston calipers to the front and six-piston calipers to the rear.
Honda hasn't said exactly when it's going for the record, but it has recruited 23-year-old stunt driver Jess Hawkins to help tame the mower. It's fair to say it probably isn't coming to your local garden centre anytime soon...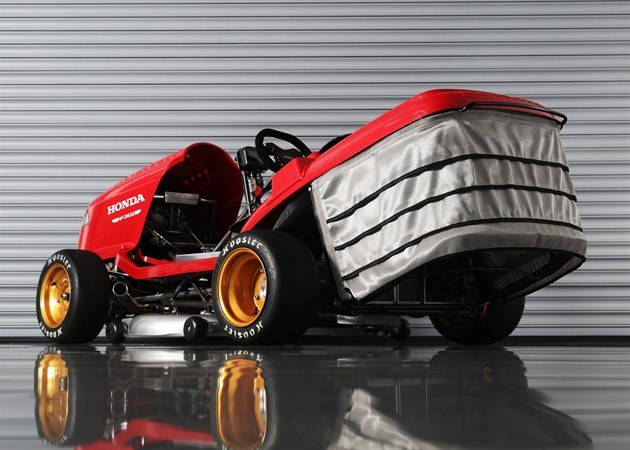 Comments
Author

Andrew Brady
Latest